Miss Edith Helena
(Mrs. Edith Seymour Jennings - Formerly Russo)
Actress and singer, Miss Helena, was born at 64 East Twelfth Street, New York City, New York, December 23, 1876, her father William Fleming Seymour. She attended the New York Public Schools and later trained as a nurse before moving her career onto the stage.
She made her first appearance as a flower girl with Mapleson's Opera Company at the Academy of Music, New York, when she was only seven-years old. Her professional debut was at the Brighton Beach Music Hall, New York, in July, 1902, where she was in a vaudeville singing act under the stage name of Edith Helena. She then toured the states in vaudeville until November, 1903, when she became an international star sailing to Europe for a December 1st. opening at the Rembrandt Theater, Amsterdam.
For two years she sang with great success at the Apollo; Dusseldorf; Empire, London; Blumensale, Munich; Wintergarten, Berlin; Folies Marigno, Paris; Marseilles, Toulon, Nice, and in the other cities of Barcelona, Rome, Genoa, Milan, Bologna, Frankfort, Strassburg, Brussels, and the United States.
She played Violetta in "La Traviata" in Bucharest October, 1905; in Brussels May, 1906, and with the Royal Italian Grand Opera Company in the Academy of Music and the Grand Opera House, New York, June 1907.
Edith Helena "Laughing Song (C'est l'histoire amoureuse)" Manon Lescaut (1908) Victor 4283 - YouTube
Miss Helena was known for her vocal register ranging from lower G to A in altisimo, three octaves and two notes. Later retired, she could still sing at these high levels and also imitate the sounds of a violin. She repeated this while appearing live on the early black & white television program, "Life Begins at 80." In her retirement, she lived for years on Grove Street in Mt. Kisco, New York.
Miss Helena was married on December 26, 1893, to Mr. N. A. Jennings, a well-known New York journalist, former Rough Rider, and author of the book "The Texas Ranger." He later served as a stand-in double for President Roosevelt, as seen on the right. Jennings was attributed with writing the lyrics for the patriotic song, "Remember the Maine."
Miss Helena's favorite off-stage recreations were horseback riding, rowing, and swimming. Her permanent stage address had been listed with Myers & Keller, 31 West Thirty-first street. New York City.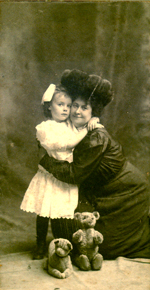 Picture of Edith Helena's daughter with an aunt, little Edith nicknamed "Posey" shown here at four-years old. On the back of the picture is an interesting note saying that the bears shown were purchased by her Uncle MacMichael when he was in Paris, France, in 1904. It goes on to say these are the first bears ever produced, steel rods holding their parts together. She then wrote that her later stepfather, Russo, threw out her bear in 1916 when living on Dykerman's Farm in New York State.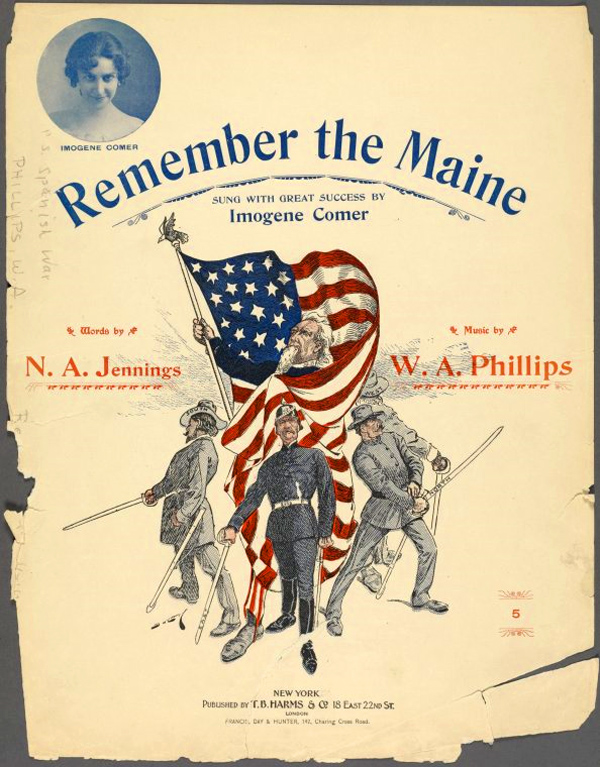 Image Details
Copy Source: DigitalGallery
Image Title: Remember the Maine / words by N. A. Jennings, music by W. A. Phillips.

Alternate Title(s): From north and south and east and west. [first line] Title 2.) The rally around the flag once more. [first line of chorus]

Creator(s): Phillips, Walter A. -- Composer Jennings, N. A. -- (Napoleon Augustus), 1856-1919 -- Lyricist

Published Date: c1898

Specific Material Type: music

Item Physical Description: 1 score (6 p.) ; 35 cm.

Notes: On cover: Soldiers and Uncle Sam wrapped in American flag. Note 2.) On cover: Imogene Comer.

Source: American popular songs. / Sheet music, 1898

Location: The New York Public Library for the Performing Arts / Music Division

Digital ID: 1269171

Record ID: 667925

Digital Item Published: 9-29-2010; updated 3-25-2011
Book: A Texas Ranger, N.A. Jennings (New York: Scribners, 1899), 129–43.) - History Matters
Robert A. Jennings
The late son of Edith Helena, Robert A. Jennings, was a professional freelance photographer for Pathe and Movietone News. He filmed, among other things, the German's zeppelin Hindenburg that crashed in Lakehurst, New Jersey, in 1937, Robert being one of three news camermen who had attended the event.

(Note: His professional photo can be seen at the top of Chapter 1, link at the bottom of page.)

He also captured on film Major H.O.D. Seagrave's breaking 203-mile-per-hour auto-speed record. Later, Jennings would become established in the new and growing television industry.

As a youngster circa 1904, Robert was chosen as the poster boy for the company Buster Brown Shoes. While growing up, he was later credited for helping bring the silent movies to Brewster, New York. There he arranged to play the piano for accompaniment of silent film titles shown in the local town hall to promote the new medium.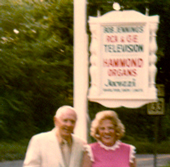 He retired to a successful home business in the 1950's in Brookfield Center, Connecticut, shown to the left with his wife, Bess, an avid golfer. Successfully becoming one of the first home-based salesmen of the new color television business, Robert Jennings proved that he could continued his pioneering, a man seeming to be always ahead of his time.

An old newspaper article provided the information that is found below about Jennings' current life up to then. The source is unknown:

"Tinkering with radio sets and working with cameras were his boyhood hobbies. After selling silent feature films to theaters for years beginning in 1918, it was not surprising that he became a newsreel man.

He first made reels for Fox News beginning in 1922, and later made films for NBC Newsreel. These early reels were wholly pictorial, taken with 35mm cameras, with the sound dubbed in by a commentator at the studio.

On May 26, 1927, he made a film of Charles Lindbergh's departure from Roosevelt Field on his solo flight across the Atlantic. [Jenning's said]:

'We all thought Lindbergh was crazy to attempt to fly that flimsy little monoplane, 'Spirit of St. Louis,' across the ocean, taking off on that foggy morning. Our odds were that he would never make it, but he did and we lost our bets.'

Mr. Jennings made his first NBC-TV newsreel in Florida in 1938. Both in the days of silent films and later on TV newsreels, he photographed many large events. After Mr. Jennings first opened his TV-Organ studio in Brookfield Center, he continued to take assignments for newsreel pictures.

The late Gabriel Heatter, famed radio news commentator, was a neighbor of Jennings in Brookfield Center. He lived about a mile down the road on Wisconnier Hill, and the two became good friends.

One of Mr. Jennings assignments was to make a newsreel about Mr. Heatter using the studio that was in a barn on his property from which he used to make his broadcasts.

'Gabriel just put everything he had into these broadcasts,' Mr. Jennings declared. 'When his regular half-hour broadcast was over, he would always be wringing wet with perspiration due chiefly to his nervous tension.' "
Source for Miss Helena's travel schedule is compliments of the book "Who's Who on the Stage." Date, issue, and publisher unknown.
Copyright freedomisknowledge.com 2007-2008