The Shepp Report
Special Edition
Have A Joyous Thanksgiving!
November 24, 2016
Give thanks: In 2015 Thanksgiving Was About Gun Control - LastResistance

Another Story About Thanksgiving

Ben Shapiro takes a look at a rarely told story of Thanksgiving. - TruthRevolt

Is This Your House At Thanksgiving? Take A Look. - Webmaster

On Thanksgiving Day Always Remember The Sacrifices Of The Early Settlers, Fewer Than Half of Those Pilgrims Living Through The First Winter.

The Pilgrim's Formula On How To Save Our Country In Hard Times

Kirk Cameron shows a famous monument. Be sure to tell your children where their freedoms came from, who sacrificed to give it to them, and why it's important they pass it on. If they don't know their history, someone else will teach them theirs. - Webmaster

Source: YouTube

"A rendition of 'Great Is My Faithfulness' performed on 'The Voice' Monday night prompted an immediate standing ovation from the audience and jumped to the number two song on the iTunes chart within an hour. The song was performed by contestant Jordan Smith who said it reminded him of 'growing up and singing in church with my family.' 'God provides,' Smith explained. 'He's like, 'I'm going to do everything for you, all you have to do is wake up every morning and be who you are.''" - The Voice, YouTube
Thank you for considering to pass along these e-mails.
Did you miss one of our e-mails? Check out the link below.
HTML E-mail Content from Freedom is Knowledge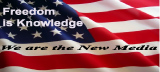 | Fascism Comes To America | It Doesn't Matter?! | What Privacy? | America Facing Evil | Whistleblower | Historic Biblical Times |
| Obama's 1990 article - "We're Going To Reshape Mean-Spirited Selfish America." | Print Page |
| The United States Flag: Federal Law Relating To Display And FAQs | U.S. Flag Code |
It is no measure of health to be well-adjusted to a profoundly sick society - J. Krishnamurti