The Shepp Report
Special Edition
Donald Trump's Full Inaugural Speech For "We The People."

January 21, 2017
News on The 700 Club: January 20, 2017
Trump's Acceptance Speech - CBN News
Now To The Goofy News

FOX News rehires former Democrat drunk, Bob Beckel, who said laughing on CNN, "She [Hillary] could crush him [Trump] from jail!"
Beckel On The Clinton News Network - CNN
"She [Hillary] Will Crush Trump. She Will Crush Him From Jail!" - Bob Beckel On CNN
Video Source: YouTube
Democrat Party's Gestapo Media Out In Full Force, Mocking The New President With Propaganda To Spoon-Feed Its Radical Progressive Base

[Are You Growing Tired Of These ********?] SNL Writer's Evil Attack On Baron Trump: "This Country's First Homeschool Shooter." - TruthRevolt
Post Reporter Compares Violent D.C. Rioters To Boston Tea Party - NewsBusters
Georgetown Flag Pole Empty On Inauguration Day - CampusReform
Matthews: Trump Speech Was 'Hitlerian,' Jokes He Could Fix Nepotism Laws By Hanging Son-In-Law. - NewsBusters
Video Source: MSNBC
Shades Of Pyongyang': MSNBC Hypes HuffPost's Military Parade Claim - NewsBusters
Video Source: MSNBC
'They're Screwing This Up!' MSNBC Knocks Parade, Trump Family As The New 'Romanovs' - NewsBusters
Video Source: MSNBC
ABC News' Terry Moran: Trump Inauguration Speech Had 'Anti-Semitic Overtones'Video Source - Breitbart
Video Source: ABCNews
CNN: Obama 'Marvelous' 'Iconic' But Trump 'Dark' 'Radical.' - NewsBusters
Video Source: CNN

______________________________________________________________
Finally, A Review Of Where This ALL Started And Who Led It
Make note the media's bozos from 2015. They had also probably embraced Obama's crotch salute seen at a fundraiser in Iowa during the summer of 2007. The term had been created to describe the position of Obama's hands over his crotch / junk by some in the military, which had been seen during the playing of the National Anthem.

You may recognize some of these personalities that were making fun of Trump at the time while his popularity was beginning to rise with the America people.

The only thing missing from these arrogant clowns is the black Gestapo uniforms and night sticks used to crush those they were encouraged to hate through the fascism of political correctness created by the progressives of Obama's new Democrat Party, which he had taken over to the DailyKOS convention during the 2008 election.
Thank you for considering to pass along these e-mails.
Did you miss one of our e-mails? Check out the link below.
HTML E-mail Content from Freedom is Knowledge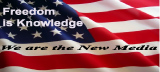 Sample Of A Few Archived Links
| Fascism Comes To America | It Doesn't Matter?! | What Privacy? | America Facing Evil | Whistleblower | Historic Biblical Times |
| Obama's 1990 article - "We're Going To Reshape Mean-Spirited Selfish America." | Print Page |
| The United States Flag: Federal Law Relating To Display And FAQs | U.S. Flag Code |
It is no measure of health to be well-adjusted to a profoundly sick society - J. Krishnamurti