The Shepp Report
Special Edition
"Only The Brave"
November 15, 2017
Heroic Movie Brings Out The Dangerous World Of Fire Fighters

"Only the Brave, based on the true story of the Granite Mountain Hotshots, is the heroic story of one unit of local firefighters that through hope, determination, sacrifice, and the drive to protect families, communities, and our country become one of the most elite firefighting teams in the country. As most of us run from danger, they run toward it – they watch over our lives, our homes, everything we hold dear, as they forge a unique brotherhood that comes into focus with one fateful fire." - FilmIsNow

Video Source: FilmIsNow

Granite Mountain Hotshot Families Review 'Only The Brave' Movie

"Family members of fallen Granite Mountain Hotshots react to the movie "Only the Brave," which tells their loved ones' stories." - Arizona12News

Video Source: Arizona12News


Meet The Widows Of Firefighters Who Lost Their Lives Battling Raging Wildfires - InsideEdition

Four Years Later: New Memorial To 19 Firefighters Killed In Yarnell Fire - NBCNews

Granite Mtn Prescott Hotshot Firefighters Tribute - ShowVation

A Quiet Rise In Wildland-Firefighter Suicides

America's firefighting community is grappling with a troubling trend amid brutal fire seasons.

"It's hard to quantify both completed and attempted suicide rates in populations that aren't prone to talk about mental health, but both factors are known to be high among 'structure' firefighters—those who fight fires in buildings—and members of the military who face similar traumatic, high-stress situations as wildland firefighters. Jeff Dill, a captain at a fire station in Inverness, Illinois, and the founder of the Firefighter Behavioral-Health Alliance, which tracks firefighter suicides, says firefighters are more likely to die by suicide than in the line of duty. In a 2015 study on suicide risk in firefighters, half of those who responded reported that they'd contemplated suicide.

Those concepts align with the wildland reports: St. Clair says they've lost five smoke jumpers to suicide in the last seven years, and had two in-the-line-of-duty deaths in the same period. But while structure and wildland firefighters are similar, the groups aren't perfect analogs, which is why it's particularly hard to address some of the most insidious risks for wildland firefighters. Urban firefighters, and people who fight structure fires, will usually have year-round work, health insurance, and mandatory trauma training. Their support system is fundamentally different.

Johnson says wildland firefighters are subject to high stress and the kind of teamwork that links you tightly to a group of people then disappears. They tend to be risk takers. They're often veterans, another population prone to suicide. They often lack consistent health care. You can't step out for an hour to go to therapy when you're fighting fire, and even if you wanted to, and could fight through social pressure against doing so, there might not be an appropriate person to talk to in, say, Galena, Alaska." - READ MORE: TheAtlantic

Photo Source: TheAtlantic

Rise Of The Women Firefighters Around The World

Bushfire brigade ranks filling up with women in Australia's Northern Territory

"Traditionally, the New South Wales Rural Fire Service's volunteers were drawn from rural landholders with men fighting the fires and women in support roles. But the service has made a concerted effort to encourage women to take on a broader range of roles, including in rapid aerial response and remote area firefighting, to bolster volunteer numbers.

Females make up about 22 per cent of all the service's volunteers — a number that is increasing annually — while in the younger cadet cohort, the proportion of females is about 46 per cent. And on the other side of the country in the south-west corner of Western Australia, volunteer firefighting brigades are being transformed as women swell their ranks and take on leadership roles." - READ MORE - ABC.Net.Au

Photo Source: ABC.Net.Au
Click here for previous HTML e-mail releases from Freedom is Knowledge (2011 - current.)
Thank you for considering to pass along these e-mails.
Did you miss one of our e-mails? Check out the link below.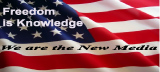 Sample Of A Few Archived Links
| Fascism Comes To America | It Doesn't Matter?! | What Privacy? | America Facing Evil | Whistleblower | Historic Biblical Times |
| Obama's 1990 article - "We're Going To Reshape Mean-Spirited Selfish America." | Print Page |
| The United States Flag: Federal Law Relating To Display And FAQs | U.S. Flag Code |
It is no measure of health to be well-adjusted to a profoundly sick society - J. Krishnamurti