The Shepp Report
Special Edition
"The Queering Of The Bible."
January 3, 2018
Anti-American Corruption On The Supreme Court
Supreme Court Justice Ruth Bader Ginsburg, a secular Jewish woman and former ACLU executive, Obama's favorite, was voted onto the Supreme Court in 1993, a Clinton nominee. Democrats were aided with "yes" votes from all but two of the Senate's Republicans, maverick John McCain included among the approving establishment membership.
Republicans had been warned before the vote of Ginsburg's early writings that revealed her desire to combine the Boy and Girl Scouts while demanding husband and wife / man and women be removed from marriage certificates among other radical proposals. I had written about Ginsburg's deception to the founders' view of America, their vision of the Constitution seen by her as the "Lone Ranger."
I noted, "if gold can rust, what will iron do," when she took an oath of office to protect a Constitution she detested. This is probably why she purposely went out of her way to seek rulings from secular European courts to decide American justice, rulings that would align themselves with the world's secular religion that was pushing Agenda 2030.
Agenda 2030 is the year for completing the UN's goal of globalism and climate change . . . a world without borders that would achieve the liberal attack on what progressives had coined "romantic nationalism," a favorite term of Obama, America's first Alinsky-driven socialist president.
The Hill reported the following on July 10, 2016, which reflected the elitist and arrogant position of Ginsberg, using her position on the Supreme Court to try to affect the 2016 presidential election. In an interview with The New York Times "The Hill" wrote,
" . . . the Supreme Court justice said her husband, who died in 2010, would have said, "'Now it's time for us to move to New Zealand.'"

"I can't imagine what the country would be with Donald Trump as our president," she said. "For the country, it could be four years. For the court, it could be — I don't even want to contemplate that." Ginsburg, 83, said she will not leave her job "as long as I can do it full steam."
Is it then any surprise, thanks to Senate Democrats and establishment Republicans in 1993, that we live today in the distorted socialist world of Ruth Bader Ginsburg and a "queering of the Bible?" The country's foundation forged in 1776 is now being challenged by snowflakes educated in the halls of the spiritually dead, whose sacrifice is to have only one Starbuck latte a day, believing they're really entitled to two. - Webmaster
Photo Source: DailyBeast
Embracing The Anti-Christ At Swarthmore College

The Collective "Voices" seems to make it clear, if you are not with us, you're against us. You decide, reading their "About Us" below. - Webmaster

"Voices is a daily student-run news and media publication that witnesses, teaches, and listens to the multiple truths of Swarthmore. Voices is a place where people understand the power of their words. The publication focuses on a theme of 'your silence will not protect you,' opening up conversations that need to be had on the campus and protecting the livelihoods of those who are marginalized through advocacy and guidance, particularly those whose voices are often ignored, yet not limited to.

We are women. We are men. We are non-binary. We are people of color. We are non-POC. We are on the LGBT spectrum. We are all different, but those differences paint a beautiful picture. We all have a mission of making this world a better place through social action. We ask the question: Whose stories get told and why? We want to dissect that question, and ask ourselves how we can uplift all of them.

We are not a spectacle. We are not people to be tokenized. We are not to be treated as the 'diverse person' on the front of a college brochure, and we are not statistics to be gloated about. We are humans with boundless visions. This publication is a space for us to talk about the real issues in which affect us, and to have real discussions to foster growth in our minds, souls, and hearts. Our diverse backgrounds allow for intense discussion on our forum, and we celebrate our individual and shared experiences. If you are not an ally, this platform is not for you." - Voices (Underline by Webmaster)

Photo Source: The Collective

Note: The Collective is a term also used by Communist Karl Marx and then later by President Barack Obama, his referring to . . . wait for it . . . Christian salvation, which the new Catholic Pope sees as blasphemy, that you can't come to Christ on your own without one of his priests praying to God for you. - Webmaster

What? "Swarthmore Christian Fellowship Has a Sexuality Problem." - TheVoices

Swarthmore Quaker History & Genealogy - Swarthmore Education

The Bible's Historic Instructions On Semen - Bible-Knowing

________________________________________________________

"'Queering The Bible' College Class 'Destabilizes' Long-Held Biblical Views On 'Gender And Sexuality'"

Article by Dave Urbanski, December 22, 2017, TheBlaze

"Swarthmore College — an elite school just outside Philadelphia — is advertising a religion course set for next fall titled, ' Queering the Bible.'

The one-credit course will examine 'queer and trans* readings of biblical texts' and 'queer and trans* theoretical approaches' in order to show students 'the complexity of constructions of sex, gender, and identity in one of the most influential literary works produced in ancient times.'
In addition, the class 'destabilizes long held assumptions about what the Bible — and religion — says about gender and sexuality.'

'Queering the Bible' will be taught by Gwynn Kessler, an associate professor of religion.

Kessler's faculty profile indicates her academic work is 'situated within, and suffused with, postmodern, feminist, and queer theoretical approaches.'

In addition, her 'research focuses on rabbinic interpretation of Scripture, or midrash, and more specifically on rabbinic theology and rabbinic constructions of gender and identity,' Kessler's profile also states.

The College Fix reported that repeated attempts to learn more about the course via phone and email from both Kessler and the Swarthmore religion department 'were met with silence [and arrogance typical of progressives].'

What else is the Swarthmore Religion Department teaching?

- Besides 'Queering the Bible,' there's already a course called ' Queering God: Feminist and Queer Theology,' which asks the question: 'The God of the Bible and later Jewish and Christian literature is distinctively masculine, definitely male. Or is He?'

- The class also 'examines feminist and queer writings about God, explores the tensions between feminist and queer theology, and seeks to stretch the limits of gendering-and sexing-the divine. Key themes include: gender; embodiment; masculinity; liberation; sexuality; feminist and queer theory.'

- Swarthmore also offered a class in the Spring 2017 semester titled, ' Is God a White Supremacist?'

The college also made headlines last fall after a conservative student penned a column for the student newspaper and then said she received threats and was bullied on the internet more than 100 times."

Article by Dave Urbanski, December 22, 2017, TheBlaze


_______________________________________________

They Can't Defeat America From The Outside, So . . .

. . . the Democrat Party's progressive socialists from Obama's deep state push their destruction of the Constitution from the inside. It's what Marxist President Obama meant in 2008 when he promised to "fundamentally transform the United States of America," meaning when changed you wouldn't be able to recognize it!

His goal, well taught to him by his Communist mentor, Frank Marshall Davis, and later through Saul Alinsky's socialist organization on the corrupted south side of Chicago, was to water down the country's basic Christian values provided by the founding fathers so they would become unrecognizable, changing university curriculums over the years for graduating moronic snowflakes, Karl Marx's useful idiots born again from 80 years ago.

Examples that come to mind would be the oxymoron "Teachers' College" of the NYC Columbia University where self-achievement is seen as offensive to the less motivated. Or at the University of California where the newer president, Janet Napolitano of Obama fame, instructs staff to never refer to America as an exceptional land of opportunity to any U of C students living in moonbeam land. - Webmaster

Creating Cancer Cells That'll Metastasize To Fundamentally Transform A Society To Your Objective In Social Engineering

Stab It From The Inside So It Can't See Where To Heal The Wound - Webmaster

"Forget being transgender like Caitlyn Jenner or transracial like Rachel Dolezal, there's a new "trans" frontier: people who are transage. In an interview with the news site, The Daily Xtra, [Canadian] Stefonknee (formerly Paul) Wolscht details his struggles with being a male-to-female transgender person.

The Daily Xtra video, however, glosses over a tiny bit of important information about Wolscht: he thinks he is actually a six year-old girl—not just a woman, but a six year-old girl—stuck in the body of a 50-something man [who left his wife and children.]" - MRCTV

Video Source: MRCTV

The Transgender Project - Facebook
Click here for previous HTML e-mail releases from Freedom is Knowledge (2011 - current.)
Thank you for considering to pass along these e-mails.
Did you miss one of our e-mails? Check out the link below.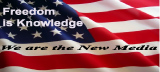 Sample Of A Few Archived Links
| Fascism Comes To America | It Doesn't Matter?! | What Privacy? | America Facing Evil | Whistleblower | Historic Biblical Times |
| Obama's 1990 article - "We're Going To Reshape Mean-Spirited Selfish America." | Print Page |
| The United States Flag: Federal Law Relating To Display And FAQs | U.S. Flag Code |
It is no measure of health to be well-adjusted to a profoundly sick society - J. Krishnamurti