The Shepp Report
Special Edition
Justice In The Name Of Those Who Sacrificed Their Lives On D-Day
June 6, 2018
- An Encore Edition Of The Shepp Report -
Will Live In Infamy:
The Benghazi Cover Up
"How Obama, Hillary and their mainstream media allies won an election by lying to the American people." - Frontpage
"The following video was produced by journalist Lee Stranahan and exposes the coordinated campaign between Hillary Clinton, Barack Obama and the media to conceal the truth about the Benghazi terrorist attack until after the 2012 presidential election. The video sequence is featured in Stranahan's film 'The Caliphate.'" - Frontpage
Video Source: Populist.TV
______________________________________________________________
D-Day: Remembering Why Americans Gave Their Lives.
"Focusing on the most important strip of Omaha beach that day - the exit at Vierville-sur-Mer - D-DAY 360 strips D-Day back to its raw data to reveal how the odds of victory, in the greatest gamble of World War II, swung on what happened over a five-hour period on a five mile stretch of French coastline. Data gathered though forensic laser scanning, 3D computer modeling, and eye-witness accounts bring the battlefield to life as never before." - PBS: D-Day 360 - Video: URL

On D-DAY: Reagan swelled with pride for our soldiers. But Obama, as usual, was instead proud of aliens who crossed our southern border illegally. So in 2015 Obama celebrated what he called Immigrant Heritage Month, then blamed Republicans. - ClashDaily - Video: URL

| | | |
| --- | --- | --- |
| D-Day Troops Fought For This . . . | | . . . Or This? |
| | | |
| Video: URL | | Video: URL |

A Forgotten Charlie Brown Tribute To D-Day

Made in 1983, What Have We Learned, Charlie Brown? is a must-watch, not only for its tribute to a historically significant event, but for the way it honors the veterans of WWII and those that died. Not to mention the fact that a moving tribute like this will never be in another popular children's cartoon ever again." - TruthRevolt

Video Source: TexasWarHawk

___________________________________________________________________________________________________

"I Have A Hard Time Finding Bruce Jenner Brave And Courageous. Maybe It's Just Me." - Baef / Facebook

Quote from Facebook, June 3, 2015

_______________________

Last year at this time, social media had rallied for Lauren Hill to receive ESPY courage award and not Caitlyn Jenner. Remember? - WTHR
When Were Catholic Universities Allowed To Abandon Their Faith For The Progressive Socialist Religion Of Barack Obama?

For Memorial Day Weekend 2016, DePaul University President, The "Rev." Dennis H. Holtschneider, compared BlackLivesMatter protesters to be not unlike our soldiers' sacrifice at D-Day. - TruthRevolt
"THEN VS. NOW."
| The United States Flag: Federal Law Relating To Display And FAQs | U.S. Flag Code |
Looking around America today, George Bailey did get his wish.
Thank you for considering to pass along these e-mails.
Did you miss one of our e-mails? Check out the link below.
HTML E-mail Content from Freedom is Knowledge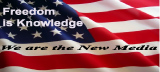 | Fascism Comes To America | It Doesn't Matter?! | What Privacy? | America Facing Evil | Whistleblower | Historic Biblical Times |
| Obama's 1990 article - "We're Going To Reshape Mean-Spirited Selfish America." | Print Page |
It is no measure of health to be well-adjusted to a profoundly sick society - J. Krishnamurti