The Shepp Report
Special Edition
Simply STUNNING

July 12, 2018
If you want to know what the chaos of Germany looked like in 1933, just step outside your front door.
America's New Pagan Culture Comes Forth, Bold In Its Hate Of The Country's Faith-Based Constitution
In the words of the DNC's OWN SUPPORTERS, watch below the PAGANS of the DNC erupt into a new pride never seen before in the history of the United States. They call it "brave" and "fearless," New York City the new awakened Biblical Sodom run by an elected communist mayor.
"Planned Parenthood of New York City — claiming Big Apple residents "have more sex than anyone else in America. (Woo! We did it!)" — wants to 'make sure that everyone has access to the sexual and reproductive health care services they need.' To that end, the organization launched a fundraising campaign this week aimed at millennials — and it broadcasts its intent in no uncertain terms: "Protect our freedom to f***." - TheBlaze
Video Source: SATANIC
Click here for previous HTML e-mail releases from Freedom is Knowledge (2011 - current.)
Thank you for considering to pass along these e-mails.
Did you miss one of our e-mails? Check out the link below.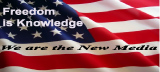 Sample Of A Few Archived Links
| Fascism Comes To America | It Doesn't Matter?! | What Privacy? | America Facing Evil | Whistleblower | Historic Biblical Times |
| Obama's 1990 article - "We're Going To Reshape Mean-Spirited Selfish America." | Print Page |
| The United States Flag: Federal Law Relating To Display And FAQs | U.S. Flag Code |
It is no measure of health to be well-adjusted to a profoundly sick society - J. Krishnamurti