The Shepp Report
Special Edition
When CNN Was Real News And Hollywood Had Heroes

August 20, 2018
When CNN Was Real News . . .

Report on American Muslims celebrating 9/11 along with the attack on our treasures at Fort Hood. - CNN

Video Source: CNN

. . . And Hollywood Had Heroes!

A few good men.

Alec Guinness (Star Wars) operated a British Royal Navy landing craft on D-Day.
James Doohan ("Scotty" on Star Trek) landed in Normandy with the U. S. Army on D-Day.
Donald Pleasance (The Great Escape) really was a Royal Air Force (RAF) pilot who was shot down, held prisoner, and tortured by the Germans.
David Niven (Casino Royal) was a Sandhurst graduate and Lt. Colonel of the British Commandos in Normandy.

James Stewart (The Glenn Miller Story) Entered the Army Air Force as a private and worked his way to the rank of Colonel. During World War II, Stewart served as a bomber pilot, his service record crediting him with leading more than 20 missions over Germany, and taking part in hundreds of air strikes during his tour of duty.

Stewart earned the Air Medal, the Distinguished Flying Cross, France's Croix de Guerre, and 7 Battle Stars during World War II.

Clark Gable (Mega-Movie Star when war broke out, Gone With The Wind) Although he was beyond the draft age at the time the U.S. entered WW II, Clark Gable enlisted as a private in the AAF on Aug. 12, 1942 at Los Angeles.

Gable attended the Officers' Candidate School at Miami Beach, Fla. and graduated as a second lieutenant on Oct. 28, 1942. He then attended aerial gunnery school and in Feb. 1943 he was assigned to the 351st Bomb Group at Polebrook where flew operational missions over Europe in B-17s.

Charlton Heston (The Ten Commandments) was an Army Air Corps Sergeant in Kodiak. He served for two years as a radio operator and aerial gunner aboard a B-25 Mitchell stationed in the Alaskan Aleutian Islands with the Eleventh Air Force. He reached the rank of Staff Sergeant.
Earnest Borgnine (McHale's Navy TV Series) was a U. S. Navy Gunners Mate 1935-1945.
Charles Durning (Spy Hard) was a U. S. Army Ranger at Normandy earning a Silver Star and awarded the Purple Heart.
Charles Bronson (Dirty Dozen) was a tail gunner in the Army Air Corps, more specifically on B-29s in the 20th Air Force out of Guam, Tinian, and Saipan
George C. Scott (Patton) was a decorated U. S. Marine.
Eddie Albert (Green Acres TV) was awarded a Bronze Star for his heroic action as a U. S. Naval officer aiding Marines at the horrific battle on the island of Tarawa in the Pacific Nov. 1943.
Brian Keith (Family Affair TV Series, Parent Trap) served as a U.S. Marine rear gunner in several actions against the Japanese on Rabal in the Pacific.
Lee Marvin (The Dirty Dozen) was a U.S. Marine on Saipan during the Marianas' campaign when he was wounded earning the Purple Heart. He is buried in Arlington National Cemetery.
John Russell: (Rio Bravo) In 1942, he enlisted in the Marine Corps where he received a battlefield commission and was wounded and highly decorated for valor at Guadalcanal.
Robert Ryan (Bad Day at Black Rock) was a U. S. Marine who served with the O. S. S. in Yugoslavia. He enlisted in the United States Marine Corps and served as a drill instructor at Camp Pendleton, in San Diego, California.
Tyrone Power (The Eddie Duchin Story) Was an established movie star when Pearl Harbor was bombed. He joined the U.S. Marines, was a pilot flying supplies in and wounded Marines out of Iwo Jima and Okinawa.

Audie Murphy, (To Hell and Back) little 5'5" tall 110 pound guy from Texas who played cowboy parts?

He was the most Decorated serviceman of WWII and earned: Medal of Honor, Distinguished Service Cross, 2 Silver Star Medals, Legion of Merit, 2 Bronze Star Medals with "V", 2 Purple Hearts, U.S. Army Outstanding Civilian Service Medal, Good Conduct Medal, 2 Distinguished Unit Emblems, American Campaign Medal, European-African-Middle Eastern Campaign Medal with One Silver Star, Four Bronze Service Stars (representing nine campaigns) and one Bronze Arrowhead (representing assault landing at Sicily and Southern France) World War II Victory Medal Army of Occupation Medal with Germany Clasp, Armed Forces Reserve Medal, Combat Infantry Badge, Marksman Badge with Rifle Bar, Expert Badge with Bayonet Bar, French Fourragere in Colors of the Croix de Guerre, French Legion of Honor, Grade of Chevalier, French Croix de Guerre With Silver Star, French Croix de Guerre with Palm, Medal of Liberated France, Belgian Croix de Guerre 1940 Palm.

Click Here For More

Then When Liberals Took Over Hollywood, It All Changed

Today John Leguizamo described Laura Ingraham, who adopted a girl from Guatemala and two boys from Russia, (Leguizamo from Columbia), as a "racist" and "xenophobia." He could have also added to his complaint that she was attacked by breast cancer for her conservative beliefs. Nice job, John, seeming to be typical of enjoying violence against others. - Webmaster

Photo Source: Breitbart

"Leguizamo, who in 2012 said that Latino Republicans 'are like roaches for raid,' made the call for an Ingraham advertiser boycott after retweeting a poll shared by Pew Research senior researcher Laura Silver that found that a majority of Americans and Western Europeans believe immigrants are 'more beneficial to their economies than they are burdensome.'

Learn a fact or true racist xenophobic @IngrahamAngle hope sponsors know we will not stop the boycott till she is off the air!' the 54-year-old Leguizamo wrote, before tagging a number of Ingraham's advertisers." - Breitbart

Communist Van Jones, [With Blessing From His Cable Provider, CNN]: "No Difference Between What Laura Ingraham Said And A Nazi." - RealClearPolitics
Social Media, Too!
. . . filled to the brim with liberal graduates from universities who teach students that America is not the land of opportunity. - Webmaster

Facebook does it again . . . blocks ad for upcoming Diamond & Silk 'Dummycrats' movie.
"Facebook's campaign against Diamond and Silk continues. The pro-Trump duo are featured in a movie to be released in October and presented by The American Mirror, titled 'Dummycrats.' The film follows them in Maxine Waters' Los Angeles district, pursuing her in Washington, D.C., and tackling issues of importance to the country, including border security and the impact progressive policies have on our communities, such as San Francisco." - AmericanMirror
Video Source: AmericanMirror
Click here for previous HTML e-mail releases from Freedom is Knowledge (2011 - current.)
Thank you for considering to pass along these e-mails.
Did you miss one of our e-mails? Check out the link below.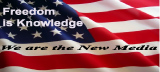 Sample Of A Few Archived Links
| Fascism Comes To America | It Doesn't Matter?! | What Privacy? | America Facing Evil | Whistleblower | Historic Biblical Times |
| Obama's 1990 article - "We're Going To Reshape Mean-Spirited Selfish America." | Print Page |
| The United States Flag: Federal Law Relating To Display And FAQs | U.S. Flag Code |
It is no measure of health to be well-adjusted to a profoundly sick society - J. Krishnamurti