The Shepp Report
Special Edition
The Elite's China Swamp Watch

September 12, 2018
China Swamp Watch / Part 1
Part 1
Steve Hilton of the "Next Revolution" and his "Swamp Watch" revealed in his research the ones in Washington D.C. who are making money off of China's interests in overcoming America's lead in the world. - FOXNews
Video Source: - Steve Hilton / FOXNews
China Swamp Watch / Part 2
Click Here To Watch
Steve Hilton of the "Next Revolution" and his "Swamp Watch" revealed in his research the ones in Washington D.C. who are making money off of China's interests in overcoming America's lead in the world. - FOXNews
Video Source: - Steve Hilton / FOXNews
How Senate Majority Speaker McConnell And Chao Used Political Power To Make Their Family Rich. - NYPost
FBI Swamp Watch / Stunning On Mueller & Comey Twins
"During the Swamp Watch segment on the FOX News Channel show, 'The Next Revolution,' Steve Hilton discusses the Government Accountability Institute's new book, Compromised: 'How Money and Politics Drive FBI Corruption.' The book details how former FBI Director James Comey and special counsel Robert Mueller have both "made millions" by selling out their insider expertise to the highest bidder to enrich themselves." - FOXNews
Video Source: - Steve Hilton / FOXNews
The Kiss Of Death To The Hope Of Our Founders.
Paul Ryan's role models on display for all voters to see. No wonder the poor boy is so messed up as to which party he leads.
Photo Source: OMG, the New York Times and others.
Why They're Called RINOs . . . At Least One Of Them!
The other party's mascot is a mule. So much for leadership in Washington D.C.

The Republican Former Speaker Of The House, John Boehner and Paul Ryan's Mentor, Has Joined The Advisory Board Of Acreage Holdings, A Company That Cultivates, Processes And Dispenses Cannabis In 11 U.S. States. - BloombergNews
And Then There Is . . .
"House Minority Leader Nancy Pelosi (D-CA) To CNN: Democrats Will Win The Midterm Elections On November 6 And That She Will Be Elected Speaker Of The House." - Breitbart
Photo Source: Breitbart
Pelosi's Base, [Which Also Dump On San Francisco Sidewalks] Caught Uprooting U.S. Flags At VETERANS Cemetery — Then Urinating On Them- GatewayPundit

Click here for previous HTML e-mail releases from Freedom is Knowledge (2011 - current.)
Thank you for considering to pass along these e-mails.
Did you miss one of our e-mails? Check out the link below.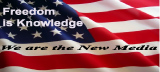 Sample Of A Few Archived Links
| Fascism Comes To America | It Doesn't Matter?! | What Privacy? | America Facing Evil | Whistleblower | Historic Biblical Times |
| Obama's 1990 article - "We're Going To Reshape Mean-Spirited Selfish America." | Print Page |
| The United States Flag: Federal Law Relating To Display And FAQs | U.S. Flag Code |
It is no measure of health to be well-adjusted to a profoundly sick society - J. Krishnamurti