The Shepp Report
Special Edition
The DNC's Mission Statement?

"Hey Deplorables: Do As We Say, Not As We Do!"

October 4, 2018
Democrat Leaders Hope You'll Forget That When They Point A Nasty Finger At A Conservative, Such As Judge Kavanaugh, Three More Could Come Back To Haunt Them Later. They Will Then Say, Nothing To See Here. Move Along!

And That's Exactly What Happened, 30 Days Before The Election!

Click on Obama's photo to watch a video of choices he made during his young adult life. So now you can ask, why did liberals and their leftist media see Obama "as the one" on January 20, 2009, and Judge Kavanaugh a gang rapist in October of 2018? I remember a well known network news host, saying at Obama's inauguration, (I'm not kidding), "I wonder how the birds are seeing this from above?"
Click here for previous HTML e-mail releases from Freedom is Knowledge (2011 - current.)
Thank you for considering to pass along these e-mails.
Did you miss one of our e-mails? Check out the link below.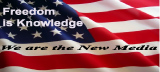 Sample Of A Few Archived Links
| Fascism Comes To America | It Doesn't Matter?! | What Privacy? | America Facing Evil | Whistleblower | Historic Biblical Times |
| Obama's 1990 article - "We're Going To Reshape Mean-Spirited Selfish America." | Print Page |
| The United States Flag: Federal Law Relating To Display And FAQs | U.S. Flag Code |
It is no measure of health to be well-adjusted to a profoundly sick society - J. Krishnamurti