The Shepp Report
Special Edition
So You Thought You Knew Everything About Gosnell

October 15, 2018
What You Thought You Knew About The Gosnell Trial Wasn't The Half Of It!

Watch this. Then go see the movie Hollywood wanted to bury.
If video has been taken down, click here to watch it.
'The O'Reilly Factor' looked into the book that reported on how authorities brought down the illegal [Gosnell] abortion operation in Philadelphia after being untouched for 30 years, [protected by Planned Parenthood and overlooked by the leadership of the Democrat Party.] - FOXNews
Video Source: FOXNews
Pelosi Can't Explain The Difference Between Gosnell Slayings And Late-Term Abortions. - WeeklyStandard, June 2013
The Gosnell Movie Trailer
Gosnell Movie Official Web Site
Click here for previous HTML e-mail releases from Freedom is Knowledge (2011 - current.)
Thank you for considering to pass along these e-mails.
Did you miss one of our e-mails? Check out the link below.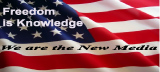 Sample Of A Few Archived Links
| Fascism Comes To America | It Doesn't Matter?! | What Privacy? | America Facing Evil | Whistleblower | Historic Biblical Times |
| Obama's 1990 article - "We're Going To Reshape Mean-Spirited Selfish America." | Print Page |
| The United States Flag: Federal Law Relating To Display And FAQs | U.S. Flag Code |
It is no measure of health to be well-adjusted to a profoundly sick society - J. Krishnamurti