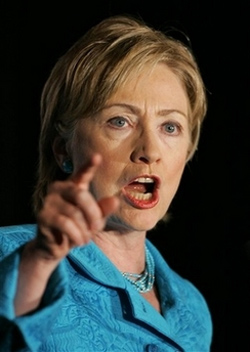 Hillary Clinton (D.-MoveOn.org)
Photo Source: DrudgeReport
Encore! Hillary Clinton Fired For Lies, Unethical Behavior
Under Hillary's watch, State Department DROPS religious freedom from human rights reports
Disney CEO buries "inconvenient facts" about 9/11 to protect Hillary Clinton, say activists
Used her power as Secretary of State to probe Argentine leader's 'nerves,' 'anxiety,' 'stress'
Obama & Hillary Clinton Calling Al-Jazeera News Superior to U.S.
make the big mistake, and then . . .
"Looking into the face of socialism, hell, and despair." - Webmaster
All 2006 charitable donations reported by Clintons went to . . . (drum roll) . . . the Clinton Foundation, or course! - Apr.
Hillary's Earmarks Tops Among Pork Requests - Apr.
Bill Clinton Earned $15.4 Million From Burkle Firm - Apr.
Clinton campaign earns reputation as something of a deadbeat in some small-business circles - Mar.

Liar, liar, pants on fire . . . Hillary gets another story wrong! - Apr.
Nobel winner: Hillary Clinton's 'silly' Irish peace claims - Mar.
Hillary's Soccer Fantasy - Mar.
"I remember landing under sniper fire," Clinton recounted. "There was supposed to be some kind of a greeting ceremony at the airport, but instead we just ran with our heads down to get into the vehicles to get to our base."

Image of Bosnia ceremony contradicts story used to boost foreign policy cred:

Sen. Hillary Clinton has used a story of arriving in Bosnia under sniper fire to bolster her foreign policy bona fides, but the Washington Post retrieved a photo showing that upon landing, she actually was greeted in a customary tarmac ceremony, complete with a kiss for a native child.

Clinton has declared on the campaign trail that a welcoming ceremony for the March 25, 1996, arrival in Tuzla was canceled, and she had to run from the airplane into an airport building for safety. The then-first lady's traveling party included 15-year-old daughter Chelsea, the comedian Sinbad and singer Sheryl Crow . . . read more

Watch CBS News on actual Bosnia landing
Hillary Clinton and Muthanna Hanooti in 1996.

A Michigan man facing federal criminal charges of illegally working for Saddam Hussein's Iraqi Intelligence Service says he met with Hillary Clinton at the White House in May 1996.

In a 1997 interview with this reporter, Muthanna Hanooti said that at the meeting, Mrs. Clinton was "very receptive" to his request for an easing of the American sanctions on Iraq that were in place at the time. He said Mrs. Clinton "passed a message to the State Department" about the need to implement the oil-for-food deal, which was intended to allow Saddam to sell billions of dollars' worth of oil to pay for food for Iraqi citizens . . . read more
Will the REAL Hillary Clinton please stand up?
Need to know what Hillary Clinton would be like if she gets into the White House again, this time with real power? Well here's a hint.
Maybe you would find out like Barack Obama has, his hearing on January 13, 2008, how she had smiled brightly at a southern church meeting, her eyes enlarging as she spoke kindly about him:
"I am so proud of my party I am so proud of my country and I am so proud of Sen. Barack Obama, because together we have presented our cases to the people."
And then maybe again in a Texas debate of February 21, 2008, where she would smile again but this time directly at him while grabbing his hand:
"And, you know, no matter what happens in this contest -- and I am honored, I am honored to be here with Barack Obama. I am absolutely honored."
Then suddenly, two days later as if Mommy Dearest, she gives a swift kick between the legs:
"Shame on you, Barack Obama," she screams at the top of her lungs as if his room had not been cleaned, "It is time you ran a campaign consistent with your messages in public. That's what I expect from you. Meet me in Ohio. Let's have a debate about your tactics and your behavior in this campaign."
Talk about the socialist tactics of Saul D. Alinsky from his The Thirteen Rules for Power, Hillary's early idol. I believe the last thing America needs now in the White House is another dangerous socialist nanny.
Already too many government officials are telling Americans what they should drive, what they should eat, what they should say, what should be taught in their schools, and what temperature the inside of our homes should be kept. Instead of electing more of these wealthy elitists, we need to boot more of them out of office if we are to protect our freedoms from an inflating government bureaucracy.
Now scan this entire page to discover the REAL Hillary Clinton. - Webmaster
As one blogger wrote, and we could have not said it better, "She absolutely disgusts me. If it ends up being Clinton v. McCain, I will vote Republican for the first time in my life." - CNN Politics.com
Experience counts? Read on . . . then you decide
"Religious" HIllary Clinton and John Edwards see other candidates as annoying and in their way. - December 2006
Hillary: Stand By Some Other Man! - Mar.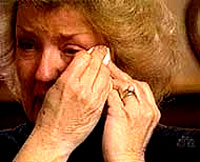 "Hey Hillary, how did you forget these tears?"
Heard the drive-by bring this up to the First Lady? Didn't think so. Debates? What a joke! The fix is in by the smucks of the drive-by media.
P.S.: We're Lying to You - January 2008
Judicial Watch Releases Records

Re: Hillary's Health Care Reform Plan - January 2008

Hillary Tears -

So what do the people say! - January 2008
Judicial Watch wins lawsuit - 10,000 pages of Hillary's schedule records to be released!
The archivists' decision to withhold documents, based on guidance provided by Bill Clinton . . .
National Archives reveals 10,000 documents from Hillary's time in White House ready for public view - (.pdf)
So What Else is New?

A group that lobbies for needle exchanges, for allowing more immigrants with HIV/AIDS to legally enter the country, and for condom distribution in prisons received a $303,000 federal earmark pushed by Sen. Hillary Clinton (D-N.Y.).

That was one of 261 earmarks Clinton personally helped usher through Congress. That's more earmarks than any other member of Congress seeking the presidency, according to an analysis by the watchdog group Citizens Against Government Waste (CAGW).

This specific appropriation is from the Department of Justice and is aimed at fighting methamphetamine use.

Clinton announced the grant in October 2007, a month after receiving a $750 donation and a $250 donation from Felix Lopez, an attorney for the "Gay Men's Health Crisis" and for a clinic based in New York.

A number of other non-profit organizations in New York state that received Clinton earmarks also had employees who contributed to her presidential campaign or political action committee, HillPAC . . . read more

- Pastor Got $1.5 Million in Clinton Earmarks Before Endorsement -