Date: May 20, 2013

Southern Poverty Law Center's Past President At It Again

From: Freedom is Knowledge
- Please feel free to share these stories with others. All news links have been verified -
Links to Web sites are highlighted in color
Headline:

Julian Bond, former leader of hate organizations, SPLC & NAACP, targets Tea Party Members to be like the Taliban. Bond was honored at the University of Virginia during his retirement as an "educator" in May 2012.
Source: YouTube
Don't Remember The Importance Of Bond's Southern Poverty Law Center, (SPLC), To Obama's Agenda? Here's A Reminder.
"Pick The Target, Freeze It, Personalize It, And Polarize It." - Saul Alinsky
This commencement address should be coming from heroes such as retired African American Lt. Col. West. Barack Obama, unlike West, was mentored by Communist Frank Marshal Davis. - Webmaster

Photo Source: Drudge Report 5/19/2013

In a commencement address at Morehouse College in Atlanta, Georgia, President Barack Obama recalls Jim Crow laws and racism of the 40s and 50s. Morehouse College is a historically black college.

"For black men in the forties and fifties, the threat of violence, the constant humiliations, large and small, the gnawing doubts born of a Jim Crow culture that told you every day you were somehow inferior, the temptation to shrink from the world, to accept your place, to avoid risks, to be afraid, was necessarily strong.

And yet, here, under the tutelage of men like Dr. Mays, young Martin learned to be unafraid. He, in turn, taught others to be unafraid. And over the last 50 years, thanks to the moral force of Dr. King and a Moses generation that overcame their fear, and cynicism, and despair, barriers have come tumbling down, new doors of opportunity have swung open; laws, hearts, and minds have been changed to the point where someone who looks like you can serve as President of the United States." . . . Read More
And Now The Truth From A Former Judge Who Lives By The Constitution

Judge Jeanine: The American people want the truth. - FOX News

Source: FOX News
Note: If using AOL the ISP can have problems playing videos, advising it is not available when it is. If having a problem note this e-mail's date, then drop the link below into Internet Explorer's (IE) address bar. When the page comes up, find the date and click on it to open.
http://www.freedomisknowledge.com/emails/emaillist.html
Thank you for considering to pass along these e-mails.
Did you miss one of our e-mails?
HTML E-mail Content from Freedom is Knowledge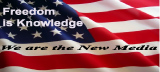 It is no measure of health to be well-adjusted to a profoundly sick society - J. Krishnamurti
| Fascism in America | It Doesn't Matter?! | What Privacy? | America Facing Evil | Whistleblower | Historic Biblical Times |
| Obama's 1990 article - "We're Going To Reshape Mean-Spirited Selfish America." | Print Page |
Listen to The Jimmy Z Show on the Internet - The right stuff from the left coast!
_____________________________________________________________
HOW TO SEARCH FOR CONTENT ON OUR EXTENSIVE CONSERVATIVE PORTAL
Freedom is Knowledge content can be easily word-searched using the Atomz Search Engine at the top of our About Us Web page along with Windows "Ctrl + F" FIND feature used for locating search words on any pages brought up in an Atomz search.

Once you review the HTML pages brought up by the Atomz Search Engine, click on a page to bring it up. It will then appear in your browser. Hold the "Ctrl +F" keys and a box will appear in the upper left top of the page. Type in the exact same word(s) you used in the original search. Click next and the word you typed in will immediately be highlighted where it is located on the page. Click the "Next" Button to see if it appears anywhere else on the page. Or back up using the "Previous" Button.

Try it now. Go to Atomz Search Engine at the top of the About Us homepage and type in Darth Tader. Click on the gray bar. A page should come up with two selections to the words you typed in. Click on the URL of either one. When the page loads hit the "Ctrl +F" keys together. Type in (or paste in) Darth Tader into the empty box at the upper left top of the page. You will be immediately taken to where the words Darth Tader appears. Enjoy the Grocery Store Wars video.

Webmaster
Western North Carolina
www.freedomisknowledge.com

Background photo source: President George Washington