Date: June 2, 2013

Week In Review - Top Ten News Stories You Might Not Know About

From: Freedom is Knowledge
- Please feel free to share these stories with others. All news links have been verified -
Links to Web sites are highlighted in color
Headline:

Seton Motley, founder and president of Less Government - CBN

Source: CBN

Jay Sekulow on Fox News: IRS Hearings Arrogant & Embarrassing - YouTube

Source: YouTube

Representative. Trey Gowdy Questions Former IRS Commissioner Shulman - YouTube

Source: YouTube

Source: Hulu

1. Some Wonder If IRS Scandal Began With Goolsbee's Remark On Koch Taxes

"Treasury Department investigators completed but never released a 2011 law enforcement probe of White House economic advisor Austan Goolsbee, The Washington Examiner has learned." – Washington Examiner

"The investigation by the Treasury Department Inspector-General for Tax Administration was sparked by Goolsbee's remarks during an Aug. 27, 2010, White House news briefing in which he appeared to possess confidential tax information on Koch Industries, the private conglomerate controlled by the Koch brothers, Charles and David.

'So in this country we have partnerships, we have S corps, we have LLCs, we have a series of entities that do not pay corporate income tax. Some of which are really giant firms, you know Koch Industries is a multi-billion dollar business,' Goolsbee said.
It is illegal for government officials to make public confidential tax information. Goolsbee was chief White House economist at the time." . . . Read More

Tea Party Groups Sue IRS, Obama Admin. for Unlawful Targeting - Breitbart

Internal IRS Probe Cited Same Problems With Approach To Conservative Groups In May 2012 - WashingtonPost

Democrats Turn On IRS; Compare IRS Scandal To Totalitarian Regimes - Breitbart

IRS Went After 83-Year-Old Tea Party Granny - WashingtonExaminer

76% Want Special Prosecutor For IRS Scandal - Breitbart

| | |
| --- | --- |
| | |
| Internal Revenue Service officials not only wanted a wide variety of information from the Albuquerque Tea Party's application for non-profit status, it also wanted to know what contacts it had with people from other political organizations too. - Washington Examiner | |
| Source: YouTube | |

2. Don't Blame The Media For Not Pursuing News Stories . . . Blame Republicans!

"The other day, MSNBC's Karen Finney was on her network discussing the IRS's targeting of conservative groups." - Bernard Goldberg

"As the National Journal's Ron Fournier quickly pointed out, Finney's premise was false. While Darrell Issa and others in Congress were indeed aware of a potential investigation last year, there were no facts made available from the investigation prior to the 2012 election. The investigation itself wasn't even confirmed until a couple of weeks ago. Thus, it's pretty ridiculous for someone to claim that 'everybody' knew about it, when very few people actually did.

This column isn't about Finney's inaccuracy, however. After all, that kind of thing isn't all that surprising coming from an MSNBC host. No, this column is about the mindset Finney seems to share with several of her media colleagues.

Over the past nine months or so, we've seen an odd initiative set forth by journalists and commentators to justify the news media's lack of interest in legitimate stories (specifically those surrounding Obama administration scandals) by criticizing how Republican politicians have reacted to those stories." . . . Read More

Piers Morgan Bans Dana Loesch From His Show Following Twitter Spat - The Blaze

Tom (It Wasn't Me In Those Early Years) Brokaw: Obama Scandals Using The Trusted IRS To Silence The Free Speech Of Americans Not As Bad As Bush's Abu Ghraib On Captured Terrorists - Breitbart

'Tornado Clearly Targets Conservatives': Daily Show Creator Faces Backlash Over Insensitive Tweet - DailyMail

Democratic Senator Uses Oklahoma Tornado For Anti-GOP Rant Over . . . Wait For It . . . Global Warming, Of Course - DailyCaller

| | |
| --- | --- |
| | |
| While many Americans were tuned into news coverage of the massive damage from tornadoes ravaging the state of Oklahoma, Rhode Island Democratic Sen. Sheldon Whitehouse took to the Senate floor to rail against his Republican colleagues for denying the theory of anthropogenic global warming. - DailyCaller | |
| Source: DailyCaller | |

3. Benghazi Suspects ID'd, But Obama Administration Just Doesn't Want To Nab Them. Whose Running The Country, CAIR?

Doesn't want to send them to Gitmo, or is CAIR running the country?

"Despite the fact that the Obama administration regularly strike at terrorists with lethal drone hits in Pakistan, Yemen and Somalia, the White House is reportedly not rounding up five suspects identified in the Benghazi attack because of a lack of evidence to try them in civilian court.

The Associated Press cites officials who said there is enough evidence to seize the men as enemy combatants and send them to Guantanamo Bay.

But apparently the Obama administration wants civilian trials for anyone involved in the Benghazi attack and has sent the FBI back to collect more evidence, which could be challenging in a more tumultuous Libya today." . . . Read More

4. Disarming Realities: As Gun Sales Soar, Gun Crimes Plummet

A couple of new studies reveal the gun-control pushers 'worst nightmare'

"According to DOJ's Bureau of Justice Statistics, U.S. gun-related homicides dropped 39 percent over the course of 18 years, from 18,253 during 1993, to 11,101 in 2011. During the same period, non-fatal firearm crimes decreased even more, a whopping 69 percent. The majority of those declines in both categories occurred during the first 10 years of that time frame. Firearm homicides declined from 1993 to 1999, rose through 2006, and then declined again through 2011. Non-fatal firearm violence declined from 1993 through 2004, then fluctuated in the mid-to-late 2000s." . . . Read More

Liberal Democrats See Gene Autry A Danger To "Their Progressive Society," As State Schools Use Social Engineering To Drill Political Correctness Into The Heads Of Little Boys - WashingtonPost

Military Veteran's AR-15 Confiscated By Police – But The Reason Why Is The Real Story! - TheBlaze

| | |
| --- | --- |
| | |
| New Jersey mom makes it clear. "You protect my Constitutional right and I will protect myself . . . Thank you." - GunWire | |
| Source: NJ.com | |

5. Obama Administration Fought To Keep Rosen Warrant Secret

"Yet another development today in the case of James Rosen, the Fox News reporter who was monitored by the Justice Dept. after receiving classified information from a State Department security adviser." – Dylan Byers

"According to The New Yorker's Ryan Lizza, the Obama administration fought to keep the search warrant for Rosen's private e-mail account secret on the grounds that they might need to monitor the account for a long period of time.

"Ronald C. Machen, Jr., the U.S. Attorney who is prosecuting Stephen Jin-Woo Kim, a former State Department adviser who allegedly leaked classified information to Rosen, insisted that the reporter should not be notified of the search and seizure of his e-mails, even after a lengthy delay," Lizza writes, citing a court filing." . . . Read More

6. Democrats Moving To Increase Voter Fraud

"A conservative activist is outraged that the Colorado Legislature has passed a bill that will almost certainly increase the chances of voter fraud in the state." - OneNewsNow

"With the bill that Colorado Democrats recently pushed through, voters would be allowed to register up until Election Day and still cast their ballots. It is the latest move by Democrats to fight Republican efforts to require identification at polling places to purge rolls of suspect voters.

Knight, Robert (ACRU)Robert Knight, senior fellow and executive director at The American Civil Rights Union (ACRU), says requiring voters to present a photo ID is just common sense. 'Requiring photo ID and making sure the voter rolls are cleaned up would prevent any vote fraud,' he contends. And he deems the Democrats' push to allow late registration wrongheaded." . . . Read More

Finally: Tax-Dodging, Union-Busting, Subprime Mortgage Banker Hauled Before Congress - Breitbart

More Conflict Of Interest In Congress, As husband Of The "Honorable" Senator Diane Feinstein Chairs Company That Profits From The Sale Of U.S. Post Office Facilities - Snopes


7. The New American Gender-Neutral Army

Political chaos is connected with the decay of language - George Orwell

"If language is meaning, then political chaos is the destruction of meaning. Political language exists to destroy meaning and to make unpopular policies seem popular by associating them with the very opposite of what they are.

Taxes are opportunities. Spending is stimulus. Amnesty is reform. The left is as good at language as it is bad at governing. It can't change reality, but it excels at changing the description of reality. Common sense is the enemy of the left and the left defeats common sense by corrupting language so that nothing makes sense and common sense can never come into play.

The proposal to put women into combat is a transparently bad idea for reasons of common sense. Without an ongoing conflict and with deep cuts to the military, there is no shortage of manpower that requires desperate measures and compromised standards. There is no reasonable reason for it all except the need to transform the military from a warfighting force into a beacon of liberal values." . . . Read More

8. New York Times Lawyer: Obama Worse Than Nixon, 'Worst President Ever' On Press Freedom

"James Goodale, the lawyer for The New York Times in the Pentagon Papers case against the Nixon administration, declared in the Times on Tuesday that Obama is going to be worse than Nixon." – NewsBusters

James Goodale, the lawyer for The New York Times in the Pentagon Papers case against the Nixon administration, declared in the Times on Tuesday that Obama is going to be worse than Nixon." – NewsBusters

"Until President Obama came into office, no one thought talking or emailing was not protected by the First Amendment. President Obama wants to criminalize the reporting of national security information. This will stop reporters from asking for information that might be classified. Leaks will stop and so will the free flow of information to the public.

I've written that the administration action against Julian Assange in the Wikileaks case was a clarion call to journalists. Now, the Rosen case shows, it may be too late.

The A.P. case is more evidence of President Obama's dismissal of the First Amendment in national security cases. There was no need to subpoena The A.P. without telling The A.P. And there was no need to subpoena scores of telephone records of A.P. reporters. The subpoena was over-broad." . . . Read More

9. Court Rules Obama Department Of Homeland Security Violated FOIA With Stealth Amnesty Secrecy

"Judicial Watch announced today that the United States District Court for the District of Columbia ruled that the Obama Department of Homeland Security (DHS) had failed to comply with the Freedom of Information Act" – Judicial Watch

"The Judicial Watch FOIA lawsuit concerns a DHS policy, implemented by Immigration and Customs Enforcement (ICE), which led to the reduction of the deportation docket in Houston, Texas, by dismissing pending enforcement proceedings against illegal immigrants who DHS claimed did not have serious criminal records. Judicial Watch subsequently uncovered records showing that multiple deportation cases were dismissed against illegal immigrants who had committed serious felonies.

The litigation has increased significance with the Obama administration's large scale suspension of deportations and, most recently, the release of thousands of criminal illegal aliens due to alleged sequester budget cuts. According to The Associated Press, since mid-February, the Obama administration has released more than 2,000 illegal immigrants facing deportation from jail. Reports indicate that it plans to release 3,000 more during March." . . . Read More

Judicial Watch At Work!

Judicial Watch Files Three New Lawsuits Against Obama Administration for Concealing Benghazi - Judicial Watch

Judicial Watch Sues Obama Treasury Department For Records Detailing Authorization Of Chinese Corporate Takeover - Judicial Watch

Judicial Watch Releases Confidential USDA Videos Revealing "Cultural Sensitivity Training" Program - Judicial Watch

Judicial Watch Politics over Public Safety: "More Illegal Alien Criminals Released by Obama Administration!" - Judicial Watch

Judicial Watch Vindication: IG Confirms Lies, Racism Rampant Inside Holder Justice Department - Judicial Watch

10. Boy Scouts Will Allow Youth To Join

| | |
| --- | --- |
| | |
| The Boy Scouts Of America Will Allow Openly-leftist Youths Into Organization Starting January 2014 - YouTube | |
| Source: YouTube | |

So What Will Be The Effect Of These Opposing Cultures On The Future Of Scouts?

Encore 2009: Remember Obama's Czar and who he hung around with and the "educational" programs he prompted? Critics Assail Obama's 'Safe Schools' Czar, Say He's Wrong Man For The Job - FOX News

Planned Parenthood Sells Sex To America's Youth, Including "Fisting Kits." - FreedomIsKnowledge

Adult Leftists Admit That Opposing Marriage As Between A Man And A Woman Is . . . Wait For It . . . To Simply Destroy Marriage - FreedomIsKnowledge

You Know The Boy Scouts Traditional Uniform. But Others May Want Their Own Dress Code - 10Percent

And Of Course, To The Boy Scouts "A Basket" Will Never Be The Same - GenderEserver

Sample Of Sexual Terms

(Note: While the above online dictionary may be offensive to some, it is what it is. The Boy Scouts may find themselves discussing new unexpected subject matter, or were they not aware of open lifestyles without need of an apology? So which values will drive future scouting programs, camp fires or basket weaving?

A

| | |
| --- | --- |
| AC/DC | BISEXUAL |
| ACTIVE | THE AGGRESIVE SEXUAL PARTNER |
| AGATE | A SMALL PENIS |
| ANALINGUS | PENE-TRATION OF THE ANUS BY THE TONGUE |
| ANGEL | MALE WHO PAYS FOR SEXUAL ACTS |
| ANUS | THE OPENING OF THE RECTUM |
| AROUND THE WORLD | KISSING THE ENTIRE BODY AS A PRELUDE TO SEX |
| ASEXUAL | ABSENCE OF SEXUAL FEELING |
| A** | THE BUTTOCKS |
| A**HOLE | THE ANUS |
| AUNTIE | AN AGING MALE HOMOSEXUAL |
| AUTO-EROTICISM | MASTURBATION |
| AUTO-FELLATIO | PERFORMING FELLATION ON ONES OWN PENIS |
| AUTO-SADISM | AN ACT WHEREBY ONE INFLICTS PAIN ON ONESELF |
| AUXILIARY INTERCOURSE | MOVING ERECT PENIS BACK AND FORTH IN THE ARMPIT |

Source: 10Percent Clothing

Above photos from a clothing magazine.

Click here for the rest of the alphabet. Warning: terms may be disturbing.

___________________________________

Encore: So What Happened In 2009 To The Girl Scouts? - WND

The Girl Scouts At 100: Why Everyone Isn't Celebrating - WND

Meet 'American Heritage Girls' — The Christ-Centered Alternative to the Girl Scouts - The Blaze

American Heritage Girls Promotional Video -

YouTube

Source: YouTube
________________________________________________________
Leno: Obama holds press conferences to find out what's going on - Newsbusters

Source: MRCTV

The Amazing Skidboot! The dog that went viral across America - YouTube

Source: YouTube

TKS to James of Georgia for the heads-up

Obama's signal to progressive: Their messiah had arrived.
Note: If using AOL the ISP can have problems playing videos, advising it is not available when it is. If having a problem note this e-mail's date, then drop the link below into Internet Explorer's (IE) address bar. When the page comes up, find the date and click on it to open.
http://www.freedomisknowledge.com/emails/emaillist.html
Thank you for considering to pass along these e-mails.
Did you miss one of our e-mails?
HTML E-mail Content from Freedom is Knowledge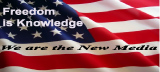 It is no measure of health to be well-adjusted to a profoundly sick society - J. Krishnamurti
| Fascism in America | It Doesn't Matter?! | What Privacy? | America Facing Evil | Whistleblower | Historic Biblical Times |
| Obama's 1990 article - "We're Going To Reshape Mean-Spirited Selfish America." | Print Page |
Listen to The Jimmy Z Show on the Internet - The right stuff from the left coast!
_____________________________________________________________
HOW TO SEARCH FOR CONTENT ON OUR EXTENSIVE CONSERVATIVE PORTAL
Freedom is Knowledge content can be easily word-searched using the Atomz Search Engine at the top of our About Us Web page along with Windows "Ctrl + F" FIND feature used for locating search words on any pages brought up in an Atomz search.

Once you review the HTML pages brought up by the Atomz Search Engine, click on a page to bring it up. It will then appear in your browser. Hold the "Ctrl +F" keys and a box will appear in the upper left top of the page. Type in the exact same word(s) you used in the original search. Click next and the word you typed in will immediately be highlighted where it is located on the page. Click the "Next" Button to see if it appears anywhere else on the page. Or back up using the "Previous" Button.

Try it now. Go to Atomz Search Engine at the top of the About Us homepage and type in Darth Tader. Click on the gray bar. A page should come up with two selections to the words you typed in. Click on the URL of either one. When the page loads hit the "Ctrl +F" keys together. Type in (or paste in) Darth Tader into the empty box at the upper left top of the page. You will be immediately taken to where the words Darth Tader appears. Enjoy the Grocery Store Wars video.

Webmaster
Western North Carolina
www.freedomisknowledge.com

Background photo source: President George Washington