Date: August 18, 2013

Week In Review - Top Ten News Stories You Might Not Know About

From: Freedom is Knowledge
- Please feel free to share these stories with others. All news links have been verified -
Links to Web sites are highlighted in this color
When Watching Videos : If using AOL to view these e-mails, their ISP can sometimes have problems playing videos that are loaded, advising you with a message the video is not available when it is. If having a problem, first note this e-mail's date. Then drop the URL below into Internet Explorer's (IE) address bar. When the page comes up, find the date in the archived list and click on it to open. You should be able to then view all videos on the page if their URL is still active on the site's server.
http://www.freedomisknowledge.com/emails/emaillist.html
Headline:

What Is Wrong With America? This Is What's Wrong With America.

Sarah Palin Was Right On Independent Payment Advisor Boards, (IPAD), Or Better Know As Obama's Death Panel - AfterBurner

Source: PJTV

Wanna Know What's Wrong With Journalism?

California Beach Bum Living Off Food Stamps And Proud Of It - FOXNews

Source: YouTube

Police State Too Much? Send In A Marine! - YouTube

Source: YouTube

DiGenova: Intel community fears stolen missiles could be used to shoot down an airliner or blow up an embassy - FreeBeacon

Source: YouTube

Voter ID Law In North Carolina, NAACP & ACLU Lawsuits: Jimmy Z - YouTube

Source: YouTube

1. Send In The Obama Clowns

"In a world where Socialist is a racial slur, why can't bull be an assassination plot?" – FrontPage

"It's comforting to learn that Obama experienced no personal danger from the rodeo clown. Even the most creative Hollywood villain would find his imagination stressed to the limit trying to recreate the Missouri State Fair as an assassination plot.

But the Star's Yael T. Abouhalkah is right to remain vigilant against the threat of someone smuggling an angry bull on board Air Force One during its next jaunt to Martha's Vineyard or hurling a furious Red Angus from a catapult into the White House." . . . Read More

A Swiss Clerk Teaches Us About Racism and Profiteering – AmericanThinker

2. Explosive New Book Sets Out Case For Impeachment

"Barack Obama over Benghazi, health care reform, immigration and spying scandals" – DailyMail

"In a lengthy indictment of President Barack Obama, two best-selling authors argue in a forthcoming book that the current occupant of the White House has committed numerous 'high crimes and misdemeanors' that could justify his impeachment and removal from office.

'Consider this book to be ... a blueprint for drafting articles of impeachment,' author Aaron Klein told MailOnline, which exclusively reviewed a copy of his 'Impeachable Offenses,' a book co-authored with Brenda Elliott and due out August 27. 'It is up to the public and ultimately up to to their elected representatives,' he said, 'to decide what to do next.'

Obama's actions, the authors write, include sanctioning an alleged 'arms-to-jihadist-rebels scheme' in Benghazi, Libya that 'aided an Islamist revolution and armed our most dangerous al-Qaeda enemies,' Those terror groups include al-Qaeda militants fighting alongside Syrian rebels trying to topple dictator Bashar al-Assad." . . . Read More

13 State Attys General Warn Of Possible Obamacare 'Privacy Disaster;' CNN Has Yet To Report – NewsBusters

Holder And FBI Admit Lying About Data Released Before Election Last Year - AmericanThinker

The Nile River Runs Red As Obama Golfs In Martha's Vineyard – NowTheEndBegins

In Egyptian Village, Christian Shops Marked Ahead Of Church Attack By Thugs Of The Muslim Brotherhood - ChristianScienceMonitor

Egypt Meltdown Doesn't Deter John Kerry's kiteboarding in Nantucket, While Obama Goes Bike Riding With The One Percent in Martha's Vineyard - The Blaze

| | |
| --- | --- |
| | |
| Remember the Historical Campaign Ad from 2004! - YouTube | |
| Source: YouTube | |

Obama's "Queeg" Moment - Spector

While Obama voters celebrate their country's morals sliding into the cesspool of history -

KUOW

3. How Obama Betrayed America

"A policy of appeasement and intervention abets our enemies." – DavidHorowitz

"Albright made her statement about Iraq when Democrats were still supporting their country's confrontation with the sadistic dictator Saddam Hussein, and before they defected from the war, shortly after its battles were under way. Obama opposed America's war with Iraq and then opposed the military surge that finally brought victory. As president, Obama presided over the withdrawal of all American forces from Iraq, against the wishes of the Joint Chiefs of Staff, who wanted a continuing military presence — withdrawal paid for in the blood of thousands of American men and women in arms. Obama thus turned that benighted nation over to the malign influences of America's chief enemy in the Middle East, Iran.

Far from shouldering his responsibility as the commander-in-chief of America's global War on Terror and embracing it as this generation's equivalent of the Cold War, Obama showed his distaste for the entire enterprise by dropping the term "War on Terror" and replacing it with an Orwellian phrase — "overseas contingency operations." Minimizing the Islamist threat to the United States is not an oversight of the Obama administration; that is its policy." . . . Read More

Obamacare Has 'Taken The Joy' From Doctors - WashingtonTimes

News From the Swamp: IRS Targeting Continues - PatriotPost

Piers Morgan: I Don't Want All American Women Armed with Guns – Breitbart

Abortion-Clinic Coupons: Save $50 on Sundays – BigHealthReport

4. Behind Benghazi:

"Muslim Brotherhood and the Obama Administration" – CBN

"Evidence that Egypt's Muslim Brotherhood was directly involved in the September 11, 2012 terrorist attack on the U.S. consulate in Benghazi, where Americans including U.S. ambassador to Libya Chris Stevens were killed, continues to mount.

First, on June 26, 2013, I produced and partially translated what purported to be an internal Libyan governmental memo which was leaked and picked up by many Arabic websites. According to this document, the Muslim Brotherhood, including now ousted President Morsi, played a direct role in the Benghazi consulate attack. "Based on confessions derived from some of those arrested at the scene," asserted the report, six people, 'all of them Egyptians' from the jihad group Ansar al-Sharia (Supporters of Islamic Law), were arrested. During interrogations, these Egyptian jihadi cell members:" . . . Read More

5. 57.5 Million Working-Age Americans Not Working In Second Quarter of 2013

"That figure is up 17 million from the second quarter of 2000. Proponents of the Schumer-Obama amnesty bill (S.744), however, claim that there are not enough workers currently living in the United States." – NumbersUSA

"The Schumer-Obama amnesty bill would grant more than 33 million new work permits in the first decade by granting amnesty to 11 million illegal aliens, clearing the current backlog, and expanding existing legal immigration categories. The bill also calls for a new low-skilled, guest worker program that would grant 200,000 3-year temporary visas each year." . . . Read More

6. Airmen Punished For Objecting To Same-Sex Marriage

"A 19-year veteran of the Air Force said he was relieved of his duties after he disagreed with his commander when she wanted to severely punish an instructor who had expressed religious objections." - FOXNews

"'I was relieved of my position because I don't agree with my commander's position on same-sex marriage,' Senior Master Sgt. Phillip Monk told Fox News. 'We've been told that if you publicly say that homosexuality is wrong, you are in violation of Air Force policy.'

The Liberty Institute is representing the Christian airman in case the Pentagon decides to retaliate.

'Are we going to have a 'Don't Ask, Don't Tell' policy for Christians so we don't get harassed for our beliefs?' attorney Hiram Sasser asked Fox News. 'Here's a guy who wants to have his religious liberty and serve in the military. He shouldn't have to believe in same-sex marriage in order to serve.'

A spokesperson for Lackland Air Force Base public affairs told Fox News Monk was not punished and that he was simply at the end of his assignment. 'They did have a disagreement, but supposedly, they agreed to disagree,' the spokesperson told Fox News. "But the wing commander said there was no punishment.

Monk has served as a first sergeant at Lackland Air Force Base in San Antonio since 2011. He recently returned from a deployment and discovered he had a new commander – an open lesbian." - Read More

Confused Kids Can Chose Restrooms – LibertyCounsel

So About This Louie Giglio – ChristianPost

7. On the Brink Of Disaster!

20 Christian Churches Attacked in Egypt

"Yesterday, in the course of a few hours, according to International Christian Concern, Islamists in Egypt have violently attacked over 20 Christian churches. The deadly violence by Islamists has claimed more than 100 lives, leaving nearly 1000 more wounded. And while interim President Adly Mansour has now declared a nation-wide state of emergency in Egypt, we must ask ourselves, what will it take to protect the religious minorities from this religious cleansing?

Christians have suffered intense persecution ever since the Muslim Brotherhood ascended to power, and many Muslim radicals blame the Coptic Christian community for the Muslim Brotherhood's recent overthrow. Left unchecked, Muslim radicals could launch a killing spree, initiate a campaign of ethnic cleansing, or – at worst – mass killings. Even a cursory reading of the headlines shows that the Christian community is on the brink of disaster.

Just days after a 10-year-old Christian Egyptian girl was gunned down by Islamists while returning with her pastor from Bible study class, Christians in Egypt fear for their lives as their children, homes, places of worship, and places of business are targeted by Islamists." . . . Read More

8. Corrupt Former Mayor At Home Teaching . . . Wait For It

. . . At Harvard!

Antonio Villaraigosa, a former mayor of Los Angeles who racked up countless ethics violations and used taxpayers money to refurbish his yacht, will lecture at Harvard University's John F. Kennedy School of Government in the fall.

Villaraigosa will temporarily join Harvard as a visiting fellow, giving several lectures a day on on a highly compacted schedule, according to Campus Reform.

"Visiting fellows traditionally meet with student groups; lead discussion groups on topical issues and their experiences in public and political service; and participate in public policy classes," according to a statement on Villaraigosa's appointment in the Harvard Gazette.

The fellowship program is part of John F. Kennedy School of Government's Institute of Politics, a forum for politicians and activists to engage with students and inspire them in ethical and non-partisan fashion to pursue careers in public service, according to Harvard." . . . Read More

9. City Confiscates New York Veterans Group's 'Don't Tread on Me' Flag

Thomas More Law Center Sues

"The Thomas More Law Center filed a federal lawsuit last week against the City of New Rochelle, NY, its Mayor and five members of the City Council for confiscating the "Don't Tread on Me" Flag (known as the Gadsden Flag) from a flagpole at the local Armory. The lawsuit was filed on behalf of the United Veterans Memorial & Patriotic Association of New Rochelle (UVMPA-NR) and its president, Peter Parente, a Marine Corps veteran.

The Gadsden Flag is a historical American flag with a yellow field depicting a snake coiled, ready to strike. Positioned below the snake are the words 'Don't Tread on Me.' In 1775, the flag was designed by and is named for Revolutionary general and statesman Christopher Gadsden. The Gadsden Flag is considered the first flag of the Continental Navy." . . . Read More

10. What Global Warming?

"2012 Data Confirms Earth In Cooling Trend" - CNSNews

The National Oceanic and Atmospheric Administration recently released its 'State of the Climate in 2012' report, which states that 'worldwide, 2012 was among the 10 warmest years on record.'

But the report 'fails to mention [2012] was one of the coolest of the decade, and thus confirms the cooling trend,' according to an analysis by climate blogger Pierre Gosselin. 'To no one's surprise, the report gives the reader the impression that warming is galloping ahead out of control,' writes Gosselin. 'But their data shows just the opposite.' Although the NOAA report noted that in 2012, 'the Arctic continues to warm' with 'sea ice reaching record lows,' it also stated that the Antarctica sea ice 'reached a record high of 7.51 million square miles' on Sept. 26, 2012." . . . Read More

Busted! Green Hypocrisy Marks A New Low - PowerLine

Organization For Action Gets Zero Attendance For Its Climate Change Rally - WashingtonFreeBeacon

________________________________________________________

Oliver Stone: Obama is a Snake! - YouTube
Source: YouTube
Friend of Obama, Jesse Jackson Jr. to Grab $8,700 Per Month in Disability, Plus Pension In Prison - Breitbart
Obama's signal to progressives in 2007: Their messiah had arrived.
Thank you for considering to pass along these e-mails.
Did you miss one of our e-mails? Check out the link below.
HTML E-mail Content from Freedom is Knowledge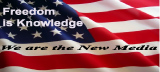 It is no measure of health to be well-adjusted to a profoundly sick society - J. Krishnamurti
| Fascism in America | It Doesn't Matter?! | What Privacy? | America Facing Evil | Whistleblower | Historic Biblical Times |
| Obama's 1990 article - "We're Going To Reshape Mean-Spirited Selfish America." | Print Page |
Listen to The Jimmy Z Show on the Internet - The right stuff from the left coast!
_____________________________________________________________
HOW TO SEARCH FOR CONTENT ON OUR EXTENSIVE CONSERVATIVE PORTAL
Freedom is Knowledge content can be easily word-searched using the Atomz Search Engine at the top of our About Us Web page along with Windows "Ctrl + F" FIND feature used for locating search words on any pages brought up in an Atomz search.

Once you review the HTML pages brought up by the Atomz Search Engine, click on a page to bring it up. It will then appear in your browser. Hold the "Ctrl +F" keys and a box will appear in the upper left top of the page. Type in the exact same word(s) you used in the original search. Click next and the word you typed in will immediately be highlighted where it is located on the page.

Click the "Next" Button again to see if your selected word appears anywhere else on the page. Or back up using the "Previous" Button.

Try it now. Go to Atomz Search Engine at the top of the About Us homepage and type in Darth Tader. Click on the gray bar. A page should come up with two selections to the words you typed in. Click on the URL of either one. When the page loads hit the "Ctrl +F" keys together. Type in (or paste in) Darth Tader into the empty box at the upper left top of the page. You will be immediately taken to where the words Darth Tader appears.

And of course please enjoy the Grocery Store Wars video.

Webmaster
Western North Carolina
www.freedomisknowledge.com
Background photo source: President George Washington