The Shepp Report
Special Edition
Tuskegee University's Founder Turning Over In His Grave
May 20, 2015
Michelle Obama: "Things Never Easy for People Like Us!"

Harvard University is obviously no longer a benchmark for strong American leaders, instead a source for graduating whiners, dividers and Ray Nagin's labeled "chocolate-city" cupcakes.

People Like Us?! Asian Groups File Federal Complaint Against Harvard Over Admission Practices - FOXNews
1.) "Things Never Easy for People Like Us!"

OMG, Harvard graduate Michelle Obama whines again to remind us of her earlier complaints about the cost of piano lessons, obviously wanting the teacher to take less so she could have more. Then in 2015, after being the United States First Lady, she says this in the above speech, Things never easy for people like us! - MinutemenNews

2.) Who Is "Us"?

Where was Michelle when President Obama, whom she has lived with in the White House, tried to kill a special education voucher program for high-achievement poor African-American kids in Washington D.C., the type of education her own daughters enjoy at taxpayer expense? - Watch below!
Barack Obama and the screwing of the DC school voucher program - YouTube - Video: URL
3.) Michelle's "Patient Dumping Scheme."

Let's not forget the March 2009 article that reminded us of Michelle's $300,000 hospital employment position in Chicago, the American Thinker writing she shoved the poorer patients toward the community hospitals and the richer ones toward her place of employment, labeled as Michelle's patient dumping scheme:

"Oddly absent from most of the unflattering press coverage of UCMC's patient-dumping scheme is any mention of the role our new First Lady played in devising the program. A laudable exception has been the Chicago Sun-Times, which reported last August that "Michelle Obama . . . currently on unpaid leave from her $317,000-a-year job as a vice president of the prestigious hospital -- helped create the program." - American Thinker

4.) Expensive Massages, Five-Star Hotels, etc.

Oh, my, poor Michelle: Expensive massages, top shelf vodka and five-star hotels: First Lady accused of spending $10m in public money on her vacations. - DailyMail, August 2011

5.) During The 2014 Election The Obama Media Jumped On Ann Romney's $900 Blouse But Somehow Forgot Michelle's $3,000 Dress.

And those expensive clothes by First Lady Republicans while the corrupt mainstream media forgot to talk about Democrat Michelle: "Remember Ann Romney's $900 Blouse? Ever Hear Of Michelle Obama's $3,000 Dress?"[Didn't think so. - Webmaster] - TheBlaze, March 2014

6.) Darn, What Were Those Names Of Michelle's Favorite Design Labels?

Michelle Obama's Favorite Fashion Designers: Can You Learn To Pronounce The First Lady's Favorite Labels? - Fashion, (Date Unknown)

7.) Remember The Painful Irony Of Michelle Obama's $12,000 Dress?

"But it's difficult to take these positions seriously when the people taking them engage in the very lifestyles they claim to abhor. Take for example Michelle Obama, who wore a $12,000 Carolina Herrera designer gown to the state dinner earlier this week." - Townhall, February 2014

8.) Five Facts You May Not Know About Obama's Travel Costs.

With Michelle Obama in China and the President set to take a trip to Belgium on Tuesday, there has been a lot of press about their trips and their associated costs. - IJReview, March 2014

9.) Michelle's Ski Trip Marks 16 Obama Vacations.

First lady Michelle Obama's weekend jaunt to Aspen, Colorado for a President's Day ski holiday with her daughters Sasha and Malia makes the 16th time members of the first family have gone on extended vacations during their three years in office.

Their stay at the home of a major Chicago fundraiser for President Obama makes the fifth time the first lady and her daughters have taken a break from Washington on their own. Only once has Obama had a long weekend out of town and alone, celebrating his 49th birthday in Chicago in August 2010. - WashingtonExaminer, February 2012

10.) Obama's Hawaii Vacation Home And The Luxury Rentals Of Kailua.

For most of the country, a holiday vacation includes a trip to grandma's house, questionable eggnog and keeping warm under a dusty, old Christmas sweater. But the Obamas are not "most of the country," and their holiday vacation is from a whole other world -- a warm, tropical and breezy world. On Friday, the presidential family will take off on their sixth annual winter vacation to the Hawaiian island of Oahu and their accommodations are laid-back luxury. -- HuffingtonPost, January 2019

11.) Judicial Watch Lists First Family Vacations / Costs.

Judicial Watch has been at the forefront of exposing the trips and the waste of taxpayer dollars through Freedom of Information Act [FOIA] requests and lawsuits, to obtain the details, when necessary. List of 18 First Family vacations and their cost to the American taxpayer. - Judicial Watch, (Date Unknown.)

12.) Michelle Obama Injects Racism Again, Adding Global Warming into Latest Commencement Address . . . "and the oceans rising."

What? "Still possible to make a difference," Michelle? Didn't Harvard teach you anything?!

"No, you don't get to be precious or cautious or cynical. No, not when the earth is warming and the oceans are rising. You don't get to be cynical. Not when too many young people still languish in communities ripped apart by violence and despair. Not when women still make less than men for the same work. Not when millions of girls across the globe never set foot inside a school. (Applause.) No, not when many young people just like you -- the men and women we honor this Memorial Day –- have sacrificed their lives for your freedom to make your voice heard. You don't get to have no hands.

And, graduates, climate change, economic inequality, human rights, criminal justice -– these are the revolutions of your time. And you have as much responsibility and just as much power to wake up and play your part in our great American story. Because it is absolutely still [WHAT] possible to make a difference." - MichelleObama, Oberlin College

13.) Report: Obama's Kenyan Family Disowned The Aloof And Rude Obamas.

"The relationship really melted down last year when Obama allegedly stonewalled the family over the funeral of Obama's aunt Zaituni, which the president skipped in order to play another round of golf." - - TruthRevolt

"The much-chronicled 'complicated' relationship between Obama and his Kenyan family has reportedly utterly collapsed in the last few years, the family accusing him of turning a blind eye to them and only touting his Kenyan heritage for 'political expediency.'

As the NY Times noted in April 2014, though Obama consistently "distanced" himself from the family as president, his Kenyan heritage was a 'powerful element' of his first presidential campaign, when he sold himself as 'a candidate who connect different worlds,' even inviting a delegation of his African relatives to his 2009 inauguration." - TruthRevolt - Read More
Now A History Lesson About The Founder Of Tuskegee University
"In a recent installment of Zonation, host Alfonzo Rachel reacted to Michelle Obama's recent commencement address at Tuskegee University. As Western Journalism reported, the first lady used the forum to spread a message of victimhood among black graduates." - WesternJournalist
Source: YouTube
_____________________________________________

So Let's Put Aside Michelle's Very Destructive Un-American Thinking, "This Country Ain't Done Nothing For Me."
INSTEAD let's remember Frank Sinatra, who was born into a low-income family in Hoboken, New Jersey. Later in life he would remember his roots, proudly singing The House I Live In at Madison Square Garden, filled to the brim with a cheering crowd of 1970's Americans.
Never forget where we came from! Sinatra LIVE from Madison Square Garden, 1974 - YouTube - Video: URL

The Lyrics

What is America to me? A name, a map, or a flag I see? A certain word, democracy? What is America to me?

The house I live in, a plot of earth, a street. The grocer and the butcher and the people that I meet. The children in the playground. The faces that I see, all races and religions, that's America to me.

The place I work in, the worker at my side. The little town, the city where my people lived and died. The howdy and the handshake, the air of feeling free. And the right to speak my mind out, that's America to me.

The things I see about me, the big things and the small. The little corner newsstand and the house a mile tall. The wedding and the churchyard, the laughter and the tears. The dream that's been growing for a hundred and fifty years.

The town I live in; the street, the house, the room, the pavement of the city or the garden all in bloom. The church, the school the clubhouse, the millions lights I see.

But especially the people, that's America to me.

Songwriters: Abel Meeropol (Lewis Allan) with music by Earl Robinson, 1943

Publisher: Warner/Chappell Music, Inc.
Lyrics licensed and provided by LyricFind

(Please read the interesting history of Abel Meeropol, the lyrics his hope for America unlike Michelle Obama's destructive words, Things never easy for people like us.)

Sung by Frank Sinatra, Madison Square Garden
- The Trojan Horse In The White House -
| The United States Flag: Federal Law Relating To Display And FAQs | U.S. Flag Code |
Looking around America today, George Bailey did get his wish.
Thank you for considering to pass along these e-mails.
Did you miss one of our e-mails? Check out the link below.
HTML E-mail Content from Freedom is Knowledge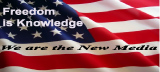 It is no measure of health to be well-adjusted to a profoundly sick society - J. Krishnamurti
| Fascism Comes To America | It Doesn't Matter?! | What Privacy? | America Facing Evil | Whistleblower | Historic Biblical Times |
| Obama's 1990 article - "We're Going To Reshape Mean-Spirited Selfish America." | Print Page |