The Shepp Report
Special Edition
The Vocabulary Of The New Obama-Run Democrat Party Drips Of A Disturbing Push Toward Socialism / Fascism
June 2, 2016
Oh my, after reading the links in the copy below you may want to ask, "Where was ABC, CBS, NBC and CNN on all these facts in 2008, the media outlets run by the liberals of the Democrat Party?" And that alone answers your questions, doesn't it?

First Unitarian Church of Honolulu - WND

Never forget that in a video-taped reading of his book in the early 1990's, Barack Obama openly and proudly acknowledged having been mentored by Frank Marshall Davis, a Communist introduced to him by his gramps, his mother's father, a Communist also living in Hawaii.

Obama's grandfather had also taken a young Obama to the First Unitarian Church in Honolulu, which hid members of the Students For A Democratic Society, (SDS), also know as The Resistance, a group founded by Bill Ayers to become the Weatherman terrorists. -

This was the same SDS that threatened violence against Congressman Tom Tancredo on UNC's campus, throwing rocks through the classroom windows threatening his safety. He was trying to speak on the dangers of Obama's illegal immigrants in April of 2009, the ones Obama is now registering to vote in the 2016 election for a administration to replace the outgoing Obama regime. - Webmaster

_______________________________________________________________________________________
Progressive, Liberal, Socialist Or Concerned Citizen:

What's In A Name When They All Lead To The Same Outcome?

Never forget that it was a young Hillary Clinton who followed the Power Points of Saul Alinsky.

"Filmmaker and American citizen Agustin Blazquez never thought his native Cuba would become a communist country, but now he sees the same radical shift happening in America.

In this exclusive video interview for The Daily Caller News Foundation, he says the left has been clever by using "very non-threatening words," like liberal, progressive and concerned citizens, for advancing government control of American lives. The truth about Cuban politics is hard to find because of media spin and propaganda dominating American discourse.

For Blazquez, watching American youth embrace avowed socialist Senator Bernie Sanders for president, strikes him as 'absurd.' It is the end result, he says, of the cultural Marxist education and media propaganda that has anesthetized too many Americans who do not defend the values that made America exceptional.

Watching President Barack Obama travel to Cuba, he says, made him 'want to throw up.' This was a 'betrayal to victims of communism,' the filmmaker of 'Covering Cuba' says. Blazquez adds there are 'so many [Nelson] Mandelas' in Cuban prisons, who are tortured, denied medical attention and abused.

Yet, prominent black elites from America, including most incredibly to him, the Congressional Black Caucus, are wined and dined by the political elites but are blind to their 'betrayal of blacks in Cuba.'" – DailyCaller [Click here for full interview.]
Cuban-born filmmaker warns America is morphing into Communism.
- DailyCaller
Other Warning Videos
These links are compliments of Stand Up America, a Web domain run by Maj. Gen. Paul Vallely, who served 32 years in the Army and retired as Deputy Commanding General, US Army, Pacific.
Common Core Is The Communist Core I Went Through In China
"A Chinese immigrant shares her thoughts on Common Core and her Chinese education. Please like and share. If you like my messages, please subscribe and like my Facebook page: Lily4Liberty. Follow my posts and videos. I will have more to come. Thank you for your support." - Lily Tang Williams
Video Source: YouTube
Is America Today Marching To The Same Drum Beat As The Third Reich?
Kitty Werthmann is an 87 year-old WW2 survivor. Werthmann lived under Nazi rule through the war, and strongly feels the need to warn Americans about the horrors of socialism, remembering Adolf Hitler spoke just like an American politician. She sites Switzerland's policy where citizens are required to own guns. 'Keep your guns. Keep your guns. - Kitty Werthmann
Video Source: YouTube
Former Hitler Youth Whistleblower Warns Of America's Nazi Future
"In this shocking interview available for the first time to Prison Planet.tv subscribers, former Hitler Youth member and World War Two veteran Hilmar Von Campe warns that America's collective turn away from God is greasing the skids for the state to take over as the ultimate authority, threatening a repeat of the rise of National Socialism, as he warns that the Obama White House and the United States government in general now more closely embrace the political doctrines of the Nazis than they do those of the founding fathers." - PrisonPlanet
Video Source: YouTube
The End Of America
"Talk by Naomi Wolf author of "The End of America: Letter of Warning To A Young Patriot" given October 11, 2007 at Kane Hall on the University of Washington campus [one year before the election of Obama.] - Naomi Wolf
Video Source: YouTube
The End Of America - Updated 2014
The End of America Revisited - New Hampshire Liberty Forum 2014 - Naomi Wolf
Video Source: YouTube
- The Trojan Horse In The White House -
| The United States Flag: Federal Law Relating To Display And FAQs | U.S. Flag Code |
Looking around America today, George Bailey did get his wish.
Thank you for considering to pass along these e-mails.
Did you miss one of our e-mails? Check out the link below.
HTML E-mail Content from Freedom is Knowledge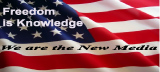 | Fascism Comes To America | It Doesn't Matter?! | What Privacy? | America Facing Evil | Whistleblower | Historic Biblical Times |
| Obama's 1990 article - "We're Going To Reshape Mean-Spirited Selfish America." | Print Page |
It is no measure of health to be well-adjusted to a profoundly sick society - J. Krishnamurti