The Shepp Report
Special Edition
WOW!
July 21, 2016
Laura Ingraham's Stunning Speech At The Republican National Convention, July 20, 2016
Laura Ingraham looked up into the elite, progressive socialist media booths and said, I can see you!

Video Source: YouTube
America's First Unannounced Muslim President
- The Trojan Horse In The White House -
| The United States Flag: Federal Law Relating To Display And FAQs | U.S. Flag Code |
Looking around America today, George Bailey did get his wish.
Thank you for considering to pass along these e-mails.
Did you miss one of our e-mails? Check out the link below.
HTML E-mail Content from Freedom is Knowledge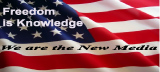 | Fascism Comes To America | It Doesn't Matter?! | What Privacy? | America Facing Evil | Whistleblower | Historic Biblical Times |
| Obama's 1990 article - "We're Going To Reshape Mean-Spirited Selfish America." | Print Page |
It is no measure of health to be well-adjusted to a profoundly sick society - J. Krishnamurti