The Shepp Report
Special Edition
Never Allow A Crisis Go To Waste
July 25, 2016
Hmm, Obama Invites Cruz To Join Him On Air Force One To Fly On Tuesday To The Memorial In Dallas For The Five Ambushed Officers . . .
. . . while we remember that it was Obama who openly embraced black lives matter leaders, (pigs in a blanket, fry them like bacon fame), to the White House not just once, but twice. Then last week Obama refused to light the White House with blue lights in the memory of those fallen officers.
"Sen. Ted Cruz and President Obama have set aside partisanship to fly to Dallas together Tuesday for a memorial service for five slain police officers." - WashingtonExaminer
____________________________________

[An English sage in the 1500's once warned about everyday life, writing, What's good for the goose is good for the gander.] - Twitchy
A Quick Trip Down Memory Lane From May 2016
More proof that wherever they go, there is more and more violence.
"In one of the biggest disruptions yet, Black Lives Matter activists hijacked the event just a few minutes in and turned it into a screaming match, while gatherings outside nearly turned into a full-blown riot.

Black Lives Matter activist takes a swing at guest speaker, Milo Yiannopoulos, the President of DePaul, the "Reverend" D.Holtschneider who compared these protestors at his university to those who fought on D-Day, obviously a supporter of the progressive socialists of the Democrat Party. - Breitbart

Video Source: - YouTube

In a letter released Wednesday, DePaul president Rev. Dennis Holtschneider chastised both the supporters and critics of Yiannopoulos while connecting the events [at his university] to a visit he made to the D-Day battlefield in France.

"I am writing from France, where Fr. [Edward] Udovic and I are leading a mission trip to introduce our trustees to the life and legacy of St. Vincent de Paul," Holtschneider says to open his message.

"Because today is a free day, a number of us are spending the day in Normandy, touring the museum, walking the famous beaches of the D-Day landings and standing silent before the rows and rows of graves honoring the men and women who gave their lives so others might live in freedom."

Holtschneider begins not by chastising the DePaul protesters, but instead by spending multiple paragraphs attacking Yiannopoulos, who's "unworthy of university discourse." Only after this does he finally say it was unacceptable for protesters to invade and disrupt the event." - DailyCaller
Now Go And Prepare For The Celebrations!
Original Graphic Source: - SuckersOnParade / With a few graphic edits dropped in: - Webmaster
Hillary Clinton With Her Late Night TV Court Jesters In The Lead
Fascism In Fashion Again
"Tuesday night's keynote speaker at the DNC convention in Philadelphia will be the the nominee's husband, the lecher Bill Clinton. And keeping with the low class theme of the night will also feature controversial speakers from 'Mother's of the Movement'.
The Mothers of the Movement speakers include such illustrious ghetto celebrities as Gwen Carr, mother of Eric Garner; Sybrina Fulton, mother of Trayvon Martin; Maria Hamilton, mother of Dontré Hamilton; Lucia McBath, mother of Jordan Davis; Lezley McSpadden, mother of Michael Brown; Cleopatra Pendleton-Cowley, mother of Hadiya Pendleton; Geneva Reed-Veal, mother of Sandra Bland. And some in Philly are rightfully not very happy with the decision to give them front row exposure." - SuckersOnParade
With Progressive Socialists, Nothing Is An Accident That Would Make Karl Marx Proud

WOW! Leaked Emails Show DNC Officials Arranged To Harass Trump Supporters, Among Other Things Using University Students To Carry Signs To Protest Trump's Rallies And Events, Including Use Of BlackLivesMatter. [Remember That The Chicago Rally Had To Be Canceled Due To Concerns For The Safety Of Attendees.] - DailyCaller

"[Crooked] Hillary Clinton Demanded Passwords to Every Social Media Account of Veep Candidates' Family Members." - GatewayPundit

"Ivanka Trump Wore $138 Dress to Address the Nation on Prosperity – Hillary Wore $12,000 Smock to Address Nation on Poverty." - GatewayPundit
- A Trojan Horse Welcomed Into The White House -
America's First Unannounced Muslim President
| The United States Flag: Federal Law Relating To Display And FAQs | U.S. Flag Code |
Looking around America today, George Bailey did get his wish.
Thank you for considering to pass along these e-mails.
Did you miss one of our e-mails? Check out the link below.
HTML E-mail Content from Freedom is Knowledge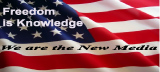 | Fascism Comes To America | It Doesn't Matter?! | What Privacy? | America Facing Evil | Whistleblower | Historic Biblical Times |
| Obama's 1990 article - "We're Going To Reshape Mean-Spirited Selfish America." | Print Page |
It is no measure of health to be well-adjusted to a profoundly sick society - J. Krishnamurti