The Shepp Report
Special Edition
MORE Muslim Attacks In Minnesota!

September 19, 2016
"Dahir Adan: Minnesota Mall Attacker Identified As Member Of Local Somali Muslim Community, Called 'Soldier Of Islamic State.'" - Inquisitr
Typical Response by liberal progressives when American lives are put in direct danger from supporters of various forms of Islamic ideology:

Think! "The head of Minnesota CAIR expressed fears of a "potential for backlash," and Democrat Governor Mark Dayton called for "religious and racial tolerance." - Pamelageller

Surprise, Surprise. Move Along, Nothing To See Here!

Minneapolis Star Tribune BLAMES 'anti-Muslim tensions' for St. Cloud mass stabbing by 'Soldier of the Islamic State.' - PJMedia
Following article by Nathan Francis, September 18, 2016, Inquisitr
"Dahir Adan has been identified as the man who launched a knife attack in a Minnesota mall on Saturday that left eight people with serious injuries.

The attack took place Saturday night at the Crossroads Center shopping mall in St. Cloud, with the suspect allegedly stabbing several people before being shot and killed by an off-duty police officer.

The 20-year-old suspect is reportedly a member of the local Somali Muslim community, and during the attack witnesses said he asked people if they were Muslim and stabbed those who said they were not. A report from CBS News claimed that police had interactions with Dahir Adan in the past, but the nature of those interactions was not yet known. Adan was killed in the attack when an off-duty police officer armed with a handgun opened fire.

While police had not yet released the identity of the Minnesota mall attacker, members of the Somali-American community in St. Cloud confirmed to the St. Cloud Times that it was Dahir Adan. Community leaders said the attack was especially puzzling given Adan's past.

'Community leader Abdul Kulane said as far as the family and community know, the suspect did not have any history of violence. He was known as a smart, accomplished student at Apollo High School. He was a junior at St. Cloud State University, Kulane said. Adan was also working part-time as a private security officer, leaders said.' - St. Cloud Times

Those who know Adan said he was last seen at 6 or 6:30 p.m. on Saturday, when he said he was going to the mall to buy an iPhone 7.

Within hours after the attack, the Islamist terrorist group ISIS claimed responsibility, though CBS News noted that police have not yet verified a connection." - Inquisitr / click here to read more of the article
Above article by Nathan Francis, September 18, 2016, Inquisitr
_________________________________________
Another Reminder Why You Can't Trust Obama's Progressive Mainstream Media

Hmm? Mainstream media leaves out this important news story from a near-by suburb that occurred JUST three months ago. - Webmaster
20-30 young Muslims from Minneapolis community terrorize quiet suburb neighborhood and threaten to gang-rape homeowner. Reports said the threats went on for three days, the police at first not taking it seriously. - KSTP TV Channel 5, July 2016 - Video source: YouTube
If video taken down from server, click here to watch - Webmaster
Click here to visit JamesPlace, a new Web page with all content chosen by a retired U.S Army Officer.
- The Trojan Horse In The White House -
America's First Unannounced Muslim President
| The United States Flag: Federal Law Relating To Display And FAQs | U.S. Flag Code |
Looking around America today, George Bailey did get his wish.
Thank you for considering to pass along these e-mails.
Did you miss one of our e-mails? Check out the link below.
HTML E-mail Content from Freedom is Knowledge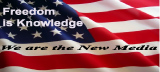 | Fascism Comes To America | It Doesn't Matter?! | What Privacy? | America Facing Evil | Whistleblower | Historic Biblical Times |
| Obama's 1990 article - "We're Going To Reshape Mean-Spirited Selfish America." | Print Page |
It is no measure of health to be well-adjusted to a profoundly sick society - J. Krishnamurti