The Shepp Report
Special Edition
Return Of The Biased Media Within Another Third Reich

October 8, 2016
Washington Post Finds Trump Audio From 11 Years Ago. Is It A 'Vast Far-Left Conspiracy?'
But here was the media's spin when Bill Clinton was caught with his hands in all those 'cookie jars, ' the liberal media reporting in unison in 1998 . . .
. . . Move Along, America, Nothing To See Here!
Is It Real? Or Is It Memorex?
With 30 days to go, Democrats push progressive media into its Panzer Mode. - Webmaster
Graphic Source: Medialite
November 2016

Media Says Trump's Comment On Women Disqualifies Him For President

January 1998

Media Said Clinton's Attack On Women Was Only About Sex, Nothing To See Here!
"The wide reporting of the scandal led to criticism of the press for over-coverage. The scandal is sometimes referred to as 'Monicagate,' Lewinskygate,' 'Tailgate,' 'Sexgate,' and 'Zippergate,' following the '-gate' nickname construction that has been popular since the Watergate scandal." - Wikipedia
________________________________________________________
Dobbs Does What The Liberal Progressive Media Has Always Done To Protect The Democrats, His Smartly Asking. What Video Tape?

Lou Dobbs at Fox Business on Friday night didn't bite into the Washington Post pulling down its panties and taking a happy dump on Trump. This is while all other FOX hosts ate the eye candy as if hungry little puppy dogs. - Webmaster
_____________________________________________________________________
Remember When The Media Protected Democrat Bill Clinton, Reporting "It Was Only About Sex?" Or Hillary's BS Of A "Vast Right-Wing Conspiracy?" - Webmaster
Oh my! Guess What? It was the Washington Post that bragged in 1998, "Clinton Emerges Unscathed!"
The following article is by Jeffrey Lord, October 26th, 2015, title: Hillary's Watergate, from the Conservative Review

"But you would never know this reeks of Watergate because the media—shocker!—has rallied to protect Clinton, just as it rallied to protect her husband years ago. Over in Politico the headline is that Clinton 'survives' and makes 'few mistakes.' The Washington Post headlines that 'Clinton Emerges Unscathed.'

Recall the media uproar over the confirmation of Clarence Thomas to be a Supreme Court Justice? He was accused of sexual harassment and Americans were inundated with finger-wagging liberal lectures about how 'women tell the truth' and what a dastardly assault on women all of this was.

Then a handful of years later, when the same issue was raised regarding President Clinton—magnified by accusations of harassment from multiple women, not to mention another of rape—liberal and media outrage vanished. The story line that "women tell the truth" became the angry retort, 'it's only about sex.'

How does this kind of thing happen with Hillary Clinton over and over and over again? How does one human being continually get in these scrapes that always come down to the realization that she has not told the truth?

And no one was more out front on this issue than, yes, Hillary Clinton, who took to NBC's Today show where, in an interview with Matt Lauer, she not only denied the accusations against her husband but insisted as follows:

Matt Lauer: 'You have said, I understand, to some close friends, that this is the last great battle, and that one side or the other is going down here.'

Hillary Clinton: 'Well, I don't know if I've been that dramatic. That would sound like a good line from a movie. But I do believe that this is a battle. I mean, look at the very people who are involved in this — they have popped up in other settings. This is — the great story here for anybody willing to find it and write about it and explain it is this vast right-wing conspiracy that has been conspiring against my husband since the day he announced for president.'

And, shocker again, this turned out to be a lie. Bill Clinton had indeed had that illicit affair with Monica Lewinsky and had indeed lied about it. He had indeed harassed Paula Jones and lied about it (the latter causing him to lose his law license as a result). - Read More - ConservativeReview, October 26, 2015
Above article by Jeffrey Lord, October 26th, 2015, title: Hillary's Watergate, the Conservative Review
From The Washington Post, August 1998
Clinton Admits To Lewinsky Relationship, Challenges Starr To End 'Personal Prying.'
Article by Peter Baker and John F. Harris, Washington Post Staff Writers, Tuesday, August 18, 1998, Washington Post
Click On URL To Read This Full Story
" . . . For the last seven months, Clinton has let stand his denials of any sexual liaisons with Lewinsky and allowed aides and even his wife go on television to repeat them.
During his Jan. 17 deposition in the Jones case, he said, 'I have never had sexual relations with Monica Lewinsky. I've never had an affair with her.' Four days later, after the story of Starr's investigation broke, Clinton said, 'There is not a sexual relationship, an improper sexual relationship, or any other kind of improper relationship.'

When that failed to quell a political storm, Clinton went on television again to deny it more forcefully in a Jan. 26 statement that has become a coda for this saga. 'Listen to me,' he said defiantly that day. 'I'm going to say this again. I did not have sexual relations with that woman, Miss Lewinsky.'

Clinton's turnaround came after Lewinsky struck a deal with Starr and testified under a grant of full immunity that she did have an 18-month sexual affair with Clinton, including numerous encounters at the White House. She also gave Starr a dress she said was stained with the president's semen, a dress turned over to the FBI laboratory for analysis.

"Clinton adviser Paul Begala adjusts the president's microphone just before his speech to the nation.(AFP Photo)"

Photo Source: Washington Post

Last night, Clinton did not say he was lying and did not detail the nature of his relationship with Lewinsky but left little doubt what he was talking about. Several advisers confirmed that he testified to sexual activity.

'I can only tell you I was motivated by many factors,' he said. 'First, by a desire to protect myself from the embarrassment of my own conduct. I was also very concerned about protecting my family. The fact that these questions were being asked in a politically inspired lawsuit, which has since been dismissed, was a consideration too.'

Clinton said he takes responsibility, although he did not use words like 'apology' or 'sorry,' as some advisers had urged. Instead, in a passage that added punch to his statement, the president outlined his grievances against Starr for his four-year investigation that has moved 'into my private life' and now 'itself is under investigation' for illegal grand jury leaks to the media.

'Our country has been distracted by this matter for too long and I take my responsibility for my part in all of this,' he said. 'That is all I can do. Now is the time -- in fact, it is past time -- to move on. . . . And so tonight I ask you to turn away from the spectacle of the past seven months, to repair the fabric of our national discourse, and to return our attention to all the challenges and all the promise of the next American century.' . . . " - READ MORE- Washington Post


Click On URL To Read Full Story

Article by Peter Baker and John F. Harris, Washington Post Staff Writers, Tuesday, August 18, 1998, Washington Post
_________________________________
Trump Releases Video On Washington Post's Dumpster Dumping
Donald Trump's Apology To The American People
And don't forget to read the article above reporting that after Clinton was caught having foreplay with Monica in the White House he never apologized to the American people. And from Clinton's act the hate filled organization, MoveOn.org, was born that now says it is united for peace as it represents . . . wait for it . . . the BlackLivesMatter movement.
Video Source: YouTube
In Hillary's Own Words: What Difference Does It Make!
BROADDRICK: Hillary's Actions Speak Louder Than Trump's Words - AmericanMirror

Vice-President Biden: Drops F-Bomb On Open Mike - USAToday, March 2010

We Swear. Get Over it! - DogTagChronicals, April 2012

Hillary Threatens Bill's Sex Assault Victims In 1998 - GatewayPundit

CNN Retro-Trolls Trump In 1990s Look back; [As expected] Ignores Era's Clinton Sex Scandals - Breitbart

David Letterman: [Who Was Angry When Caught Having An Affair With An Employee] Trump A 'Damaged Human Being' Who Should Be 'Shunned' - Breitbart

Geraldo Rivera [Who Attacked Trump] Slept With 1,000 Women - Cain Conversation

Robert De Niro Unloads On Trump: 'I'd Like To Punch Him In The Face' [What about Bill? Would Broaddrick like to punch De Niro in the face.] - Breitbart

Holier-Than-Thou Democrats NEVER Use The 'P' Word When The 'F' Bomb Will Do - CanadaFreePress

Presidents Being Colorful, Including Obama's "B**** N***** Buy Your Own Damn Fries!" - GatewayPundit

Now Democrats Campaigning In [ . . . Wait For It . . . ] Strip Clubs - WND


So What's More Important?

Things That Won't Change Under A 2017 Hillary Presidency:


Chicago Officer Says She Feared Using Gun While Being Beaten - ABC7Chicago

California Police Sergeant Killed In 'Calculated Execution.' The New Details Are Difficult To Hear - IHateTheMedia

Two Officers Dead, One injured In Palm Springs Shooting–Suspect at Large [Was mentally-ill shooter motivated by 49ers quarterback and his push to have high school football players to kneel, too?] - DesertSun

Debt Under Obama Up $9,000,000,000,000 [Trillion]- CNSNews

Sheriff David Clarke Disinvited From Campus Speaking Gig Because He Opposes #BlackLivesMatter - CainTV

Report: FY17 Refugee Intake Pace Could Nearly Double Resettlement - NumbersUSA

Students At Catholic University Perform Mock Abortions To Show Students How Abortions Are Done Using Tropical Fruit - TheCollegeFix

Commuter-In-Chief: Obama Cuts Sentences Of Some More Drug Dealers - ZeroHedge

Allen West: New Benghazi Bombshell - AllenWestRepublic



NOTE: Did you forget the progressive MoveOn.org was created to protect Clinton's actions, telling Americans to "Move On?" It is now also the movement for Obama's Black Lives Matter, reporting it is united against . . .wait for it . . . hate.
Click here to visit our new Web page, JamesPlace
All content shown is selected by a retired non-commissioned U.S Army Officer.
- The Trojan Horse In The White House
America's First Unannounced Muslim President
| The United States Flag: Federal Law Relating To Display And FAQs | U.S. Flag Code |
Looking around America today, George Bailey did get his wish.
Thank you for considering to pass along these e-mails.
Did you miss one of our e-mails? Check out the link below.
HTML E-mail Content from Freedom is Knowledge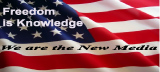 | Fascism Comes To America | It Doesn't Matter?! | What Privacy? | America Facing Evil | Whistleblower | Historic Biblical Times |
| Obama's 1990 article - "We're Going To Reshape Mean-Spirited Selfish America." | Print Page |
It is no measure of health to be well-adjusted to a profoundly sick society - J. Krishnamurti