The Shepp Report
Special Edition
Our Founders And Their Constitution Are Under Fire Again. This Time It Could Be Fatal.

October 13, 2016
The Attack comes from a follower of Saul Alinsky and close friend of the Muslim Brotherhood, a government official who allowed the Muslim Brotherhood to take over the Egyptian People, resulting in murders.
It wasn't pretty!
After kicking the Muslim Brotherhood out of their government, everyday Egyptians carried posters of the America traitors that tried to destroy their election-centered government. - Webmaster
Notice the face on the Egyptian banner to the right. It's The State Department's Hillary Clinton
Click on graphic below for new video on achievements of Hillary Clinton.
"The failure of Westerners to understand why Egyptians revolted against an elected regime is stemming from the fact that they, the Westerners, are secured in their inclusive constitutions, bills of rights and rule of law. We have nothing of these. We only had one facet of democracy – election – which brought a cultic organization with a fascist twist that decided to cancel the other facets. So. what about the Obama administration? It's man has gone.

Obama had been supporting Egyptian President Morsi. Obama's Egypt Policy is confused. He [and Hillary] missed the chance to make the USA the good guys. Now he scrambles for irrelevance, at best." - Anorak, July 2013
Embedded Video Source: AmericaRisingPac.org/
Egyptians put a warning on another banner to a deaf America: Wake Up, America, Obama backs up a fascist regime in Egypt.
Photo Sources: Anorak
As Obama And Hillary Push Mosques Onto Towns Across America, Egypt Closed 27,000 In 2015 As Meeting Places For Terrorists

"An Egyptian administrative court on Feb. 18 upheld the Ministry of Religious Endowments' decision issued in September 2013 to close down neighborhood places of worship of less than 80 square meters (861 square feet), a move intended to protect young people from the militancy and extremism that can prevail in such places, which lack the legal standing to hold Friday prayers." al-monitor, March 2015
Did you see the above photos recently on ABC, CBS, NBC or CNN to remind the American public about this candidate? Of course you didn't. And you won't! The stinging tentacles of the progressive socialist Democrat Party can be found in everything and everywhere. - Webmaster
America's Yellow Journalism? - Study.com
ABC, CBS, CNN, NBC, New York Times,Washington Post, ASNE, etc.
________________________________________
Now Research About Saul Alinsky's Rules For Radicals And Hillary Clinton's Involvement
"'Rules for Radicals: A Pragmatic Primer for Realistic Radicals' was written by community organizer Saul Alinsky in 1971. It has become the de facto progressive manifesto for effecting political change."
'What follows is for those who want to change the world from what it is to what they believe it should be. The Prince was written by Machiavelli for the Haves on how to hold power. Rules for Radicals is written for the Have-Nots on how to take it away.

Democratic Presidential Nominee Hillary Clinton met with Saul Alinsky several times in 1968 while she was writing her college thesis on his community organization theories. President Barack Obama's education was also greatly influenced by Alinsky and his theories. What is The Truth About Saul Alinsky's Rules for Radicals – and how does it work?" - Stefan Molyneux
Video Source: Stefan Molyneux
The Tipping Point Has Arrived
"I want to focus why I'm saying this is the last election, not that we'll become a dictatorship or anything like that, but three things will happen if Hillary wins, which will be irreversible, in this country. The first is that 12 million to 15 million currently illegal immigrants will get the right to vote, and the Supreme Court will ratify that, and we [Republicans] will never win another election for 20 years." - READ MORE - DickMorris
Video Source: Vimeo
Thanks for the heads up to Ellen of Tennessee.
Stunning Stuff Out There

Israel's Institute For Intelligence May Have The Last Hand In The 2016 Presidential Election, Reported To Be Holding Videos On Bill Clinton's Many Trips With Jeffrey Epstein On His Plane the "Lolita Express."

(Read more documentation below that may support claim from this October 10, 2016 Anonymous video.)

Note: This video was taken down by or from YouTube. Here is the Next Network discussing the stunning contents.
"Clinton's presence aboard Jeffrey Epstein's Boeing 727 on 11 occasions has been reported, but flight logs show the number is more than double that, and trips between 2001 and 2003 included extended junkets around the world with Epstein and fellow passengers identified on manifests by their initials or first names, including 'Tatiana.' The tricked-out jet earned its Nabakov-inspired nickname because it was reportedly outfitted with a bed where passengers had group sex with young girls.

'Bill Clinton … associated with a man like Jeffrey Epstein, who everyone in New York, certainly within his inner circles, knew was a pedophile,' said Conchita Sarnoff, of the Washington, D.C. based non-profit Alliance to Rescue Victims of Trafficking, and author of a book on the Epstein case called 'TrafficKing.' 'Why would a former president associate with a man like that?'" - READ MORE - FOXNews, May 13, 2016


Video Source: NextNetwork
Click here to visit our new Web page, JamesPlace
All content shown is selected by a retired non-commissioned U.S Army Officer.
- The Trojan Horse In The White House -
America's First Unannounced Muslim President
| The United States Flag: Federal Law Relating To Display And FAQs | U.S. Flag Code |
Looking around America today, George Bailey did get his wish.
Thank you for considering to pass along these e-mails.
Did you miss one of our e-mails? Check out the link below.
HTML E-mail Content from Freedom is Knowledge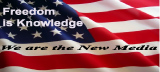 | Fascism Comes To America | It Doesn't Matter?! | What Privacy? | America Facing Evil | Whistleblower | Historic Biblical Times |
| Obama's 1990 article - "We're Going To Reshape Mean-Spirited Selfish America." | Print Page |
It is no measure of health to be well-adjusted to a profoundly sick society - J. Krishnamurti