The Shepp Report
Special Edition
Crime Isn't Criminal . . .

October 15, 2016
( . . . when you're a progressive running for office?)
Graphic Source: Unruly Hearts
Since Americans have not been able to trust their Fourth Estate to provide them with information that reports on all issues and candidates running for office, the grass roots is providing what the media has abandoned. Here is one excellent example. - YouTube
Video Source: YouTube
Videotapes vs. WikiLeaks: Look How Much Time Media has Spent on Hillary's Scandals

"Media bias has reared its ugly head in the war of competing scandals with ABC, CBS and NBC dedicating 4 hours and 13 minutes to discussing the recent allegations of sexual misconduct surrounding Donald Trump's campaign. By contrast, the Clinton WikiLeaks release received only a collective 36 minutes of coverage with no analysis of the potential impact of the email content on the Clinton Campaign.

The mainstream media has also downplayed and given minimal airtime to other potentially damaging Clinton news items such as that of Marc Turi, the American arms dealer who participated in the 2011 covert operation to arm Libyan rebels. Last week, the DOJ dropped charges against Turi because the focus on the case would have been damaging to the Clinton campaign and the Obama Administration.

Speaking out for the first time since charges were dropped against him, Turi commented, 'I would say, 100 percent I was victimized to somehow discredit me, to throw me under the bus, to do whatever it took to protect their next presidential candidate.'

Also, this past week, an FBI insider revealed that the majority of the 100 FBI agents and career prosecutors involved in the investigation of Hillary Clinton's use of an unsecured email server were 'floored' by Director James Comey's decision not to prosecute the former Secretary of State for the mishandling of classification information." - Read More: EagleRising

Rigged Debates: Wikileaks Emails Confirm Media in Clinton's Pocket

Clinton's people asked for all sorts of special treatment from the DNC and the press—and they got it!

"On October 12, WikiLeaks released part four and five of Clinton campaign Chair John Podesta's emails, with part six to be released on October 13, and part seven to follow on October 14.

'As soon as the nomination is wrapped up, I will be your biggest surrogate,' current Interim Chair of the Democratic National Committee (DNC) Donna Brazile, wrote to Podesta in a January 2016 email. As a Vice Chair of the DNC, Brazile was bound to neutrality per the charter, but as shown in several emails released so far, that was not the case.

'I pushed back hard on this, and Axe. So weird to attack the kids the night before the first primary,' Brazile wrote in an email she forwarded to Podesta about what CNN was doing while she served as a CNN contributor.

On October 10, an email was released that showed Brazile tipping off the Clinton campaign to an outreach campaign being conducted by the Sanders campaign. Brazile defended herself on Twitter claiming she also sent the Sanders campaign 'advice,' but did not release or cite any examples.

On October 11, Mediaite's Jordan Chariton first reported another email that showed Brazile tipping off the Clinton campaign to a question on the death penalty that would be asked at a CNN Town Hall the next day. Brazile was a CNN contributor at the time, and that wasn't her only helpful tip. 'For the debate team,' she wrote in a March email about the Voting Rights Act, forwarded to Podesta." - Read More: Observer

Wikileaks: Guess Who Owned 75,000 Shares In Putin Energy Company

"The media keeps hinting at business connections that will 'surely' demonstrate a conflict of interest with Russia. We've found one! But they'll never report it.

In the newly-uncovered email exchanged under the subject 'Podesta Outstanding Docs for Joule,' Eryn Sepp, who was an assistant to Podesta at the Center for American Progress, forwarded a message to Podesta from Mark C. Solakian, who was Senior Vice President and General Counsel at Joule Unlimited Technologies, Inc.

'It is my understanding that John transferred the resulting 75,000 common shares from the option exercise to the Leonidio LLC.,' Slovakian wrote in a January 2014 email, referencing the Delaware-based holding company. 'As such, we would need to edit the Transfer of Share Agreement to reflect the transfer of 75,000 common shares to the LLC.'

…'The disclosure that Clinton Chair John Podesta transferred his shares in Putin-backed Joule Unlimited to an anonymous holding company when he joined the Obama Administration is extremely concerning,' said Donald Trump Senior Communications Advisor Jason Miller in a statement.

Podesta failed to fully disclose his position on Joule Unlimited's board of directors and include it in his federal financial disclosures, as required by law, before he became President Obama's senior adviser.

'Because the holding company is completely anonymous, we do not know whether or not he still has deep financial ties to Vladimir Putin and his regime,' Trump advisor Jason Miller wrote. 'As such, Mr. Podesta needs to either reveal who is behind the holding company or he must resign from the Clinton campaign immediately." - Read More: ClashDaily

Hillary Wants To Cooperate With Globalists, Bringing In Many More Migrants To America.

Look at a country that as already done that, France, the magic of some of its streets morphing into horror! Watch!

Mass Immigration Ruins The Streets Of France

"If it weren't for the somewhat working infrastructure, the scene might as well have been the setting of movie shooting - or a slum in Mogadishu. The streets are littered in garbage, the sidewalks are blocked with trash, junk and mattresses, thousands of African men claim the streets as their own - they sleep and live in tents like homeless people.

If no portable toilets are in reach, open urination and defecation are commonplace. Tens of thousands of homeless Illegal immigrants, undocumented or waiting for a decision of their asylum application, waste away trying to pass the time in the city. Although their prospects of being granted asylum as Africans are bleak, they're hoping for a decision that would grant them an apartment, welfare and make France their new home.

The conditions are absolutely devastating. The police have given up trying to control these areas, the remaining French people avoid the areas at all cost, crime and rape is rampant, just recently mass brawls and riots made the news as fights broke out near the Stalingrad metro station." - ZeroHedge

Video Source: Generation Europe

TKS for the heads up from Ellen of Tennessee
Click here to visit our new Web page, JamesPlace
All content shown is selected by a retired non-commissioned U.S Army Officer.
- The Trojan Horse In The White House -
America's First Unannounced Muslim President
| The United States Flag: Federal Law Relating To Display And FAQs | U.S. Flag Code |
Looking around America today, George Bailey did get his wish.
Thank you for considering to pass along these e-mails.
Did you miss one of our e-mails? Check out the link below.
HTML E-mail Content from Freedom is Knowledge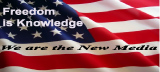 | Fascism Comes To America | It Doesn't Matter?! | What Privacy? | America Facing Evil | Whistleblower | Historic Biblical Times |
| Obama's 1990 article - "We're Going To Reshape Mean-Spirited Selfish America." | Print Page |
It is no measure of health to be well-adjusted to a profoundly sick society - J. Krishnamurti