The Shepp Report
Special Edition
America's Moment Of Truth

October 27, 2016
"As usual, Pat Condell nails it in this video commentary about the differences between Hillary Clinton and Donald Trump, about immigration, about Brexit, and more. Check out the video above, probably the best 8 minutes you'll spend today.
Condell helpfully provides related links below. - TruthRevolt
Video Source: YouTube
Coming Soon To The U.S.?
Denmark: Muslims Stage Organized Attack Against American Teenagers." - 10News
Photo Source: - 10News
______________________________________
"Hillary Clinton Embraces George Soros' Vision Of An Open Border World." - WashingtonTimes

"Fact Check: Yes, Hillary Clinton Wants Open Borders." - Breitbart

"Hillary Clinton's Largest Donors." - OpenSecrets

"Potentially A Million Muslim Migrants In One Clinton Term." - Breitbart

"German Police Union Chief: "Migrants Laugh At Our Justice System." - Breitbart

"German Mayor Begs For Help To Tackle "Explosive Refugee Crime Wave." - DailyMail

"Migrant Criminals Causing Chaos In German Prisons." - Translate

"Migrant Rape Fears Across Europe. Women Told Not To Go Out At Night Alone." - DailyMail

"99% Of Migrants In Germany Have No Job." - ExpressUK

"Most Of The Paris Attackers Got Into Europe Using Migrant Routes." - TelegraphUK

Denmark: Muslims Stage Organized Attack Against American Teenagers." - 10News

"Migrants Raped Woman In Wheelchair. Swedes Have Had Enough." - AcidMuncher

______________________________________________

"We Want The Truth: My video From December 2015 Explaining Why Donald Trump Is Popular." - YouTube

"The Invasion Of Europe: Importing Rape And Jihad." - YouTube

"Europe's Betrayal Of Women." - YouTube




Click here to visit our new Web page, JamesPlace
All content shown is selected by a retired non-commissioned U.S Army Officer.
- The Trojan Horse In The White House -
America's First Unannounced Muslim President
| The United States Flag: Federal Law Relating To Display And FAQs | U.S. Flag Code |
Looking around America today, George Bailey did get his wish.
Thank you for considering to pass along these e-mails.
Did you miss one of our e-mails? Check out the link below.
HTML E-mail Content from Freedom is Knowledge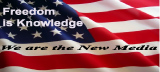 | Fascism Comes To America | It Doesn't Matter?! | What Privacy? | America Facing Evil | Whistleblower | Historic Biblical Times |
| Obama's 1990 article - "We're Going To Reshape Mean-Spirited Selfish America." | Print Page |
It is no measure of health to be well-adjusted to a profoundly sick society - J. Krishnamurti