The Shepp Report
Special Edition
SPLC Warns Of 'Turmoil And Bloodshed'

September 1 , 2017
GONE MAD! Now Even More Dangerous!
Southern Poverty Law Center Publishes Complete List Of Confederate Symbols And Names In U.S., Including Public Schools, Seeming To Hope It Will Create Violence From The AntiFa / BLM Arm Of The DNC.
"Tucker Carlson reported that the Southern Poverty Law Center published a comprehensive list of Confederate symbols in the United States. Those symbols include statues, parks and even schools.
Carlson and journalist Tyler O'Neil discussed how the SPLC has gone from a legitimate organization to one that 'defames organizations with which they disagree.' Tony Perkins' Family Research Council, an Evangelical organization was listed by them as a 'hate group,' and anti-extremism activist Maajid Nawaz has also been targeted. The SPLC said the 1500 places stand 'with the potential to unleash more turmoil and bloodshed' like that in Charlottesville, Va." - TuckerCarlson / FOXInsider
Video Source: TuckerCarlson / FOXInsider
Cleansing American History As If By Mao's Red Army
SPLC Map Of Confederate Monuments And Anything With A Confederate Name On It

SPLC Warns of 'Turmoil and Bloodshed' With New Map Identifying Confederate Monuments, Cities, Middle Schools - PJMedia
Southern Poverty Law Center: Asks Whose Heritage Web page - SPLC
Graphic Source: BluntForceTruth
Click Here To Go To Our Recent Full Report On The Southern Poverty Law Center's War On American Citizens
Click here for previous HTML e-mail releases from Freedom is Knowledge (2011 - current.)
Thank you for considering to pass along these e-mails.
Did you miss one of our e-mails? Check out the link below.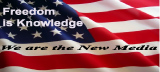 Sample Of A Few Archived Links
| Fascism Comes To America | It Doesn't Matter?! | What Privacy? | America Facing Evil | Whistleblower | Historic Biblical Times |
| Obama's 1990 article - "We're Going To Reshape Mean-Spirited Selfish America." | Print Page |
| The United States Flag: Federal Law Relating To Display And FAQs | U.S. Flag Code |
It is no measure of health to be well-adjusted to a profoundly sick society - J. Krishnamurti