The Shepp Report
Special Edition
Need Proof Progressives Will Do Anything For Illegal Votes . . .

. . . Including The Corruptible Snowflakes That Run The Progressive "Socialist" Social Media?

March 21, 2018
"If you're too busy to understand what's going on around you, then what are you doing in a voting booth during an election?" - Webmaster
First: Allowing Illegals To Think They Have Access To Their Very Own Deep State Government
Kate Steinle's Killer Launches New Battle To Sue America And Stay In The U.S.!
[Wild San Francisco lawyer to support the case. - Webmaster]
Article by Monica Showalter, March 16, 2018, American Thinker
After firing a stolen gun and killing Kate Steinle on the San Francisco waterfront in 2015, and then getting away with it in front of a leftwing jury which signaled motivation to strike back at President Trump, do you think Jose Ines Garcia-Zarate, is going away quietly?

Do you think the five-times-deported illegal alien drug dealer and transient, with a record of seven felonies, will just allow himself to be deported, and then come back as he always does? Nope, not the case.

He's apparently gotten a pile of leftwing-lawyer backing to sue the federal government over his 'vindictive prosecution.'

According to Breitbart News:

"Jose Inez Garcia-Zarate, the illegal alien acquitted last year of murdering 32-year-old Kate Steinle in July 2015, has sued the federal government, demanding that it produce documents "pertaining to vindictive prosecution and collusion" with the state government in its prosecution against him."

In November, a San Francisco jury found Garcia-Zarate not guilty of murdering Steinle, agreeing that although he had the gun from which the fatal shot was fired, the discharge could have been accidental.

Seems that if you are that one-in-a-million thug with just the correct optics for the left, and manage to avoid getting convicted on an open-and-shut case, then any effort to bring justice to the victim of your crime is just ... vindictive prosecution from the feds.

Illegals after, all, should all be free to come here, get sanctuary, and then fire any gun they like no matter which gringo it kills, right?

That is the logic. What this shows is something appalling going on.

The subliterate, non-English-speaking, multiple-criminal-conviction, zero-value illegal isn't doing this on his own. He's got backing and sponsorship now, from leftwing lawyer Tony Serra, famous for getting Huey Newton off the hook and defending the Symbionese Liberation Army.

His new object of defense, Garcia-Zarate, who has no employable skills other than drug dealing and no right to work here, must be getting considerable support, not just legal advice, but enough cash so that his every need is now met.

He's the far-left's poster boy for challenging the federal government, whose prosecution took place during the Obama years in a blue sanctuary city. The leftwing lawyers want to undermine even that.

Unbelievable.

Obviously, the larger forces sponsoring this utterly worthless person see a big money pot worth harvesting from the taxpayers and are fully confident a leftwing judge and maybe a leftwing jury will break it open wide for both themselves and this illegal.

As for Garcia-Zarate, if that is his real name, he is likely doing this not just for free money, (for it's very difficult to picture handing a taxpayer jackpot to this human garbage, though it may happen), but also to stay in the country for the duration of his lawsuit.

We all know the five-time-deported illegal thinks it's his right to be here. If he can get it legally, and force himself among us to live as an equal, even after all his seven felonies, why not?

Yet the fact remains:

He's an illegal. He doesn't belong here. And he shouldn't have the right to access our justice system to meet his every need, drain our public coffers, and throw it all in our faces.

It just goes to show the hostility of the left and the great need for reform in the legal system. If he can't be jailed, why can't this sorry excuse for a human being just be thrown out?
Above article by Monica Showalter, March 16, 2018, American Thinker
Second: Allowing Terrorists To Have Access To Their Very Own Deep State Twitter Accounts
"Twitter Welcomes Terrorists, But Not Pro-Israel Activists."

"What the attacks on Canary Mission are really about."

Article by Daniel Greenfield, March 5, 2018, FrontPage Magazine

"Hamas, Hezbollah, the PFLP, FARC, the Communist Party of the Philippines and the Liberation Tigers of Tamil Eelam are all on the official list of terrorist organizations drawn up by the United States government. Providing support to them is a crime punishable by up to 20 years in prison.

So of course they all have Twitter accounts.

As does Ramadan Shalah, the leader of Palestinian Islamic Jihad, which is also on the list of designated terror groups. The PFLP has at least four Twitter accounts. (Both the PFLP and Jibril's Assadist splinter group are listed. And both have their own Twitter accounts.)

FARC also has multiple Twitter accounts. Timochenko, the FARC's narcoterrorist boss, who was accused by the State Department of "the murder of hundreds of people who violated or interfered with the FARC's cocaine policies", is also on Twitter.

None of them are subtle about it. 'Official Account: Hamas Movement,' the Hamas profile states. Twitter has been repeatedly informed about their existence. It chooses to let the Islamic terrorists stay.

But Canary Mission, a Jewish activist group which exposes anti-Semitism, had its account suspended yet again, before being reinstated. Labour Antisemitism, which tracks bigotry by the UK's lefty Labour Party, had its account locked for a profile picture of a Star of David worn by Jews under Nazi occupation.

Two years ago, Twitter unveiled its Trust and Safety Council to fight abuse on the platform. The Council, which leaned left, wasted no time in targeting political and cultural opponents on the right. The Islamic terrorists have been allowed to stay. The same hasn't always been true of their critics.

Canary Mission documents anti-Semitism on social media. It has repeatedly shown members of campus hate groups such as Students for Justice in Palestine and the Muslim Student Association praising Hitler and calling for the deaths of Jews.

Unlike Canary Mission, their accounts weren't suspended.

Amanda Jamal, SJP's treasurer at the John Jay College of Criminal Justice, celebrated Hitler's birthday and defended hating Jewish people. Her account has been made private, but is otherwise up.

Majd Shaker, a supporter of SJP, tweeted, celebrated Hitler and tweeted, "Allah will curse the Jews. Allah will take the Jews." Her tweet is still up.

Salah Abdelrahman, an MSA member at McMaster University, retweeted support for the monsters in the Hebron Massacre of 67 Jewish men, women and children . Many of the bodies were mutilated. The tweet that Salah retweeted praised three of the murderers for "resisting Jewish immigration".

Here's how a BBC article described the, 'evidence of the massacre eight decades ago - a photograph of a girl struck over the head with a sword with her brain spilling out; a woman with bandaged hands; people with their eyes gouged out. These are the well-documented atrocities committed by an Arab mob seeking to drive their Jewish neighbours out of Hebron.'

The Tweet is still up.

Sarah Abdel-Khalek, an MSA and SJP member at the University of Tennessee Knoxville (UTK), tweeted support for attacks on Jews. Her support for violence was exposed recently by Canary Mission.

And her Tweet is still up.

Abdallah Ismail of SJP at the University of Texas, Dallas (UTD) tweeted anti-Semitic hatred and support for Hitler. His tweets are still up, including, "#threewordstoliveby blame the Jews #hitler".

Twitter censored Canary Mission, but left anti-Semitism from SJP members up on its service.

National security expert Jordan Schachtel reported an anti-Semitic video from the account of Louis Farrakhan, the leader of the racist hate group, the Nation of Islam. Twitter responded that the blatantly bigoted video in which the racist leader states, "Jews are my enemies" did not violate Twitter rules.

Twitter can't find any violation of its rules by a man who has openly admired Hitler. Yet it has twice suspended Canary Mission. Anti-Semitism isn't a violation of Twitter's rules. Calling it out is.

Why target Canary Mission? Because its work is having a major impact on college campuses.

While the ADL and other pseudo-liberal groups pretend to fight anti-Semitism, as long as they don't have to talk about Islamic and leftist anti-Semitism on college campuses, Canary Mission gets results.

Its exposes recently forced McMaster University and the University of Texas-Arlington to respond to its revelations about campus anti-Semitism. Both institutions have avoided taking meaningful action, but Canary Mission's lists of social media hatred from SJP and MSA members has upended the usual way of doing business by these campus hate groups.

Canary Mission bypasses campus struggles over BDS to directly document the racist comments by SJP, MSA and JVP members on social media. And there is no room for ambiguity when SJP and MSA members are caught praising Hitler and the Holocaust.

Anti-Israel activists have become obsessed with taking out Canary Mission. But their efforts have failed.

Canary Mission has been condemned for 'blacklisting' and 'shaming' haters. It's been accused of 'harassing' and 'cyberbullying'. These are tactics and behaviors that the radical left relentlessly employs against its targets. Indeed BDS is largely based on them. And yet all that Canary Mission has done is actually publicize unambiguously hateful comments posted publicly by bigots on social media.

Anti-Israel haters have harassed random people around the world whom they suspected of being 'behind' the site. They've also barraged Twitter with a stream of complaints aimed at Canary Mission.

And, as of now, Twitter has done more about critics of anti-Semitism than anti-Semitism on its platform.

The anti-Israel movement targeting Canary Mission has refused to apologize for the statements of its members. Instead it has tried to censor the Jewish activists who are bringing them to light. Anti-Israel hate sites like Electronic Intifada, the Guardian, Mondoweiss, the Forward and dozens of others denounce Canary Mission.

Some call for its destruction. Others seek to target its activists.


But Canary Mission's critics could stop the site very easily. All they would have to do is stop the anti-Semitism. If SJP and MSA members stopped praising Hitler and celebrating the Holocaust on social media, Canary Mission wouldn't have any material to work with. And if the anti-Israel movement really were sincere about distinguishing between anti-Semitism and anti-Zionism, that's what it would do.

Instead it's been trying to shoot the messenger and silence the canary in the campus coal mine.

Why?

Canary Mission's success is hard evidence that anti-Semitism is at the heart of the anti-Israel movement. Not only are the two impossible to separate, but the movement has no interest in separating them.

Every attack on Canary Mission is a clear admission of this unshakeable fact.

The campaign to kill the 'canary in the coal mine' is an admission that the anti-Israel movement will not stop hating Jews. And the attacks on Canary Mission are an excellent measure of its effectiveness in protecting Jewish students and faculty from BDS bigots. Twitter has twice bowed to those bigots.

There is every reason to believe that it will try to shoot the social media canary again."

Above article by Daniel Greenfield, March 5, 2018, FrontPage Magazine

__________________________

Twitter Also Targets White Christians For Censorship . . . That Is U.S. Citizen Christians For Censorship!

(Continue after this article to see how Google treats conservatives . . . "calls them Nazis.")

"James O'Keefe and Project Veritas recently released a series of undercover videos with current and former Twitter employees discussing the shadow banning and censorship of accounts displaying certain political and religious affiliations. Stefan Molyneux points out the elephant in the room nobody is talking about regarding these undercover videos and the shocking censorship of white Christian conservatives." - Stefan Molyneux
Third: And Then There Is Google's Very Disturbing Deep State Culture!
Archive from January 31, 2018, Freedom Is Knowledge
Graphic Source: Society6

Social Engineering

"Google Over The Constitution?"

Click Here To Read What Google Executives Allowed For The Words Jesus Christ So Not To Offend?

Then scroll back up to read about the following lawsuit against Google and its very disturbing corporate culture.

"James Damore's Google Lawsuit Exposes A Google Culture Of Hate And Racism Directed At Conservative Employees."

"19 INSANE TIDBITS from James Damore's lawsuit about Google's [STRANGE & DANGEROUS HARRY POTTER LIKE] corporate culture."

Article by Alex Christoforou, January 15, 2018, The Duran

James Danmore, suing Google for his being "Fired For Truth."

" . . . RPT reported on a lawsuit filed by Google fired employee James Damore over his 'Google memo' which does the unthinkable, and references biology and science, to conclude that men and women may be a genetically different…and this may be one of many factors determining divergent career paths between the sexes.

The author of the controversial August 2017 memo is suing Google, alleging that white, male conservatives are systematically discriminated against by Google. Details included in the lawsuit expose a shocking, vitriolic hate for conservatives at Google's offices.

The Federalist has put together a list of 19 outrageous and hate filled actions taken by Googlers against conservative colleagues.

The lawsuit James Damore filed against Google on Monday provides a fascinating glimpse into the way the company and many of its employees see the workplace in terms of a demographic hierarchy, and what happens to those who diverge from the consensus view.

Details from diversity training sessions, accounts of alleged reverse discrimination, and screen shots of internal communications on company forums and message boards in the lawsuit cast the company culture as extremely hostile to employees with unpopular opinions, especially heterosexuals, men, white people, and those who hold conservative views.

Damore and another former Google employee, David Gudeman, allege the company discriminates against white male conservatives, and maintains illegal diversity quotas for hiring managers. Damore was fired last year after an internal memo he wrote positing that men and women have biological differences that affect their work preferences and abilities was leaked and went viral.

In screen shots laid out in the lawsuit, 'Googlers' as they call themselves, talk openly of blacklisting and purging the company of employees whose views or identities are deemed outside the bounds. Employees were allowed to award those who spoke out against Damore's memo 'peer bonuses' — a company kudos of sorts monitored by the 'Google Recognition Team.'

'We want to be inclusive of people not ideas' one employee identified as Alon Altman wrote in a message included in the lawsuit. Damore says that sentiment was backed up at an Inclusion and Diversity Summit he attended in June, when he was told by Google employees the company does not value 'viewpoint diversity,' but actively strives for 'demographic diversity.'

The lawsuit succeeds in suggesting a sharply divisive worldview pervades Google, in which those deemed worthy of tolerating (women, minorities, transgenders, etc.) are to be protected and agreed with at all costs — the recipients of unbridled compassion and understanding — while those who fall outside the bounds are to be ruthlessly disowned and expelled.

Here are 19 of the most notable and bizarre snapshots of corporate culture laid out in the lawsuit:

1. 'Living As A Plural Being'

In a section claiming Google tries to 'stifle' conservative parenting styles, the suit reads: 'Google furnishes a large number of internal mailing lists catering to employees with alternative lifestyles, including furries, polygamy, transgenderism, and plurality, for the purpose of discussing sexual topics. The only lifestyle that seems to not be openly discussed on Google's internal forums is traditional heterosexual monogamy.'

A footnote next to the word 'plurality' adds: 'For instance, an employee who sexually identifies as 'a yellow-scaled wingless dragonkin' and 'an expansive ornate building' presented a talk entitled 'Living as a Plural Being' at an internal company event.'

The suit also includes a screen shot of the presentation on 'living as a plural being' when the presenter is discussing how to address coworkers with multiple identities. Examples of 'not okay' etiquette listed include 'addressing any one headmate in particular; we're all listening!'

2. 'Don't Hire White Men'

A few of the messages show Google employees proposing hiring practices that exclude certain groups of men, or putting women in charge of hiring for a year to ensure diversity quotas are met. One employee wrote: 'Alternate proposal: moratorium on hiring white cis heterosexual abled men who aren't abuse survivors.'

3. 'Bias busting'

Damore recounts attending 'voluntary' diversity training because Google employees stressed attendance as necessary if he were to advance in the company. 'At the in-person training, entitled 'Bias Busting,' Google discussed how biases against women exist in the workplace, and how 'white male privilege' exists in the workplace,' the suit reads. 'The training was run by the 'Unbiasing Group' at Google.

4. 'I Will Keep Hounding You Until One Of Us Is Fired'

After a coworker leaked his memo to the public, Google's human resources instructed Damore to work remotely for a while to let emotions cool, after he forwarded them a particularly angry email from another employee.

'You're a misogynist and a terrible person,' read a late-night email from Alex Hidalgo, a Google engineer. 'I will keep hounding you until one of us is fired. F*** you.'

5. 'The Derail Document'

The suit claims Gudeman was fired in part because he took issue with the merits of a 'derail document' written by Google manager Kim Burchett. 'The thesis of this document is that on this one particular set of topics, the left-wing political frame of systematic bias, must always dominate, and the receiver must accept that frame, and its associated worldview, in their response,' the suit claims. It does not provide the actual document.

In his response, Gudeman said 'the point of this document is to disallow any defense at all that a man might make when some woman complains about bias. There is no defense. The woman is always right. The man has no alternative but to submit to her superior moral position. We have a word for that attitude, it's called 'sexism.' He says the criticism was widely derided and deemed 'un-Googley.'"

6. 'You Did Something So Amazing That Matthew Sachs Awarded You A Peer Bonus'

The suit includes a screen shot of one of the emailed 'peer bonuses' awarded to those who opposed Damore. 'Congratulations, Simone Wu!' the email begins. 'You did something so amazing that Matthew Sachs awarded you a Peer Bonus. Here's what Matthew Sachs had to say: Simone has been doing a fantastic job speaking up for Googley values and promoting [diversity and inclusion] in the wretched hive of scum and villainy that is [Damore's memo] … Visit your award history page to see your certificate to print and proudly hang on your cube, wall, fridge, robot etc.'

7. 'Discourage Them All Throughout The Industry'

'If we really care about diversity in tech, we don't just need to chase serial offenders out of Google, we need to discourage them all throughout the industry,' a lengthy internal post on Damore read. 'We should be willing to give a wink and a nod to other Silicon Valley employers over terminable offenses, not send the worst parts of tech packing with a smile …'

8. 'I Will Hurt You'

Damore's memo prompted another employee to post this quote: 'I'm a queer-ass nonbinary trans person that is f***ing sick and tired of being told to open a dialogue with people who want me dead. We are at a point where the dialogue we need to be having with these people is 'if you keep talking about this sh**, i will hurt you.'

9. 'Relies On Crowdsourced Harassment'

Google encourages employees to enforce unwritten norms by harassing and ostracizing those who break them, according to the suit, and by allowing employees to create 'blocklists' on their communications systems. '[Google] relies on crowdsourced harassment and 'pecking' to enforce social norms (including politics) that it feels it cannot write directly into its policies,' the suit states.

10. 'I . . . Apologized For Whitesplaining'

In a message from July 2017, a repentant Google employee publicly realized he was 'whitesplaining' black history. 'I (a white Googler), in an attempt to build a rapport with a Black Noogler and demonstrate my lack of ignorance of Black History, ended up whitesplaining Black History to him . . . thereby demonstrating my ignorance of Black History in the process. A few minutes later, feeling like a complete idiot, I went back to him and apologized for whitesplaining.' His comment was lauded by another Googler.

11. 'You're Being Blacklisted . . . At Companies Outside Google'

Google manager Adam Fletcher wrote in 2015 he would never hire conservatives he deemed hold hostile views. 'I will never, ever hire/transfer you onto my team,' he wrote. 'Ever. I don't care if you are perfect fit or technically excellent or whatever. I will actively not work with you, even to the point where your team or product is impacted by this decision. I'll communicate why to your manager if it comes up.'

'You're being blacklisted by people at companies outside of Google,' he added. 'You might not have been aware of this, but people know, people talk. There are always social consequences.'

12. Conservative Author Triggers 'Silent Alarm' Over Lunch With Employee

Conservative blogger Curtis Yarvin, who advised Steve Bannon and other members of the Trump administration, triggered an alarm when he visited the Google campus to lunch with an employee. Security escorted him off the premises. The suit alleges other conservatives are on that list, including Alex Jones and Theodore Beale.

13. 'Should Inclusion On The List Require Something Resembling A Trial?'

Burchett once proposed creating a list she would personally manage of 'people who make diversity difficult,' to include employees who did things like make statements 'unsupportive of diversity.' She suggested the list could serve as a punishment that could incentivize 'better' behavior among the offenders listed. 'Things I'm still pondering: should inclusion on the list require something resembling a trial? should people be removed after some period of time if they start behaving better?'

14. 'Throw Away That Bad Apple With No Regrets'

The suit says Google manager Jay Gengelbach discussed blacklisting an intern whose views proved intransigent, despite the efforts of Google employees to bring him around to their views. 'I was there at the lunch where said intern said the things he did,' Googler Matthew Seidl replied on the thread. 'A number of people there did try to enquire as to what he was basing his belief on and give counter examples. They didn't really take.' Another Googler chimed in, 'Throw that bad apple away with no regrets.'

15. 'I Won't Say Violence Has No Place'

In one thread, employees discussed at length whether Trump's win meant it's time for a violent revolution. 'How do people cope with this?' one employee wrote. 'I've never been part of a military or war effort before. … I don't know how useful I'll be.' Another advised: 'Get in touch with your friendly local antifa. … I won't say violence has no place, but if you are going to be doing anything risky, I can't overemphasize the important of networking with people who've been thinking about scenarios like the one we're in for years, and building relationships with them. We are only powerful if we organize.' 'This list is not truly anonymous,' another cautioned.

16. 'If You Don't Want To Get Punched …'

One employee explained what to believe if you don't want to get physically assaulted. 'There is literally only one reason an antifascist would be violent towards you. You are a fascist. … If you don't want to get punched by an antifascist, it's simple: don't go to white supremacist rallies and don't own white power symbols.'

17. 'How To (Properly) Punch A Nazi'

Two more bits on "punching Nazis" [people who are against Google's intolerant culture.]

In the first, an employee explains why peaceful measures aren't enough when facing people with certain views. 'How do you let people know you don't take their ideas seriously? … No-platforming fascists does scale. So does punching one on camera.' And a cartoon sent around depicts a Nazi-punching strategy.

18. 'Psychotic Break From Reality'

Those who oppose certain liberal orthodoxy must be either 'deeply deceived' or have had 'some sort of psychotic break from reality,' another employee wrote, adding: 'What you think of as information is nonsense.'

19. 'This Is Where My Tolerance Ends, With Intolerance'

'You can't support Donald Trump without also supporting his racism, misogyny, homophobia, and transphobia,' a Googler wrote in a lengthy communication on Trump supporters. 'Or even worse, if you vote for Donald Trump because of his economic policy or because you feel the other party is corrupt, then what you're saying is that economics is more important than the safety of your peers. This is where my tolerance ends: with intolerance.'

Google briefly responded to Damore's lawsuit Monday in a statement reported by The Verge. 'We look forward to defending against Mr. Damore's lawsuit in court,' a spokesperson said."

Above article by Alex Christoforou, January 15, 2018, The Duran

____________________________________________________
Fourth: So Then You Ask, "What About Facebook?"
OMG, The discovered corruption is stunning!
Obama Campaign Staffer Says Facebook Allowed Them To Harvest Masses Of Data For The 2012 Election

Now you know why the murder of our treasures in Benghazi didn't matter for the election, thanks to Facebook that didn't care how much Obama was able to use it, because the Alinsky-trained president was on the same side as Facebook. - Webmaster
Article by Allum Bokhari, March 19, 2018, Breitbart
"Facebook representative told Barack Obama's 2012 campaign that they had been allowed to use the platform in ways that would have otherwise been prohibited, because Facebook was 'on our side,' according to explosive claims from Obama's former director for media analytics, Carol Davidsen.
In a series of tweets, Davidsen [claims] that Facebook was 'surprised' that the Obama campaign was able to 'suck out the entire social graph' (the 'social graph' is an individual's network of friends on Facebook), but did nothing to stop them once they found out. Davidsen also linked to a talk from 2015 in which she explained how Facebook's privacy policies in 2012 allowed them to harvest data on friend networks across America.
Davidsen says that this gave the Democrats a massive advantage, [while Obama's weaponized IRS to stop the applications in 2012 of conservative groups to receive tax deduction status for donors], for as the Republicans did not gain access to the same data before Facebook shut off the feature.
'The privacy policies on Facebook were … if they opted in, they could tell us who all their friends were. So they told us who all their friends were … we were actually able to ingest the entire social network of the U.S. that's on Facebook, which is most people.'
'Where this gets complicated is that freaks Facebook out. So they shut off the feature. The Republicans never built an app to do that. So the data's out there — you can't take it back.
The Democrats have this information, so when they look at a voter file and someone comes to them, they can immediately be like 'Oh, here are all the other people that they know, and here are people they can help us persuade, because they're really good friends with that person.'
NOTE: Click here FIRST or move marker to 18:25 once the video below starts.
"Carol Davidsen is the VP of political technology at Rentrak. In this PDF 15 talk, she examines what companies actually do with our online data." - Breitbart
Video Source: PdF YouTube
'The Republicans do not have that information and will not get that information. I'm a Democrat, so maybe I could argue that's a great thing, but really it's not, in the overall process. That wasn't thought all the way through and now there's a disadvantage of information that to me seems unfair. But I'm not Facebook…'
According to Davidsen, the Obama campaign used that data to target voters through their friend networks, and motivate people to vote. 'I worked on all of the data integration projects at OFA' said Davidsen. 'This was the only one that felt creepy.
Breitbart News asked Facebook for comment but they did not reply."
(Note, Click here to see all the captured Twitter comments.)
Above article by Allum Bokhari, March 19, 2018, Breitbart
Conservative Student Banned From Facebook Meme Page
Article by Jennifer Kabbany, March 20, 2018, The College Fix
"Gregory Lu says he's not super active on UCSD Memes for Sleep Deprived Tritons, a very popular student-run Facebook group where silly pictures and jokes about campus life reign supreme. Think horrible parking options, crazy midterm antics, and odes to college life.
Lu, a UC San Diego student and well-known as a conservative on campus, says his time as a member of the 1-year-old group has been spent mostly checking out memes, tagging some friends, and posting an occasional meme himself. But once in a while, when he does chime in in the comments section, all hell seems to break loose.
In November, he was booted from the page after defending conservatives.
Later he was let back on. But a few days ago he was booted again, this time for mocking pro-gun rights darling David Hogg.
He said he feels discriminated against, that moderators of the page have made left-leaning political comments and posts without punishment.
While the Facebook page is student-created and student-moderated and not affiliated in any way with the college, the situation illustrates that the left-leaning student moderators controlling the page either don't like free speech, don't like having their opinions challenged, or both.
The drama with Lu all started when someone made a meme and posted it on Sleep Deprived Tritons last November making fun of another UCSD Facebook group called UCSD Political/General Discussion.
The meme had all the signs of the horoscope with cancer's sign replaced with the group's name. Under the post, people began commenting that right-wingers are racist, Lu told The College Fix.
Lu, a member of the College Republicans, responded back, defending conservatives, he said. After that, he was promptly removed from Sleep Deprived Tritons.
'Hey bud, can I get an explanation for why I was banned,' Lu asked the main moderator in a Facebook message.
'No,' was the reply, according to a screen shot of the discussion provided to The College Fix.
Lu quipped back 'that sounds very authoritarian of you.'
Later, Lu was allowed back in 'only because my friend vouched for me,' he told The Fix. Lu remained active on campus as a conservative.
In December, he hung 150 posters of Kate Steinle's smiling face with the words 'She had dreams, too' in highly traversed areas across campus such as bulletin boards and the free speech area, a move that didn't go over too well with the campus community.
A day after Lu hung the posters, all of them had been taken down."
Read More - TheCollegeFix
Above article by Jennifer Kabbany, March 20, 2018, The College Fix
A Rabbi's Warning To U.S. Christians – CatholicEducation
Click here for previous HTML e-mail releases from Freedom is Knowledge (2011 - current.)
Thank you for considering to pass along these e-mails.
Did you miss one of our e-mails? Check out the link below.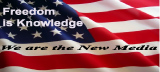 Sample Of A Few Archived Links
| Fascism Comes To America | It Doesn't Matter?! | What Privacy? | America Facing Evil | Whistleblower | Historic Biblical Times |
| Obama's 1990 article - "We're Going To Reshape Mean-Spirited Selfish America." | Print Page |
| The United States Flag: Federal Law Relating To Display And FAQs | U.S. Flag Code |
It is no measure of health to be well-adjusted to a profoundly sick society - J. Krishnamurti