Date: September 15, 2013

Week In Review - Top Ten News Stories You Might Not Know About

From: Freedom is Knowledge
- Please feel free to share these stories with others. All news links have been verified -
Links to Web sites are highlighted in this color
When Watching Videos : If using AOL to view these e-mails, their ISP can sometimes have problems playing videos that are loaded, advising you with a message the video is not available when it is. If having a problem, first note this e-mail's date. Then drop the URL below into Internet Explorer's (IE) address bar. When the page comes up, find the date in the archived list and click on it to open. You should be able to then view all videos on the page if their URL is still active on the site's server.
http://www.freedomisknowledge.com/emails/emaillist.html
Headline:

Only A Father Could Love A Child This Ugly

AFL-CIO Vote Slams Obamacare After Obama-supporting Unions Wanted All Americans To Have It. Why?

Duh! Obamacare Will Drive Up Costs For Their Paying Members. - Newsmax

Wake-Up - The Media Is Lying To You.

After 9/11: The Western World bows down to progressive multiculturalism and continues to deny radical Islam really does represent a large part of the general Muslim world. This is as 40% of free Muslims in America would rather live under Sharia Law while 12 Percent want Death for Blasphemers. 72% of American Muslims said 10/2012 they would vote for a "Christian" Obama? Someone is lying, and it's not Muslim voters. - CBN

Source: CBN

School Includes Muslim Poem While Demanding No Pledge Of Allegiance On Remembrance Of 9/11 - TheBlaze

Large North America Muslim Organization Recommends Fighting Crime . . . By Chopping Hands Off - FrontPage

And Here Is Just Another Reason Muslim Families Call America The Great Satan - YouTube

It's Across The Western World: Christianity In Britain Declining 50 Percent Faster Than Thought - TheTelegraph

Get Involved! Help Kickstart World War III. - YouTube

Source: YouTube

Obama, Kerry 'Bumble-F******' Their . . . - YouTube

Source: YouTube

1. Obama Pushes To Give "These" Rebels Weapons

'Either You Convert to Islam, Or You Will Be Beheaded' - Breitbart

"A resident of the town said the rebels shouted 'Allahu Akhbar' as they moved through the village, and proceeded to assault. 'They shot and killed people,' he said.

"I heard gunshots and then I saw three bodies lying in the middle of a street in the old quarters of the village. 'Where is President Obama to see what has befallen us?' Another witness stated, 'I saw the militants grabbing five villagers and threatening them and saying, 'Either you convert to Islam, or you will be beheaded.'" . . . Read More

Democratic Strategist: Syria 'One of the Most Humiliating Episodes in Presidential History' - Breitbart

Nutty Arizona Senator John McCain Sees It Differently: "Shouting 'Allahu Akhbar!' Same As Christians Shouting 'Thank God!'" - Breitbart

Expert That Traveled With Syrian Rebels: So-Called 'Moderates' Instead Muslim Brotherhood-Style Islamists - DailyCaller

Egypt's Muslim Brotherhood To Coptic Christians: Convert To Islam, Or Pay 'Jizya' Tax - WashingtonTimes

Obama-Appointed California Judge: Company's Hijab Ban Violates Muslim Civil Rights - Judicial Watch

A Faith That Uses Lies To Put Its Enemy Off Guard. (The 9/11 Hijackers Lived By "Taqiyya," Fooling Those Around Them To Believe They Had Assimilated Into The American Culture Until The Day Of Jihad.)

| | |
| --- | --- |
| | |
| Taqiyya - Permission given to lie for Islam's greater good - YouTube | |
| Source: YouTube | |

Progressives Try To Save Obama: Global Warming Caused Current Syrian Conflict - PoliticalOutcast

Dozens Attend The Advertised 9/11 Million-Muslim March - Breitbart

Even Progressive NBC Didn't Dare To Ignore Them - (Millions of Real American-loving bikers roar into Obama's girlie DC.)

NBC watches "Two Million Bikers" roll into Washington to DC to mark September 11th Anniversary in response to faux Million-Muslim march -

NBCNews4Washington
Source: NBCNews4

2. Judicial Watch Special Report On Benghazi

"The Anniversary of the Benghazi Attack of September 11, 2012." - Judicial Watch

"Judicial Watch promotes transparency, integrity and accountability in government, politics and the law. We carry out or mission through investigations, research, litigation and public education. From time to time we produce Special Reports on important public policy matters to illuminate the operations of government in a way that informs the public and holds our trusted public servants accountable.

We have prepared this updated Special Report on the first anniversary of the September 11, 2012 attacks on American personnel and facilities in Benghazi, Libya with the analysis and expertise of Judicial Watch investigators, as well as insightful security critique of Mr. Raymond Fournier, a recently retired Diplomatic Security Service Special Agent. Part One of this updated report contains Mr. Fournier's analysis from January, and Part Two is new reporting – describing the Obama administration's Benghazi stonewall. Judicial Watch is the only non-governmental organization in the country litigating in federal court to uncover the truth about what happened in Benghazi. Judicial Watch's strong legal actions in federal court seek to compel accountability from the Obama administration.

Judicial Watch's staff of investigators and researchers includes former intelligence officers, analysts, military officers, attorneys, and journalists. Judicial Watch has twenty-three (23) Freedom of Information Act (FOIA) requests and one (1) Mandatory Declassification Review (MDR) request pending with various Executive departments and agencies seeking all manner of records relating to the attack. We have filed four (4) lawsuits in the United States District Court for the District of Columbia to compel the Obama administration to comply with the FOIA law and release the records we seek.

In the interim, we pursue additional avenues of investigation in an effort to provide the American people with complete, accurate, factual information concerning a deadly attack costing the lives of United States Ambassador Christopher Stevens, Foreign Service Officer Sean Smith, and former Navy SEALS Glen Doherty and Tyrone Woods." . . . Read More (.pdf file)

What Don't You Get About Benghazi? Obama Lied, Al Qaeda Thrived, And Americans Died - FrontPage

3. Little Rock School District . . .

. . . finally agrees that its teachers must wear underwear. - Dailycaller

"The school district in Little Rock, Ark. has announced plans for a dress code that will require teachers to wear underwear. Every single day. Female teachers will have to wear bras, too.

An Aug. 29 letter from the Little Rock School District's Office of the Superintendent to all employees explains that the dress code will officially go into effect in the fall of 2014.

'Foundational garments shall be worn and not visible with respect to color, style, and/or fabric,' the letter reads. 'No see-through or sheer clothing shall be allowed, and no skin shall be visible between pants/trousers, skirts, and shirts/blouses at any time.'" . . . Read More

Porn Found at Buena High School In Sierra Vista - EducationNews

'Teachers For Social Justice?' - Chicago Pamphlet Riddled With Spelling And Punctuation Errors - EAGNews

4. FOX News Continues Its Walk Faster To The Left

Shepard Smith promoted by Ailes to quarterbacking FOX news stories and which ones will take center stage. - New York Times

"The schedule shift will enable Fox News to add a planned opinion program in prime time headed by Megyn Kelly, while also taking steps to enhance Mr. Smith's role as the network's primary hard-news anchor.

The plan calls for Mr. Smith to interrupt any of the other Fox News programs for breaking news reports; it also means the program lineup in prime time will be able to accommodate four opinion-based hosts instead of the current three. Fox has yet to announce formally the full evening lineup, but the widespread speculation is that Ms. Kelly's new show would appear at 9 p.m., with Sean Hannity's program making way by moving to 7 p.m.

The official announcement of the new lineup is expected soon. No start date was announced for Mr. Smith's new program, to be called "Shepard Smith Reporting," partly because he will undergo surgery next week for a torn shoulder labrum.

Mr. Smith said the new overall format, which will have him available all day to break in with news, should help delineate even more clearly the wall between news and opinion shows — what he called "programming" — at the network." . . . Read More

Is FOX TV Shepard Smith "Fair & Balanced" Or A Liberal-Left Shepardista? - RedState

Why Smith Is Staying With FOX News - MediaBistro

MSNBC Reported In 10/2012 Shep Would Be Welcomed Anytime - HollywoodReporter

FOX News Anchor Shepard Smith Lists N.Y.C. Condo Crib (09/11) - RealEstalker

SELLER: Shepard Smith
LOCATION: New York City, NY
PRICE: $4,000,000
SIZE: 2,341 square feet, 2 bedrooms, 2 bathrooms

"YOUR MAMAS NOTES: Most lefty liberal types probably don't know who the hell he is, but for regular Fox News watchers Shepard Smith is a beloved household name who every afternoon and early evening during the week delivers the news (and the "news") to millions upon millions of households." - RealEstalker

Sample Reporting On Conservatives: Shepard Smith Grills Elected Tea Party Candidate - Mediaite

(If you wish to play the video full screen, click on the enlarge screen icon in lower right side of screen.)

1. In April 2010 Ailes Forced Hannity To Leave Live Show At Cincinnati Tea Party, While Reports Say No One At FOX Talked With Tea Party Organizer Over News Story Run By Far-Left MediaMatters - NewsCincinnati.com

On The Other Hand, In June 2011 Beck Is Canceled By FOX News - LATimes

Note: Beck was the only opinion personality on cable television to expose Obama's hiring of Van Jones, a known Communist chosen to run Obama's Green policies. Beck also exposed a former Weather Underground leader being involved in the writing of Obama's 2009 Stimulus Bill, which had tried to pass billions of tax-payer dollars to ACORN chapters to assist in voter fraud in coming elections. Van Jones went onto attack Beck's advertisers using the Color of Change organization, (estimated 175,000 members), which went onto actively and openly threaten corporations that supported Beck's Show with fascist boycotts.

While Beck reported to viewers the attacks against his FOX News show, Roger Ailes seemed to go out of his way to ignore them, allow them, and use them to take Beck off the air. As a side note, Beck's April 2011 numbers still beat FOX's FIVE April 2013 numbers. So Beck wasn't fired for viewers 24-48 not tuning into his show. - Webmaster

2. In 2010 Ailes Hired Avid Abortionist Jehmu Greene Soon After She Had Attacked Focus On The Family's Tim Tebow Superbowl Ad That Celebrated Life, Greene Admitting She Had Never Seen The Ad But Didn't Care - FOXNews

3. January 2012, Ailes Hires Sally Kohn, A Soros Supporter And Avid Lesbian - CanadaFreePress

| | |
| --- | --- |
| On The Other Hand, In February 2012 FOX Business Network Cancels Judge Andrew Napolitano's Freedom Watch. [Napolitano had gone after Obama's trashing the Constitution. His show was considered by some the best in libertarian news and Constitutional argument in the history of conservative television. The excellent Willis Report opens with the reason for Ailes moving left with the mission statement, It's always all about the money.] - Reason | |

4. A Few Months Later Ailes Hires Jesse Jackson's Daughter As Another Far-Left Consultant - DailyCaller

5. In The Summer Of 2013 Ailes Hires Far-Left Journalist For Sunday Show, Howard Kurtz, who reported for CNN, The Washington Post, and the DailyBeast - Reuters

Obama's Greatest Asset: Clueless Americans - Bernard Goldberg

5. Only 6% Rate News Media As "VERY" Trustworthy

"Most voters still get their news from television and consider the news reported by the media generally trustworthy." - RasmussenReports

"Fifty-six percent (56%) of Likely U.S. Voters say they get most of their news from TV, including 32% who get it from cable news networks and 24% who get it from traditional network news. A new Rasmussen Reports national telephone survey finds that another 25% use the Internet as their main source of news, while only 10% still rely on print newspapers. Seven percent (7%) get most of their news from radio.

Fifty-six percent (56%) of all voters regard the news reported by the media as at least somewhat trustworthy, but that includes just six percent who think it is Very Trustworthy. Forty-two percent (42%) don't trust the news media, with 12% who believe the news it reports is Not At All Trustworthy." . . . Read More

NAA Will Stop Releasing Quarterly Figures On Ad Revenues, Which Have Consistently Declined - [And what would one expect from Progressives who see Americans rejecting headlines that are filled to the brim with social engineering and Democrat / Liberal talking points. "If it isn't working, go to Plan B: Lie or bury the truth from the light!" - Webmaster] - Poynter

6. Former 'Satanic Drag Queen' Finds Love In Jesus

Sadly, It's exactly what one Might expect: Trace McNutt, former self-described 'Satanic Drag Queen,' will receive an award for courage at the first Ex-Gay Awareness dinner and reception in Washington, D.C. - ChristianPost

"A former self-described 'satanic drag queen,' who has accepted Jesus and found love in the church, will receive an award for courage at the first Ex-Gay Awareness dinner and reception that will be held later this month in Washington, D.C.

On Sept. 30, Voice of the Voiceless, a nonprofit organization that aims to defend the rights of former homosexuals, and individuals with unwanted same-sex attraction and their families, will present Trace McNutt with its first-ever courage award for former homosexuals.

During an interview with The Christian Post on Tuesday, McNutt described in detail the extremes he went to to find acceptance among his peers, his family.

Speaking candidly, McNutt described getting hit by bricks and two-by-fours as a child. In one particular altercation, he said that boys had urinated on the clothes he was wearing. The bullying, made worse by his parents' disapproval, drove him to seclude himself." . . . Read More

8. Obama IRS Scandal Will Go Down In Infamy

"In my experience, the term "BOLO" is a law enforcement term short for 'be on the lookout' for criminals and suspects on the run. But for the Obama IRS, BOLO meant, literally, 'be on the lookout' for citizen groups who might be opposed to the Obama agenda." - Judicial Watch

"Here are the facts as we know them today. First, we know that the 'independent' IRS purposely stonewalled the approval of non-profit applications from 'Tea Party' and other conservative groups that were seeking tax exempt status.

As reported by CNN:Among the criteria used by IRS officials to flag applications was a 'Be On the Look Out" list, or a BOLO, which was discontinued in 2012, according to the report. The criteria on the BOLO included:

• Whether 'Tea Party,' 'Patriots' or '9/12 Project' was referenced in the case file.
• Whether the issues outlined in the application included government spending, government debt or taxes.
• Whether there was advocating or lobbying to 'make America a better place to live.'
• Whether a statement in the case file criticized how the country is being run.
• Whether it advocated education about the U.S. Constitution and the Bill of Rights.

And how bad was the stonewalling? Epic. Over the course of 27 months, not a single Tea Party type organization received tax exempt status. This was no political witch hunt, says the IRS. So why is it that liberal groups had their applications approved in as little as nine months?" . . . Read More

E-mails Show IRS' Lois Lerner Specifically Targeted The Tea Party. [In Other Words, She Lied.] - WashingtonTimes

CFPB Threatens Independence Of Bankruptcy Office - WashingtonExaminer

Obamacare Regulations Are Eight Times Longer Than The Bible! - CNSNews

Privacy Scandal: NSA Can Spy On Smart Phone Data - Spiegel

Google's Data-Trove Dance - WallStreetJournal

9. Corporations Lay Off Thousands . . .

"Then demand immigration reform for [their] new [cheaper] labor!"- WashingtonExaminer

"On Tuesday, the chief human resources officers of more than 100 large corporations sent a letter to House Speaker John Boehner and Minority Leader Nancy Pelosi urging quick passage of a comprehensive immigration reform bill.

The officials represent companies with a vast array of business interests: General Electric, The Walt Disney Company, Marriott International, Hilton Worldwide, Hyatt Hotels Corporation, McDonald's Corporation, The Wendy's Company, Coca-Cola, The Cheesecake Factory, Johnson & Johnson, Verizon Communications, Hewlett-Packard, General Mills, and many more. All want to see increases in immigration levels for low-skill as well as high-skill workers, in addition to a path to citizenship for the millions of immigrants currently in the U.S. illegally.

A new immigration law, the corporate officers say, 'would be a long overdue step toward aligning our nation's immigration policies with its workforce needs at all skill levels to ensure U.S. global competitiveness.' The officials cite a publication of their trade group, the HR Policy Association, which calls for immigration reform to 'address the reality that there is a global war for talent.' The way for the United States to win that war for talent, they say, is more immigration." . . . Read More

10. Exclusive Diary Bombshell

"RFK's slams against Al Sharpton, Jesse Jackson and Gov. Cuomo." - NewYorkPost

"Kennedy recorded the thoughts in a bombshell diary from 2001, a copy of which was reviewed by The Post.
The fat, red book, covered with bumper stickers shouting liberal slogans, bluntly reveals the scion's true feelings about some of the most important political figures of our time, including family members such Cuomo, fellow Democrats and Presidents Bill Clinton and George W. Bush.

RFK Jr. also kept notes for his journal during his month-long stint in a Puerto Rican prison that July. He, the Rev. Al Sharpton and Jesse Jackson's wife, Jacqueline, were charged with trespassing during protests on Vieques, the Puerto Rican island the US Navy used as a bombing range.

The Revs. Jackson and Sharpton 'give me the creeps,' Kennedy writes in a July 5 entry. 'Al Sharpton has done more damage to the black cause than [segregationist Alabama Gov.] George Wallace. He has suffocated the decent black leaders in New York,' he says. 'His transparent venal blackmail and extortion schemes taint all black leadership.'

He goes on to call Sharpton a 'buffoon' who has never escaped the 'stench' of his advocacy for Tawana Brawley, the black Dutchess County teen who fabricated a story about six white men raping her in 1987." . . . Read More

________________________________________________________

Jimmy Z Parody: If I Had A Ruger (Trini Lopez) - YouTube
Source: YouTube
State Senators Who Led Gun Control Push Find Themselves Recalled And Voted Out Of Office - TheBlaze

The Danger Of Wedding Arrogance To Hypocrisy

Democrats and RINOs balked in September 2013 when Russian President Putin challenged Barack Obama's claim that American exceptionalism under his leadership for the last five years was above all others.

As Obama spoke those words, too many politicians in Washington DC riding on the coat tails of Obama's election had already wallowed in the pigpen of multiculturalism, a similar multiculturalism that will guarantee the downfall of Europe within the next three decades.

Obama's personally appointed Czars had already gorged themselves in the delight of being given permission to dismantle the country's foundation, built one stone upon the other and cemented with the blood of millions of patriots seeking freedom. While most of these patriots, born from immigrants, have been forgotten over the years, we need to remind ourselves they came from America's towns and small villages built on the sweat of freedom's hope denied on another soil.

Meanwhile Obama's Czars toss the loosen stones as if garbage, dedicated to diversity's faux promise that the collective is the new road to the future.

Too many of America's universities built from the same sweat find themselves now filled with pariahs who argue sex with animals is a good thing while other students are entertained during sex weeks to live on-stage S&M acts. America's youth was always supposed to be her next generation of leaders. Instead these students could be the most diseased in the history of the Republic from willing STD's, an effect from decades of attacks on family values as local schools and their communities become infested with progressive teachings of government approved Planned Parenthood, an organization President Obama treats as his own holy grail.

However, in the end liberals love to ignore that it was a real Nobel Peace Prize winner, Lech Walesa, the famous Polish Freedom Fighter, not Putin, who proclaimed in early 2010 that America was no longer the moral leader of the world. Walesa, a hero in his younger days who had risked his life and his family's life for freedom against the former USSR, would ironically be pushed aside decades later by the Marxist community organizer, Barack Obama, who arrogantly would need to only lift a finger to receive his Nobel Peace Prize from Norway's Communist elite.

So like Putin, Walesa is just another warning to American voters who want to put leaders into office on the verbal promise to fundamentally change a country that already has successfully fed and clothed many of their families for decades.

Voters need to remember that denial is not a river in Egypt and that Rome fell in a day from the lack of streaming water for buying and selling. Ironically any modern country could fall as fast from the lack of streaming, this time from digital codes disappearing on broken viaducts connected to outer space.

America is a great country. But no country can take sledge hammers on its foundation for very long from its own citizens who believe the lie from a new variety of slick hustlers that the grass will be greener on the other side if they will only believe. Of course voters never ask while cheering at elections, "What other side and where did you say it was?"

It is no measure of health to be well-adjusted to a profoundly sick society - J. Krishnamurti

Webmaster
Obama's signal to progressives in 2007: Their messiah had arrived.
Thank you for considering to pass along these e-mails.
Did you miss one of our e-mails? Check out the link below.
HTML E-mail Content from Freedom is Knowledge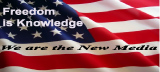 It is no measure of health to be well-adjusted to a profoundly sick society - J. Krishnamurti
| Fascism in America | It Doesn't Matter?! | What Privacy? | America Facing Evil | Whistleblower | Historic Biblical Times |
| Obama's 1990 article - "We're Going To Reshape Mean-Spirited Selfish America." | Print Page |
Listen to The Jimmy Z Show on the Internet - The right stuff from the left coast!
_____________________________________________________________
HOW TO SEARCH FOR CONTENT ON OUR EXTENSIVE CONSERVATIVE PORTAL
Freedom is Knowledge content can be easily word-searched using the Atomz Search Engine at the top of our About Us Web page along with Windows "Ctrl + F" FIND feature used for locating search words on any pages brought up in an Atomz search.

Once you review the HTML pages brought up by the Atomz Search Engine, click on a page to bring it up. It will then appear in your browser. Hold the "Ctrl +F" keys and a box will appear in the upper left top of the page. Type in the exact same word(s) you used in the original search. Click next and the word you typed in will immediately be highlighted where it is located on the page.

Click the "Next" Button again to see if your selected word appears anywhere else on the page. Or back up using the "Previous" Button.

Try it now. Go to Atomz Search Engine at the top of the About Us homepage and type in Darth Tader. Click on the gray bar. A page should come up with two selections to the words you typed in. Click on the URL of either one. When the page loads hit the "Ctrl +F" keys together. Type in (or paste in) Darth Tader into the empty box at the upper left top of the page. You will be immediately taken to where the words Darth Tader appears.

And of course please enjoy the Grocery Store Wars video.

Webmaster
Western North Carolina
www.freedomisknowledge.com
Background photo source: President George Washington