The Shepp Report
Special Edition
Jews Who Survived The Holocaust Warned: We Couldn't Believe How Fast It Happened!
June 12, 2016
Under Obama's direction of our military, which is supposed to be protecting our freedom of speech, now openly rejects it and within its own ranks.

Boykin Bounced: Fort Riley Cancels Delta Force Hero's Prayer Breakfast Speech

"'Lt. Gen. (Ret) Boykin's credentials as a Soldier and leader speak for themselves and his 36 years of service to our nation are worthy of our respect,' Chief Public Affairs NCO MSG Mike Lavigne told me in a statement. 'However, in an effort to ensure everyone in our broad and very diverse community feels welcome at any event on Fort Riley, we will pursue the invitation of a different speaker for the prayer breakfast once it is rescheduled.'

Now, it's important to follow the timeline on this story. Boykin was extended an invitation to speak on March 31. On June 1, the MRFF filed their complaint and 23 hours later Fort Riley canceled the breakfast.

- The MRFF demanded those responsible for inviting Boykin (base chaplains) be 'aggressively investigated and visibly punished. -

However, Fort Riley denies the [Military Religious Freedom Foundation,] MRFF complaint had anything to do with their last-minute decision to drop the prayer breakfast – calling it a 'coincidence of unfortunate timing.'

Mr. Weinstein, [head of the MRFF], makes a very comfortable living by bullying the military into eradicating public displays of the Christian faith within the Armed Forces. Most recently, the MRFF has been successful in forcing the military to remove Bibles from 'Missing Man' displays. And they aren't big fans of the Baby Jesus either. The MRFF demanded those responsible for inviting Boykin (base chaplains) be 'aggressively investigated and visibly punished.'

So what kind of punishment would be suitable [To] Mr. Weinstein and his MRFF minions? Would they be satisfied if the chaplains were stripped naked, tied to a pole and beaten with a whip?

Boykin said he understands that Fort Riley's commander was 'caught between radical secularists and a Commander-in-Chief who seeks to impose a politically correct culture on the military.'

'The Fort Riley commander is in a tough spot,' he said. 'However, he must remember we all took an oath to support and defend the Constitution – all of it, including the First Amendment.'" - FOXNews - READ MORE, June 2, 2016

"A Kansas military base abruptly canceled an upcoming prayer breakfast that featured retired Lt. General Jerry Boykin after complaints were lodged that Boykin is anti-Muslim. Military Religious Freedom Foundation founder Mikey Weinstein told Army Times that Boykin's invitation had caused great angst among soldiers at Fort Riley – leading some to break down in tears. 'I have clients of ours weeping on the phone about this,' he said." - FOXNews

Click here to read General Boykin's ten critical issues of this decade that face our continued freedoms in America.

Mikey Weinstein Also Did The Same To Franklin Graham In 2010.

On Weinstein's advice, the Pentagon through the U.S. Army kept Graham out of its May 2010 Day of Prayer. Weinstein had called Graham an Islamophobe because Graham referred to what Islamists did on September 11, 2001, in the name of their religion as evil. Graham's Samaritan's Purse helps people in need around the world, Christian or Muslim, an effort hated by some American progressives.

Obama would not get involved in helping to return Graham to the May 2010 event, a foreshadowing of his attitude on Christians, allowing ISIS pick-up trucks to cross the desert without harm to go and destroy 2,000-year old Iraqi worship centers. - Webmaster

______________________________________________________________

Internal Email Shows Air Force Pilot Shortage At Crisis Level

(From left) Capt. Aaron Schuett, Capt. Cody Clark, Maj. Jason Bianchi, Capt. Robert Hendrick, 493rd Fighter Squadron pilots, walk to their F-15C Eagles to prepare for a training mission during the Tactical Leadership Program Jan. 18, 2013. (U.S. Air Force photo by Lausanne Morgan). - JQP

Photo Source: JQP

"The shortage is not driven by money or airline opportunities, but by an ailing organizational culture, a lack of mission focus, and excessive operational tempo. These things might be mitigated by strong leadership, but commanders have employed doublespeak and senseless personnel policies worsening these underlying problems.

- On the worst days, it's insufferable. Most days, it's merely joyless. -

Trust has hemorrhaged at the same time that a once vibrant and battle-thirsty aviation culture has withered, replaced with a soulless, bureaucratically approved authority structure masquerading as a combat organization.

Pilots have had their support systems removed, their training gutted, and their voices muzzled. Once heralded as the "tip of the spear," they're now instructed that there is no spear … just a collection of equally important and interchangeable individuals pursuing officially approved self-interests.

In summary, it's not a combat team anymore … just a collection of government workers following orders that occasionally involve airplanes. On the best days, it's a shadow of its formerly great self. On the worst days, it's insufferable. Most days, it's merely joyless.

The sad thing is that Gen. Mark Welsh knew this problem was developing before he became Chief of Staff … yet under his watch, it's gotten much worse. And while airmen understand much of the blame for the mess of the contemporary Air Force lies with elected politicians, they don't forgive the generals entrusted with sacred responsibility who haven't committed in word or in deed to do what's right for airpower or go down swinging in the attempt.

Welsh and his colleagues have allowed the Air Force to come up more than 700 fighter pilots short. That doesn't reflect an airline hiring problem … it reflects a failure of leadership and policy. - JQP / John Q Public - READ MORE, May 31, 2016

______________________________________________________________

VA Crisis Hotline Ignores Quadruple Amputee Veteran's Calls . . . Just Before He Attempts Suicide

"The blatant negligence incompetence and harm the Veterans Administration (VA) is causing veterans continues, without any plausible hope for solutions in sight– from Obama or Congress. According to the VA's Inspector General, over 300,000 veterans died before their applications were ever processed.

- Call back when you're less irate. -

The VA continues to incorrectly claim that certain applications were processed (to improve its statistics). One example is the VA claiming a veteran's case was marked 'pending'– for 14 years– before he died.

Under Obama, over the last five years, the VA has destroyed over 10,000 records. Despite all of this, the VA Crisis Hotline– designed to help veterans feeling hopeless and distraught– only furthers their pain. Here is Todd Nicely's experience described by his friend Bobby Henline:

The VA is failing veterans who are committing suicide at a rate of 22 every day. Tragically, quadruple amputee Todd Nicely nearly became another statistic when he recently attempted to kill himself with a firearm after calling the VA Crisis Hotline numerous times– whose operators kept telling him 'to call back when he was less irate.'

A quadruple amputee. He was honored by actor, and veterans advocate, Gary Sinise, but the U.S. government [Obama administration] won't even answer his phone calls or pleas for help."– Constitution, READ MORE, June 4, 2016

______________________________________________________________

While It's . . . Armageddon For Christian:

'Destroying all faith-based entities that disagree with leftist lifestyles.'

Photo Source: WND


"The California State Legislature is working on an 'Armageddon' for Christian colleges and universities that would force them to embrace 'transgender rights or lose funding for students.

'If these bills are successful, Christian colleges, for instance, would have to allow a male student who perceives his gender as being 'female' to live in the women's dorm to avoid the risk of a lawsuit or the loss of financial aid options for students,' contended the non-profit Advocates for Faith and Freedom.

The College Fix quotes critics saying the bills 'purporting to prevent LGBTQ discrimination, are actually designed to cripple the state's Christian colleges.'

- 'Their sights are now firmly set on destroying and dismantling all faith-based entities that disagree with their lifestyle.' -

One would disqualify Christian colleges from receiving state-funded student financial aid if they deny students on the basis of 'sexual orientation, gender identity or gender expression' or if they obtain waivers from those requirements from the Department of Education. Another bill would order Christian schools to tell students their 'institutions are discriminatory.'

See what American education has become, in 'Crimes of the Educators: How Utopians Are Using Government Schools to Destroy America's Children.' The College Fix reported the the legislation 'could mean that biological males that identify as females may end up rooming with biological females.'

ReligiousLiberty.TV said the California Catholic Conference 'warns that the bill is vague and creates a state-level 'civil cause of action for violation of the Equal Protection Clause and provisions of the Due Process' clause even if an institution is in compliance with federal law.'

'According to the CCC, 'this coercive mandate to waive federally protected statutory and constitutional rights is simply indefensible.' '

Advocates for Faith and Freedom said: 'It is clear that the agenda of California's progressive legislature, including the openly gay authors of these two bills, goes well beyond their original mantra of seeking equality. Their sights are now firmly set on destroying and dismantling all faith-based entities that disagree with their lifestyle.'

Earlier this month, WND reported the Department of Education launched a web site critics say is dedicated to the 'shaming' of Christian colleges that follow biblical principles rather than a leftist social agenda.

'It looks like the Department of Education got a new boss: the Human Rights Campaign,' wrote Family Research Council President Tony Perkins in a Washington Update commentary this week. Perkins, referring to the leading 'gay'-rights group, was spotlighting what he called a 'shame list' posted online by the [Obama] Department of Education of colleges that have sought exemptions to Title IX requirements that provide special treatment to transgenders." - WND, READ MORE, May 28, 2016

______________________________________________________________

Church Of Scotland Votes To Allow Ministers To Be In Same-Sex:

The general assembly of the Church of Scotland, which opened in Edinburgh on Saturday, voted in favor of extending a law passed last May that permits ministers to be in same-sex civil partnerships.

"The church's general assembly, which opened in Edinburgh on Saturday, voted in favor of extending a law passed last May that permits ministers to be in same-sex civil partnerships.

The decision, after years of deliberation, means the church maintains the traditional view marriage as between a man and woman, but allows individual congregations to 'opt out' if they wish to appoint a minister or deacon in a same-sex marriage or civil partnership.

Any wider consideration of the theological understanding of same-sex marriage will not take place until the Theological Forum presents its report to the church next year.

More than 850 commissioners from across Scotland, the rest of the UK, Africa, Asia, North America, Europe, the Middle East and the Caribbean registered to attend this year's assembly, which began with a ceremony at the Assembly Hall attended by Scotland's first minister, Nicola Sturgeon." - NowTheEndBegins, May 26, 2016

A Repeat Of A Dangerous Society From 85 Years Ago, The United Church of [Cough] Christ Joins The Third Reich Of The New Democrat Party To Believe White People Are Racist 'No Matter What.' - TruthRevolt

______________________________________________________________

Chilling Evidence Shows Planned Parenthood Selling Body Parts:

"How's the pancreas forecast today?"

"A new batch of evidence from the Congressional panel investigating Planned Parenthood reveals some disturbing exchanges between the buyers and sellers of aborted baby body parts.

Congresswoman Marsha Blackburn, who chairs the Select Panel on Infant Lives, sent the evidence to the U.S. Department of Health and Human Services this week along with a letter asking HHS to investigate possible violations by Planned Parenthood and the organ harvesting company StemExpress.

The newly uncovered evidence points to multiple potential violations of federal laws based on emails between the companies, invoices, contracts for the aborted babies' body parts and other documents.

Some of the email exchanges are gruesome in nature. In one correspondence, an individual asks, "How is the pancreas forecast today – any possible procurements?"

Others involve individuals who want aborted babies' skulls, brains and limbs. One read, "i also wanted to put in another order of 4 normal fetal brains … please send me a quote for the same." - LifeNews, June 3, 2016

What Happens When The Church No Longer Has Anything To Do With Christ, But Those Christ Warned Against: Woman Minister Claims, "My Faith Calls Me To Support Planned Parenthood," It Does . . . Wait For It . . . "Sacred" Work. - LifeNews

______________________________________________________________

Obama's SS: 86,000 Illegal Alien Convicts Ready To Terrorize America:

Congressman spills Obama's secret: 'If the public knew about this, there'd be absolute outrage!'

Photo Source: WND

"At least 86,000 illegal aliens are roaming free and terrorizing America by committing 231,000 serious crimes across the nation in the last two-and-a-half years, and President Obama's administration is hiding details about the crime spree from Congress and the rest of the country.

- Rather than punishing or arresting illegal aliens who skip their court dates, Immigration and Customs Enforcement has merely scaled back issuing court appearances altogether. -

That's according to Rep. Brian Babin, R-Texas, who told the Washington Free Beacon the administration is withholding detailed information about the explosion of crime.

'[I]f the public knew about this, there would be total outrage,' he told the paper.

Babin said Obama is doing nothing to deport illegal aliens once they are set free from U.S. prisons. The Obama administration freed 20,000 criminal aliens in 2015, including rapists, sex offenders and about 200 murderers. Those illegal-alien convicts were not deported.

In fact, rather than punishing or arresting illegal aliens who skip their court dates, Immigration and Customs Enforcement has merely scaled back issuing court appearances altogether.

Both deportations and criminal arrests are plummeting under Obama. According to Department of Homeland Security statistics, ICE deported 410,000 illegals in 2012 when it was awarded $2.8 billion in taxpayer funding.

In that same year, Obama announced a significant policy shift in June before the 2012 election, issuing a directive halting deportation of children brought to the U.S. when they were under the age of 16 in his Deferred Action on Immigration.

By 2015, ICE's funding rocketed to $3.5 billion, but deportations were down to just 235,413. Babin is spearheading legislation to increase deportation of illegal-alien criminals and halt travel visas and U.S. foreign aid to nations that refuse to take back their citizens, the Free Beacon reported.

As far as the Obama administration's secrecy goes, Babin told the paper, 'All I can think of is they don't want the general public to know what's going on. When you have 86,000 criminal aliens committing 231,000 crimes just over the last two-and-a-half years, I don't think they want the public to know what's going on.'" - WND, READ MORE, June 4, 2016

______________________________________________________________

'Rent-A-mob' Zealot Caught Red-Handed At Trump Riot

Photo Source: WND

"In the span of only 10 days, Hampton appeared at multiple protests. She was at one against University of California, Davis, Chancellor Linda Katehi, then two days later appeared in Mexico protesting labor conditions for Mexican farm workers.

- Craigslist ads discovered for 'temporary paid positions to protest Donald Trump rally.' -

A week later, she was seen at the California State Capitol on behalf of the Alliance of Californians for Community Empowerment (a former ACORN group), protesting in favor of increasing the minimum wage to $15 per hour. Anti-Trump protesters in New York reportedly admitted they answered ads on Craigslist and were being paid to protest Trump.

Writing in the Daily Caller in March, Trump supporter Roger Stone said, 'I learned most were from MoveOn or the Occupy movement … Several admitted answering a Craigslist ad paying $16 an hour for protesters.'

Stone claimed the protesters were 'paid for mostly by George Soros and MoveOn.org and pushed by David Brock at Media Matters for America.' A Craigslist ad offering $15 an hour to protest a Trump rally Janesville, Wis., in March.

Stone's accusations could be supported by the discovery of a Craigslist ad calling for 'Temporary paid positions to protest Donald Trump rally' that appeared in Wisconsin in March.

Violence at anti-Trump protests is on the increase. Angry mobs have been showing up at Trump rallies in California, waving Mexican flags, wearing Che Guevara T-shirts, burning American flags, while accusing Trump supporters of racism." - WND, READ MORE, June 4, 2016


______________________________________________________________

Black Panther Whitewash:

PBS lies about art designed to kill cops.

Above is a video exposé produced by journalist Lee Stranahan on PBS's deceitful portrayal of Black Panthers artwork that was expressly designed to incite violence and encourage the killing of police. The artwork and an interview with its creator were featured in the pro-Black Panthers documentary, "The Black Panthers: Vanguard of the Revolution," which originally aired in February of this year. - Frontpage - READ MORE, June 6, 2016

Video Source: YouTube

And To The Corrupt AP, Part Of America's Laughable Free Press, Joins PBS In Treating The Country's Citizens As If Annoying Cattle, With Hillary Clinton Caught Colluding With The Associated Press To Announce Her Delegate Win BEFORE The California Vote. - GatewayPundit

______________________________________________________________

Bernie's Free College Isn't Free:

Can we just think this through for a minute?

Dear Millennials: College, like Health Care, isn't free -- it costs money. So who pays for it? YOU DO. Find out how. - Bill Whittle

Video Source: BillWhittle

______________________________________________________________

Revealed! Guess Who Is At The Heart Of Destroying State's Rights? Salesforce Billionaire, Marc Benioff

Benioff's arrogant and wide shadow falls over the light of our Constitution's protection of individuals and their right of opinion within the protection of 50 unique states and more importantly, their right to choose their living environment and to be left alone within those choices. - Webmaster

Benioff's billions, along with friends who enjoy similar bank accounts, have no problem using their boot heel to force social engineering on unsuspecting hard-working American families. They do it through socialist programs such as Common Core, going on to attack the rights of everyday citizens in the state of Indiana, Georgia and now North Carolina.

Benioff supports activists, such as the one below, whose mission is to destroy America's right of self-determination of traditions passed on from parents to their offspring, not forgetting how the bullies of the Third Reich in an intellectual society enjoyed the use of this same fascism to destroy a successful Democracy in Europe 85 years ago.

The Wall Street Journal gave an overview of Mr. Benioff's achievements to override the decisions of the voters who had elected their state governments to represent them, writing on May 2, 2016:

"The 51-year-old Mr. Benioff earlier this year helped push Georgia's governor into vetoing that state's bill that would have let faith-based organizations decline services or fire employees over religious beliefs after the U.S. Supreme Court ruling that backed same-sex marriage. Last year, he and other CEOs were instrumental in persuading Indiana's governor to revise a similar law. He is now pressing cohorts to back measures to close the gender pay gap."

If you remember Disney and Marvel, along with others, threatened Georgia that they would no longer shoot productions in the state, not unlike when the Third Reich would write on the windows of German business that within the walls was a Jew and not to shop there.

In Indiana influence was closer to that of the Reich's SS, with over 50 corporations threatening the state while Lesbians on social media wrote to others to get together to burn down a small pizza business. It was where the daughter of the owner answered a reporter's question, one who was out to cause trouble, that she would not want to drive pizzas to a gay wedding.

The hate, once the story was published, was not unlike the SS in Germany who wrote the messages on the glass of Jewish businesses . . . gays ordering pizza they intended to never pick up or cause the phone to be so busy the small Christian restaurant couldn't survive.

Dana Loesch, an advocate of free speech, the opposite of what Benioff offers in his so called motivational business, set up a kickstarter type of donation for the closed business from her stage at the Blaze. She asked Americans watching her show to donate because of what these activists had done to the small pizza business. In three days freedom-loving Americans raised $800,000. Glenn Beck even allowed Dana to provide a free financial service to the restaurant owner for best use of the money that would be coming his way.

Damn It. We Told You To Make The Pizza Or . . .

What is so obscene about what is still happening in North Carolina today, is that the attorney general, a Democrat running for governor, refuses to do his sworn job of enforcing legislative law. He is now accused or working with Benioff to encourage corporations and others to leave the state of North Carolina, causing harm to citizens with the loss of jobs.

The charge against Cooper is serious, "complicit in federal blackmail by the Obama Administration and possible collusions with businesses threatening economic blackmail."

Now you know who crapped on the rights of citizens in three states.

Graphic Source: WSJ

Even the small town of Burnsville, NC, had to cancel the production of "West Side Story," about life for Latinos in New York City, because the company that held the rights said they didn't want their play to go on in North Carolina. What fascist bull****!

Finally, if you think you have heard the name Roy Cooper before, you have. He is the idiot attorney general of North Carolina who would NOT come to the defense of the Duke University Lacrosse Team via an accusation from a prostitute against the boys.

It was Cooper who was protecting a good-old-boy Democrat lawyer who was trying to gain fame through lies about the incident. Without help from Cooper, parents had to reach into their own pockets to hire lawyers to defend their sons. The mismanagement of Nifong, the attorney in question, and Cooper's refusal to act finally reached international levels. With national news operations now focused on Cooper's disregard for doing his job, he had to finally say the boys were innocent. So Cooper is very capable of corrupting any office.

North Carolina Good-Old-Boy Democrat Attorney General Roy Cooper
Graphic Source: Alchetron

What you need to know is that the current governor is the first Republican to hold office in North Carolina since 1898! The Democratic Party was shocked when it lost power in 2012, having named its annual state fund raiser for over 40 years after a white supremacist, Charles Aycock. Aycock was the racist who set up the environment for the riots of 1898, where Democrats attacked Republican black businessmen in Wilmington, North Carolina.

They murdered well over a dozen black businessmen, the racist incident causing over 2,000 blacks to flee their homes and businesses for their lives as the Democrats burned down their local newspaper. Wilmington had been a successful black-run city. If left alone it could have changed black attitudes in America. But Democrats were to have none of it "from those negroes."

Not one Democrat was brought to justice, the event going on to control the politics of the state for over 114 years! Democrats in North Carolina and their sensitivity to blacks is usually bull, since the sheets run deep in the party's past, not withstanding the current allegiance of the (cough) honorable Roy Cooper. Cooper is the one who allowed an atheist councilman in Asheville to not have to place his hand on the Bible during induction into office, WHICH AGAIN WAS STATE LAW. So Cooper, as an attorney general, is laughable, a Democrat hack. As governor he would return North Carolina back to the Aycocks of the world because that's what good-old-boys do. - Webmaster

______________________________________________________________

The Elites In Government Who Prosper Over World Trade Want Everything To Stay Just As It Is, American Jobs Be Damned?

Progressive Democrats and Republicans have similar agendas and why they seem to both be in agreement against one candidate. Isn't that interesting? Now the only question is how far will they go to stop that candidate from winning? And if they try to control the American voter's choice, are they prepared for a potential insurrection this country hasn't seen since the late 1800's?

Listen to the words of Bush senior in the video below when he was serving as president and you can understand clearly why the Bush family and ALL their associates WILL not endorse Donald Trump. And if they chose to do so before the November election, it could be for a diversion after watching the strange moves of Ryan, Romney and others with their #nevertrump mission.

Finally remember what the Border Patrol union said in backing Trump for president, the organization having never backed a presidential candidate before. The union said our membership is backing Trump because of those who are against him.

There is much anger, hostility, and protests against Trump. But Trump's problems are much larger than a group of protesters on the left. He is facing a HUGE upward battle against the elites in power, who [with the help of our corrupt media] will keep him out of office at all costs. - C. Ervana

Video Source: YouTube

Heads up for this video to James of Georgia.

"Donald Trump views on trade, a border wall with Mexico, America-first policies, and protectionist positions place him in direct opposition with the plan for a North American Union and ultimately the New World Order.

Trump is a vocal proponent of 'the Wall' and threatening to change trade relations with Mexico, which Trump has alleged have been unfair (which is factually correct, they have been very unfair.)

- A map printed in 1941-1942 reveals that a plan was concocted to divide the world into approximately 10 regions. -

The last four presidents in particular have been working to build the North American Union through a series of secret agreements like the Security and Prosperity Partnership of North America, (SPP), led by George W. Bush with Mexico's Vicente Fox and Canada's Stephen Harper.

The SPP was met with opposition in both United States and Canada.
Obama has done his part in the creation of the NAU, by opening relations with Cuba. Most people believe this is a good thing, but I believe this signifies that the final piece has been put in place: Cuba has been brought in to the Union.

A map printed in 1941-1942 reveals that a plan was concocted to divide the world into approximately 10 regions. One of these regions is a North American Union, while there is an African Union and Union of South American States.

Clearly, this map shows an agenda to divide the world into 10 regions under 1 centralized government, an agenda that has been regurgitated in the elite's [of the former] Agenda 21.*

George H.W. Bush was the U.S. signer of Agenda 21 and the push toward North American Union. In a 1990 speech, George H.W. Bush clearly calls for open borders and open trade and praised European unity. He also said that the year 2000 would mark turning point. It did. When his son, George W. Bush led the signing of the SPP which dissolved Canadian and U.S. sovereignty." - C. Ervana, READ MORE, May 31, 2016

* [Agenda 21 was recently renamed Agenda 2030, introduced during the Pope's recent visit to the United States and specifically to the UN Building in New York City. Agenda 2030 stands for the year the UN plans to achieve its goal of no borders with all countries accepting its coming climate change mandate. - Webmaster]

______________________________________________________________

What's The Formula For A Successful Society? It's How Involved Do The People Want To Be In The Decisions Of Their Government.

"Even if one admits that expert knowledge is necessary for the government of a commonwealth, and that most ordinary people do not have a sufficient grasp of all the social, administrative, legal, and other relevant details that go into running a government, people nevertheless need not relinquish their right to appoint the officials of an administration, or to recall them, if the results of their performance seem unsatisfactory.

The owner of a ship may not know how to navigate, but he or she still has the right to determine where the ship will go. Hired expert navigators may be necessary to figure out the best means of getting to some place, but the owners of the ship should still be able to determine the ends.

Voters in a democracy may not know all or even any of the technicalities of running a government, but they surely can judge the results. What is essential for a democracy is not that citizens be able to understand and do everything themselves, but that they be able to determine the major outcomes and their over-all destiny as a community."

Jean Marie Makang, Plato: The Failure of Democracy, Frostburg State University, Frostburg, Maryland, Plato

______________________________________________________________

Warnings Even A Child Would Understand
| How to catch wild pigs. - FIK | The little red hen. - FIK | Free ice cream. - FIK |
Think Today's Hollywood Stars Are Special? Check Out How These Stars Felt About Their Country 85 Years Ago.
What conservatives mean by taking America back.
The Movie Stars Of WWII - FIK
- The Trojan Horse In The White House -
| The United States Flag: Federal Law Relating To Display And FAQs | U.S. Flag Code |
Looking around America today, George Bailey did get his wish.
Thank you for considering to pass along these e-mails.
Did you miss one of our e-mails? Check out the link below.
HTML E-mail Content from Freedom is Knowledge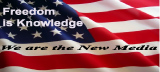 | Fascism Comes To America | It Doesn't Matter?! | What Privacy? | America Facing Evil | Whistleblower | Historic Biblical Times |
| Obama's 1990 article - "We're Going To Reshape Mean-Spirited Selfish America." | Print Page |
It is no measure of health to be well-adjusted to a profoundly sick society - J. Krishnamurti