Date: March 30, 2013

What Was That, MSNBC?! Blinded By The What?

From: Freedom is Knowledge
- Please feel free to share these stories with others. All news links have been verified -
Links to Web sites are highlighted in color
Headline:

TO COMCAST'S SQUEAKY-CLEAN CEO:

| | |
| --- | --- |
| | MSNBC'S CONTENT CHILDREN ARE AT IT . . . AGAIN. |

Here Is The Link To Your Corporate Web Site's Mission Statement of "Our Values." However, The Public Knows What Comcast's Executives Have Approved, Such As The Above, Is The REAL Comcast Values, Not The Comcast PR Candyland Stuff.

MSNBC Racist "Blinded By The White" Logo Under Dr. Carson's Picture

"NBC News obviously wants to destroy the threat of any independent-thinking black man as quickly as possible.

So it should come as no surprise that by the time Washington Post columnist Jonathan Capehart filled in for MSNBC's Martin Bashir that Carson's apology was treated as far from sufficient.

In short, Capehart and his guests, Toure' and Krystal Ball, treated the apology as a lie. This is all par for the course at NBC News.

Sadly, so is the chryron pictured above -- "Blinded by the White" -- which was used as the clip of Dr. Carson played during the segment. NBC News is notorious for using this kind of race-baiting to further its left-wing agenda, including fraud:

During last year's GOP primary, Ed Schultz edited video of Texas Governor Rick Perry to make him look racist.

In April of last year, the "Today Show" was caught editing audio of a 9-1-1 call to make George Zimmerman look racist. In August of 2009, Contessa Brewer sliced and diced a photograph so it wouldn't look like a black man attended a Tea Party carrying a firearm. So it was only a matter of time before they went after Carson in this way for his apostasy."- Breitbart

Did MSNBC Forget About NAMBLA? Can MSNBC Say Jesse and Jeffrey? Did they ever?

All Compliments Of A Corrupt Commander In Chief

You Say It Doesn't Matter? Are You Kidding?!

Remember This Race Baiting From MSNBC News In 2009 By Its Fascist Hosts?

It was a corrupt media, not unlike MSNBC fawning over another progressive leader that lead to the condemning of the Jews to purposely isolate them from their society using the technique of fascism.

Alinsky's Power Points: Taught By Barack Obama And Studied By Hillary Clinton

MSNBC goes way beyond opinions and reporting the news. MSNBC even edits the news to create the news it wants its viewers to believe for spreading on far-left blogs.

For instance, and this one of three I know of, back in 2009 MSNBC showed a close-up of a man in a white shirt with an AR-15 at an Obama rally. While the close up ran, we never saw the man who was wearing the shirt, the MSNBC hosts sitting around the table and concluding from the image that whites like this man could easily kill President Obama.

But unknown to MSNBC, an independent group had also shot a video of the same man with the AR-15. However to get the real story, this group interviewed the man where MSNBC had only shown the close-up for the purpose of controlling the conversation in its on-air live studio.

First click on the MSNBC edited video to the left. Then when done watching, click on the independent video on the right of the actual interview of the man MSNBC had tried to hide. Like I said, MSNBC is the perfect network for people like Neblett and their trash talk. - Webmaster

Do You Finally Believe? - Fascism In America
Some may call this a Fairy Tale. I only wish it were so.
Thank you for considering to pass along these e-mails.
Did you miss one of our e-mails?
HTML E-mail Content from Freedom is Knowledge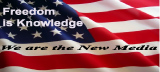 It is no measure of health to be well-adjusted to a profoundly sick society - J. Krishnamurti
| Fascism in America | It Doesn't Matter?! | What Privacy? | America Facing Evil | Whistleblower | Historic Biblical Times |
| Obama's 1990 article - "We're Going To Reshape Mean-Spirited Selfish America." | Print Page |
Listen to The Jimmy Z Show on the Internet - The right stuff from the left coast!
_____________________________________________________________
HOW TO SEARCH FOR CONTENT ON OUR EXTENSIVE CONSERVATIVE PORTAL
Freedom is Knowledge content can be easily word-searched using the Atomz Search Engine at the top of our About Us Web page along with Windows "Ctrl + F" FIND feature used for locating search words on any pages brought up in an Atomz search.

Once you review the HTML pages brought up by the Atomz Search Engine, click on a page to bring it up. It will then appear in your browser. Hold the "Ctrl +F" keys and a box will appear in the upper left top of the page. Type in the exact same word(s) you used in the original search. Click next and the word you typed in will immediately be highlighted where it is located on the page. Click the "Next" Button to see if it appears anywhere else on the page. Or back up using the "Previous" Button.

Try it now. Go to Atomz Search Engine at the top of the About Us homepage and type in Darth Tader. Click on the gray bar. A page should come up with two selections to the words you typed in. Click on the URL of either one. When the page loads hit the "Ctrl +F" keys together. Type in (or paste in) Darth Tader into the empty box at the upper left top of the page. You will be immediately taken to where the words Darth Tader appears. Enjoy the Grocery Store Wars video.

Webmaster
Western North Carolina
www.freedomisknowledge.com

Background photo source: President George Washington