Social Engineering: A Lesson On How Obama Wants To Transform America.
Taxpayer-Funded PBS Pushes Teaching Sex Ed To 4-Year-Olds
1.) Watching PBS? Might Want To Ask The Kindergartners To Leave The Room
"In a May 27 piece for tax-funded PBS, NewsHour producer Saskia de Melker argued 'The case for starting sex education in kindergarten.' In her piece, she held up the Netherlands as an example for the United States in 'sexuality education' – for those as young as 4-years-old to learn 'honest conversations about love and relationships.'

To begin her piece, de Melker pointed to 'Spring Fever' week in Dutch primary schools, or 'the week of focused sex ed classes … for 4-year olds.' 'Of course, it's not just for 4-year-olds,' she reassured about the Netherlands' 'comprehensive sex education.'

'Eight-year-olds learn about self-image and gender stereotypes. Eleven-year-olds discuss sexual orientation and contraceptive options.' She assured prudish Americans that, 'You'll never hear an explicit reference to sex in a kindergarten class,' she wrote. "In fact, the term for what's being taught here is sexuality education rather than sex education." . . . NewsBusters - Read More

- Obama Tries To Social Engineer Your Children On The Climate: "Weave Climate Change Into Social Studies!" . . . TruthRevolt - Read More

- "Ivy League Schools Only Want Token Asians." . . . PoliticalOutcast - Read More
2.) Canada Warns Us Of The Coming Christian Persecution, This Time In The West
"If you're still living under the delusion this is about reasonable tolerance and equality, you need to carefully read this essay—read it twice—and grasp the implications. Holding views as old as creation is possibly about to become 'unconstitutional.' Maintaining a belief that God created two genders–male and female—is likewise to be considered as odious as racism (total scientific and logical balderdash, but we're not talking about a movement based in reality).

Read about the new curriculum being forced upon Canadian children, and how such mental viruses are already leading more and more children to express confusion about the simple, verifiable facts of who is male and female.

Starting in grade three, the curriculum introduces children to the idea that gender is fluid, and that little boys can decide to be girls, or vice versa. The message is that transgender desires are just as perfectly normal as homosexual leanings.

This message is already being propagated by our media. For instance, Canadian public radio recently covered the case of a 12-year-old boy who chose to "come out" as a girl one year earlier. This 'heartwarming' story includes details such as the fact that the boy's puberty has now been chemically stopped, and he may be put through female puberty instead." . . . PoliticalOutcast - Read More
3.) Living In The Socialist World Of Ruth Bader Ginsburg: Governor Moonbeam Makes The Use Of The Words Husband And Wife Illegal In California
"'Under existing law, a reference to 'husband' and 'wife,' 'spouses,' or 'married persons,' or a comparable term, includes persons who are lawfully married to each other and persons who were previously lawfully married to each other, as is appropriate under the circumstances of the particular case,' it reads. 'The bill would delete references to 'husband' or 'wife' in the Family Code and would instead refer to a 'spouse,' and would make other related changes.'

Leno sponsored the bill after Proposition 8, in which California voters said no to same-sex marriage, was declared unconstitutional by the 9th Circuit Court of Appeals and the Supreme Court refused to overturn it. State Rep. Leno said of his legislation,'This legislation removes outdated and biased language from state codes and recognizes all married spouses equally, regardless of their gender.'

In response to Governor Brown striking the term husband and wife from all family code, attorney Matthew Reynolds addressed his actions as a 'raw exercise of power.'" . . . TeaPartyNewsNetwork - Read More

- "Judge Roy Moore: Impeach Ginsburg For Marrying Two Men Ahead Of SCOTUS Ruling On Gay Marriage." . . . CNSNews - Read More
4.) Cupcake Mentality Moves Over The Pond To Belfast: Baker Appeals $750 Fine For 'Hurt Feelings'
"The owners of a Belfast bakery who were ordered to pay a fine of $750 for 'injury to feelings' after they refused to promote homosexuality on their product will appeal.

In an announcement Thursday, the Christian Institute, which has represented the McArthur family that owns Ashers Baking Co., confirmed that after after 'much careful and prayerful consideration given to legal advice, we have decided to appeal the judgment handed down last Tuesday.'

'We continue to insist that we have done nothing wrong as we have discriminated against no individual but rather acted according to what the Bible teaches regarding marriage,' the statement said.

'As many other people have already noted, Christian beliefs seem to have been trampled over in this judgment and we believe this only has negative effects for our society,' the family said. 'Our hope and prayer would be that an appeal will allow us and other Christians to live out their faith in Jesus Christ in every part of their lives, including their workplace.'

It was a county court in Belfast that ordered Ashers to pay 500 British pounds, about $750, for 'injury to feelings.' The ruling came after Judge Isobel Brownlie claimed the bakery breached sexual orientation protection laws in its treatment of a customer." . . . WND - Read More

- Had Enough?! "[UK] Christian Arrested and Imprisoned for 11 Hours when Lesbian Files Fake Homophobia Complaint!" . . . Eaglerising - Read More

- "Christian Bakers Respond To Government Agency's Ties To LGBT Group." . . . DailySignal - Read More

- "Sodomite Calls For Churches To Be Forced To Stop Calling Sodomy Sin." . . . FreedomForce - Read More

- Stunning Times We Live In: Emails Indicate Possible State Government Bias Through Engaging With LGBT Group Against Bakery Fined For Refusing Same-Sex Wedding . . . TruthRevolt - Read More

This Is Not About Sex, Barack! It's About America Becoming Sodom: Evil Homosexual lobby in Ohio wants new law that forces doctors to prescribe STD medicine to partners without examination so the incidences of infection will not be recorded . . . Zionica - Read More

- "The Gospel According To Nancy Pelosi." . . . Breitbart - Read More
5.) When Anyone Says That Barack Hussein Obama Doesn't Know What He's Doing, They Just Don't Understand The Agenda.
"He [Obama] played it just as he was told during his first term. He even upheld traditional marriage back then, but do you see that was the plan? He couldn't show his cards. He was on his first term, and had much to accomplish during his second. Oh, he knew that he would win. You can take that to the bank."

"But he is not through destroying the fabric of America. He is a Communist/Socialist radical without a conscience. His latest strike against our country, actually hits our children directly. 'The largest school district in Virginia is expanding its non-discrimination policy to include gender identity over the loud objections of parents, and the Obama administration intends to impose the change on every public school district in the country.'

The amended policy would apply to students as young as preschool and allow teachers to stay in the classroom if they declare themselves to be a different gender and conduct themselves accordingly. Many parents are concerned about privacy for their kids if transgender adults and students are granted access to restrooms and locker rooms opposite of their biological gender." . . . NowTheEndBegins - Read More

- Liar, Liar, Pants On Fire - Obama: "I Will Never Engage In A Politics In Which I'm Trying To Divide People." . . . TruthRevolt - Read More

- Remembering When Obama Said In His State-Of-The-Union Speach A Few Years Ago This Wouldn't Happen, A House Member Calling Him Out As A "Liar," The Mainstream Media Then Wetting Its Panties? Well Obama Lied Then And Hasn't Stopped! "California Senate Approves Health Coverage for Many Illegal Aliens." . . . TruthRevolt - Read More

- Another Obama Welfare Queen: Billionaire Elon Musk . . . PoliticalOutcast - Read More

- "Hillary's Terror-Tied Aide Had Full Access To Benghazi E-Mails." . . . TruthRevolt - Read More

- Allen West: 'Barack Hussein Obama Is An Islamist' . . . TPNN - Read More
6.) OPEC Under Siege As ISIL, Obama's JV Team, Now Threatens World's Oil Lifeline.
(Remember that accidents never happen under Obama. Everything has its reason, which we have seen for over six years. First, he gives ISIL the thumbs up to cross the desert untouched by our combat jets. Obama, raised in a Muslim home, had full knowledge of what ISIL was capable of doing in the Middle East to form a Caliphate. Then he makes his 'JV Team' comment that distracts the American public from ISIL's intent, helped by the corrupted progressive media. After that it is no surprise Obama will bring Muslim refugees to conservative geographical areas of our country to settle yet displaced Iraqi Christians are not invited. Sometimes the best way to hide something is just to put it in the middle of the room. - Webmaster)
"As the bloc's 12 oil ministers meet in Vienna, the march of ISIL jihadists in the Middle East is putting Iran and Saudi Arabia on a collision course with explosive consequences.

Thick black smoke rising from the Baiji oil refinery could be seen as a dirty smudge on the horizon as far away as Baghdad after fighters from the Islamic State of Iraq and the Levant (ISIL) set fire to the enormous processing plant just over 100 miles north of the capital last week. The decision to torch the refinery, which once produced around a third of Iraq's domestic fuel supplies, was made as the insurgents prepared to pull out of Baiji, which they captured last June in a victory that sent shock waves across world oil markets.

A year on from the start of the siege and a shaky alliance of the Middle East's major Arab powers, with the limited support of the reluctant US government, has failed to contain the expansion of ISIL.

The problem for the U.S. and the rest of the industrialized world is that the Middle East controls 60pc of proven oil reserves and with it the keys to the global economy. Should ISIL capture a major oil field in Iraq, or overwhelming the government, the consequences for energy markets and the financial system would be potentially catastrophic." . . . TelegraphUK - Read More

- "Exclusive interview: Ian Bremmer Says America Is No Longer 'Indispensable', And That's Bad News For Britain." . . . TelegraphUK - Read More
7.) When Republicans Propose Over-The-Counter Birth Control, Liberals Suddenly Oppose Women's Choice
"'Most other drugs with such a long history of safe and routine use are available for purchase over the counter, and contraception should join them,' Gardner said in a statement reported by The Huntsville Times. 'Making this medication available over the counter would increase access in rural and underserved areas, save consumers money by increasing competition and availability, and save women time by increasing the ease of getting the safe contraception they need.'

'It's time to allow women the ability to make their own decisions about safe, effective, and long-established methods of contraception.' Planned Parenthood has already rushed to condemn the legislation, claiming that it would reduce access to birth control, since it would no longer be covered under Obamacare–even though Gardner's bill would also repeal Obamacare's ban on using health savings accounts for non-prescription drugs.

And other forms of birth control will remain prescription-only and covered by insurance, even should the bill move forward–including, in all likelihood, some oral contraceptives. Jezebel lambasted the move as 'a sneaky way to effectively end Obamacare's mandatory contraception coverage.'" . . . RedAlertPolitics - Read More
8.) Labor Pains: Why The Birth Rate Is Down And What It Means
"'Marriage has come a capstone to adulthood, rather than an entryway into adulthood as it has traditionally been,' says Rachel Sheffield, a policy analyst with The Heritage Foundation's Institute for Family, Community, and Opportunity. 'Today, individuals often wait to marry until they have achieved a level of independence marked by completing college, establishing a career, and perhaps even having already purchased a home.'

'If these low birth rates to women in their twenties continue without a commensurate increase in birth rates to older women,' the Urban Institute researchers wrote, 'the United States might eventually face the type of generational imbalance that currently characterizes Japan and some European countries.' . . . DailySignal - Read More

- Living In Dangerous Times: "Demographic Implosion Of Reproducing The Population In Japan Now Surpassed By Germany." . . . PoliticalOutcast - Read More
9.) Doctors, Midwives Revolt Over Mandatory Abortions
"While there was an uproar in the United States and a successful court challenge to President Obama's plans to require people to pay into a fund for abortions, in Sweden officials have carried the mandate much further, according to the complaint submitted by the European Center for Law and Justice.

Director Gregor Puppinck wrote to Heiner Bielefeldt, special rapporteur on freedom of religion or belief, at the office of the high commission on human rights at the U.N. The victims are represented by several named midwives, doctors and pediatricians, he explained.

While 'the right to conscientious objection in relation to abortion is largely recognized in European and international human rights law,' there is no such accommodation in Sweden, he said.

The letter cited the Parliamentary Assembly of the Council of Europe, which ruled: 'No person, hospital or institution shall be coerced, held liable or discriminated against in any manner because of a refusal to perform, accommodate, assist or submit to an abortion, the performance of a human miscarriage, or euthanasia or any act which could cause the death of a human fetus or embryo, for any reasons.'" . . . WND - Read More

- "Federal Court Rules The Catholic University, Notre Dame, Must Pay For Birth Control, Abortionists." . . . TheCollegeFix - Read More
10.) When Will Climate Scientists Finally Say They Were Wrong . . . Dead Wrong?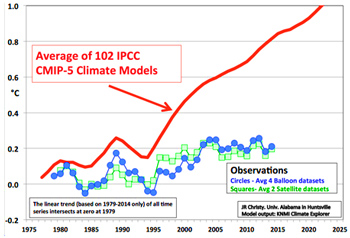 Graphic Source: CATO
"The [above graphic] picture shows the remarkable disconnect between predicted global warming and the real world. The red line is the 5-year running average temperature change forecast, beginning in 1979, predicted by the UN's latest family of climate models, many of which are the handiwork of our own federal science establishment. The forecasts are for the average temperature change in the lower atmosphere, away from the confounding effects of cities, forestry, and agriculture.

The blue circles are the average lower-atmospheric temperature changes from four different analyses of global weather balloon data, and the green squares are the average of the two widely accepted analyses of satellite-sensed temperature. Both of these are thought to be pretty solid because they come from calibrated instruments.

'The longer that they wait to admit their overheated forecasts were wrong, the more they are going to harm all of science.'" . . . CATO - Read More
11.) Ethanol Is A Failure. So Obama's EPA Wants To Force Americans To Use More Of What Should Be Food?!
"The EPA is trying to impose more environmental damage and less fuel-efficiency on the American people, along with higher food prices, for the sake of ethanol. It is far, far, far beyond time for Congress to de-fund, and shut down the EPA.

Compared to this time last year, Americans are paying much less at the gas pump. Enjoy it while you can, though, because gas prices are about to rise. The expected price increase isn't due to chaos in the Middle East or a shortage of fossil fuels. No, it's due to the Environmental Protection Agency and its newly released proposal to increase ethanol production. By the way, do you like your food bill? Get ready, because that's about to increase too." . . . PoliticalOutcast - Read More

- "NOAA Fiddles With Climate Data To Erase 15-Year Global Warming 'Hiatus.'" . . . DailyCaller - Read More
12.) Unaffordable Care: Obama'care' Prices May Go Up 30-50% In Some Regions
"Do you think health care costs are unaffordable under the (heh) Affordable Health Care Act? Well… medical insurance premiums under Obamacare are going up an additional thirty to fifty percent in 2016. Yes, really!—thirty to fifty percent in some places.

The cost of Obamacare could rise for millions of Americans next year, with one insurer proposing a 50 percent hike in premiums, fueling the controversy about just how "affordable" the Affordable Care Act really is.

The eye-popping 50 percent hike by New Mexico insurer Blue Cross Blue Shield is an outlier, and state officials may not allow it to go through. But health insurance experts are predicting that premiums will rise more significantly in 2016 than in the first two years of Obamacare exchange coverage. In 2015, for example, premiums increased by an average of 5.4 percent, according to PwC's Health Research Institute." . . . PoliticalOutcast - Read More
13.) Leaked TISA Documents Reveal Privacy Threat
"Under the draft provisions of the latest [Obama] trade deal to be leaked by Wikileaks, countries could be barred from trying to control where their citizens' personal data is held or whether it's accessible from outside the country.

Wikileaks has released 17 documents relating to the Trade in Services Agreement (TISA), currently under negotiation between the US, the European Union and 23 other nations. These negotiating texts are supposed to remain secret for five years after TISA is finalized and brought into force.

The deal, which has been under discussion behind closed doors since early 2013, is intended to remove barriers to trade in services. It's a sort of companion piece to the Transatlantic Trade and Investment Partnership (TTIP) and the Trans-Pacific Partnership (TPP), which cover trade in goods – but potentially far bigger, with Wikileaks claiming that 'services' now account for nearly 80 per cent of the US and EU economies.

Like TTIP and TPP, TISA could be sped through Congress using Trade Promotion Authority (TPA), also known as fast-track authority, which has been passed by the US Senate and may be taken up in the House this month. Under TPA, Congress is barred from making amendments to the trade deals, and most simply give yes-or-no approval." . . . Forbes - Read More

- "Barack Obama Admits Climate Change Will Be Included In Obamatrade." . . . GatewayPundit - Read More

- "Republicans Want To Pass Obamatrade To Find Out What's In Obamatrade." . . . PoliticalOutcast - Read More

- "Carly To Obama: 'Devil Is In The Details,' Release Obamatrade Text Now!" . . . Breitbart - Read More
14.) The Progressive Pariah At The New York Times Says It's Okay To Print Photo Of 'Virgin Mary' Covered In Elephant Crap On Porn Back Drop . . .
. . . BUT somehow the Times can't find the courage to print a drawing of Mohammad because it might offend Islam. . . . ClashDaily