Obama Refuses Again To Note Only Christians Were Targeted To Be Murdered, Calls Them Young Men And Women.
Obama in a press release October 1, 2015, says of the shooting as if he has been touched by the hand of God: "May God bless the memories of those who were killed today. May He bring comfort to their families and courage to the injured as they fight their way back. And may He give us the strength to come together and find the courage to change."
Yet at no time does he mention "God's" people were the only ones singled out to be murdered. The shooter asked each one, as they stood up, "Are You A Christian?" Then he said to each one who agreed, "You will be with God in a second." Then at the end of Obama's speech, Obama asks NRA members to think about leaving the organization that protects their gun rights.
We need to remember that this president, after the 2016 elections, could move to an executive position with the UN to promote its new "Agenda 2030" with all UN socialist programs to be implemented by 2030, or in 15 years.
While in office this is the same president who called the murder of Americans by a Muslim Jihadist "Workplace Violence," saying he would veto any attempt to give out Purple Hearts. The same president that said America was not a Christian Nation. The same president, who as a candidate gave our National Anthem his personal crotch salute.
The same president that gave ISIS access to cross the desert without interference, knowing they would cleanse Christians from areas established by the Apostles 2,000 years ago in Northern Iraq. The same president that prevents persecuted Christians from coming to the United States, while arranging to bring in tens-of-thousands of Muslims to American communities. And don't forget, just like in Oregon, when ISIS took men who were ALL identified as Christians and beheaded them on the sea shore, Obama chose instead to only call them Egyptians, as if they were Muslims. This continued agenda is no accident, proven again and again.
He is the same president that mocked Christians, saying to a laughing crowd "they cling to their guns and Bibles." The same president that claimed he was a Christian. Then ten years later in his late 40's, while running for president in 2008, Obama was somehow able to sing the "Muslim Call To Prayer" perfectly in front of an editor of the New York Times, his saying it was the "sweetest sound he knew." Again, Obama calls himself a Christian and says the sweetest sound was a Muslim call to prayer? I thought the sweetest sound might be "Amazing Grace."
It is beyond clear that Obama is using "our" office against us to destroy Christian American values on behalf of Islam, enabled by an SS-like Democrat Party and a media the uses the news to indoctrinate rather than inform. It is shades of 1935 Germany all over again. What is missing are the uniforms and swastikas that have been replaced by Obama's manufactured "O" where the American flag had been displayed on Obama's campaign plane.
By the way. Thirteen humans were murdered in Oregon. The day before 15 humans were murdered in Chicago over a 14 hour period. Yet not a single word from Obama. How much do we have to endure before this dangerous Democrat is impeached? - Webmaster
No President in U.S. history has ever given speeches praising Islam approved by fascist progressives who hate Christians as much as Oregon's killer, be it over the opposition to the definition of marriage or opposing sale of baby parts for profits that can become Democrat donations

.
. . . YouTube - Video: URL
He does it again! "In 12-Minute speech to America about mass shooting, Obama refers to himself 28 times." . . . Grabian
_______________________________
Germany In State Of Siege
Gangs of immigrant men roam streets with young German women reminded they need to cover up, causing the mood to quickly change in Germany.
- DailyMail - Video: URL
1.) Merkel Was Cheered When She Opened The Floodgates To Migrants: Germans Quickly Reminded Be Careful What You Wish For
"A local politician, who refuses to be named, is quoted in Die Welt, one of the most respected German newspapers: 'These Muslim teenage boys come from a culture where for women it is frowned upon to show naked skin.

'They will follow girls and bother them without realizing it is not acceptable. Naturally, their behavior generates fear.' At yet another migrant camp in Detmold, a city in central Germany, a 13-year-old Muslim girl was raped by a fellow migrant. The child and her mother had fled to Europe to escape a 'culture of sexual violence' in their own country." . . . DailyMail - Read More
2.) Islamists Score Two Victories Against Free Speech In The UK
"Islamists everywhere are waging a war against free speech and free thought and scored two victories in the UK this week. Secularist thinker and anti-sharia campaigner Maryam Namazie was banned from speaking at Warwick University over fears of offending Muslim students.

Since this story was first published, Warwick University Student Union has overturned their decision and Maryam Namazie will be permitted to speak. Namazie is the spokesperson for the One Law for All campaign against Sharia Law in the UK and also for the Council of Ex-Muslims. She was born in Tehran, Iran and has campaigned against Islamism for many years after fleeing Iran and leaving Islam.

She had been scheduled to address the Warwick University Student Union in October after being invited by the Warwick Atheists Secularists and Humanists Society. Yet the Union decided to cancel her talk on the grounds it 'could incite hatred on campus.'

'The initial decision was made for the right of Muslim students not to feel intimidated or discriminated against on their university campus" said Warwick University Student Union President Isaac Leigh, 'rather than in the interest of suppressing free speech.'" . . . ClarionProject - Read More

- "Iranian Commander On Mecca Stampede: The Jews Did It." . . . TruthRevolt - Read More
3.) Obama To Throw Small Group Of Christian Refugees In The U.S. Back To The Lion's Den
"The fate of those Iraqi Christians who had fled from the Islamic State only to be incarcerated in the United States has finally been decided by the Obama administration: they are to be thrown back to the lions, where they will likely be persecuted if not slaughtered like so many Iraqi Christians before them. Fifteen of the 27 Iraqi Christians that have been held at a detention center in Otay Mesa, California, for approximately six months, are set to be deported in the coming weeks. Some have already been deported and others are being charged with immigration fraud.

Many of the Iraqi Christian community in San Diego—including U.S. citizen family members vouching for the refugees—had hopes that they would eventually be released. Mark Arabo, a spokesman for the Chaldean community, had argued that 'They've escaped hell [IS]. Let's allow them to reunite with their families.' One of the detained women had begged to see her ailing mother before she died. The mother died before they could reunite, and now the daughter is to be deported, possibly back to the hell of the Islamic State.

Why are Christian minorities, who are the most to suffer from the chaos engulfing the Middle East, the least wanted in the United States? The answer is that the O' refugees are those made so due to the actions of Bashar Assad." . . . Frontpage - Read More

- "Kerry, Hillary, Kennedy's Offer Sanctuary To Refugees - In Your Town, Not Theirs." . . . Breitbart - Read More

- "CNN's British/Iranian Amanpour: GOP Candidates 'Have Decided To Make War On Muslims.'" . . . TruthRevolt - Read More

- "Dave Matthews Slams Republicans As Nonsensical." . . . Breitbart - Read More

- "'My Husband Is Not Collateral': 3 Years In Hands Of Iran For Idaho Pastor." . . . PJMedia - Read More
4.) How Obama Sold Out The Nationalist Syrians
"On Wednesday, Russian parliament authorized President Vladimir Putin to engage in air strikes against ISIS in Syria."
- WesternJournalism - Video: URL
"How could you not know exactly how many were trained at less than ten? Because that too is a lie: a half billion dollar set of lies and failures. This is not just colossal ineptitude that borders on criminal negligence, it is much worse. What if General Austin's testimony is masking an even larger, more embarrassing failure, that if revealed would expose the true intentions of the Obama Administration regarding Syria? Yes, it is!

Not only did they lie to cover up their poor progress, prompting the intelligence community to complain and starting an IG inquiry, the Senate Armed Services Committee and the people have been buffaloed even further. The lie is bigger and our sources in Syria have seen it and lived it.

This is not just a Keystone Kops folly as we once thought. This stoops into the realm of the criminal, and Obama is direct responsibility. He shares responsibility for more than just the deaths of so many men, women, and children in Syria; he is also partially responsible for the humanitarian refugee crisis now over running Europe because he helped create the power vacuum.

It is not solely a stark lack of leadership, more importantly it is an intentional alignment with the wrong people in the Middle East – the Qataris and the Muslim Brotherhood. It is complicity with the Muslim Brotherhood (MB) from one end, and Iran, Hezbollah, and Assad from the other end. And you thought the Iran Deal was bad enough.

The newest lie is not just the embarrassing testimony Gen. Austin III gave as CentCom Commander; sheepishly revealing that their training program was a waste of time and money, but what he did not tell the committee was the real reason only four, or five to six men were trained. Actually it was closer to 60." . . . StandUpAmerica - Read More
5.) France Bombs ISIS In Syria, Russia Blames U.S. For Terror Growth
"The UN meeting began at the end of France's first air strikes last week against the Islamic terror group in Syria. During the bombings, a training camp was destroyed. NBC News reports a statement from the French presidency: 'France has hit Syria. Our country as such confirms its resolute commitment to fight against the terrorist threat constituted by ISIS.'

The strikes were ordered as the country believes its national security is at stake. 'We are acting in self-defense,' Prime Minister Manuel Valls said. The prime minister indicated that the camp was targeted because it was being used to train militants to attack the people of France. President Francois Hollande gladly reported news of the military campaign's success at the United Nations in New York City.

'The camp was totally destroyed,' he said, with assurance that there were no civilian casualties. Six fighter jets carried the payloads.

France has, until now, been hesitant to conduct air strikes in Syria in fear that President Bashar al-Assad would gain even more support. They were more sure when conducting military action against ISIS in Iraq. However, the NBC News report states that they were prepared to join the U.S. in bombing Syria in 2013 'before President Barack Obama unexpectedly backed off the plan.'" . . . TruthRevolt - Read More
6.) America's Crotch-Salute President Makes Clear That Some People Have More Equal Rights Than Others
"As Pope Francis flew back to Rome, President Obama issued a stern warning to Christians, warning them their attempts to assert their religious liberty to oppose gay rights would fail.

'We affirm that we cherish our religious freedom and are profoundly respectful of religious traditions,' he insisted during a dramatic speech at a LGTB fundraiser in New York City on Sunday night, praising the progress made on gay rights under his administration. 'But we also have to say clearly that our religious freedom doesn't grant us the freedom to deny our fellow Americans their constitutional rights.'

The first thing that we must notice is that though the President seems to have a 'profound respect' for religious tradition, he has no intentions of defending those freedoms or traditions. I can say that by what he says next. He says that this freedom granted by our religious freedom only goes so far." . . . FreedomForce - Read More

- "Lawyer Reveals Stunning Impact That Gay Marriage Legalization Has Had On His Firm: 'We Can't Keep Up'" . . . TheBlaze - Read More
7.) Lies About Islamic Taqiyya: Dr. Carson Right, Washington Post and Academics Wrong
"Unfortunately, none of the academics quoted by Kessler acknowledges that the Koran is not the only textual source to inform Muslim action. They ignore the Hadith, the collected words and deeds of Muhammad. Koran 33:2, for instance, commands Muslims to follow Muhammad's example, and his example — also known as the prophet's Sunna — is derived from the many volumes of Hadith.

The importance of Muhammad's example is seen in that the Sunnis, approximately 90% of the world's Muslim population, are named after his Sunna. As one Muslim cleric puts it, 'Much of Islam will remain mere abstract concepts without Hadith [whence the Sunna is derived]. We would never know how to pray, fast, pay zakah, or make pilgrimage without the illustration found in Hadith...'

It is therefore either careless or disingenuous for Kessler and his 'experts' to ignore Muhammad's example as recorded in the Hadith in their discussion of taqiyya. As usual, for the complete truth, one must turn to scholarly books written in Arabic. According to Dr. Sami Mukaram, an Islamic studies professor specializing in taqiyya, and author of the only academic book exclusively devoted to it, 'Taqiyya in order to deceive the enemy is permissible.' This sounds quite close enough to Carson's assertion that taqiyya allows Muslims 'to lie to achieve your goals.'

As proof, Mukaram documents two anecdotes from Muhammad's Sunna — his example to Muslims — that make clear that the prophet allowed his followers to lie and deceive non-Muslims above and beyond the issue of self-preservation:" . . . GatestoneInstitute - Read More
8.) Obama: Non-Muslims Must Stop Equating Islam With Terrorism
"Obama's inhumanity and depraved indifference to the rivers of blood and the tower of skulls in the jihadi war is evil. You cannot deny a motive and expect to defeat it. Today at the UN Obama called those that equate Islamic terrorism with Islam 'ignorant.' Pot meet kettle.

The President of the United States has declared war on the truth. His vicious sharia campaign to stamp out criticism of Islam has only led to more bloodshed and suffering." . . . WindsOfJihad - Read More

- "Surprise, surprise. MSNBC's Chris Matthews Cheers Obama's UN Speech: He's Going to Be A 'Post-Presidential Mandela.' . . . NewsBusters - Read More
9.) Grade School Choir Banned From Singing Patriotic Songs At Utah Freedom Festival
"School district officials in a small-town, southern Utah county have canceled a plan to send a fifth-grade choir to sing patriotic songs at a local festival because some local parents oppose the politics of the event and of its organizers.

The one-day gathering now bereft of a fifth-grade choir is the Western Freedom Festival in Cedar City (pop: 28,857), reports The Salt Lake Tribune. On Friday, school district officials and festival coordinators announced that fifth graders from surrounding Iron County will not croon a scheduled set of patriotic songs collectively called Hope for America. It was a mutual decision.

Iron County commissioner David Miller, one of the organizers of the festival, suggested that the school district wants to remain steadfastly apolitical. "We don't want to put our school districts or any of our community in a place where they're uncomfortable with what we're doing," Miller told the Salt Lake City newspaper." . . . DailyCaller - Read More

- "School Says Pledge Of Allegiance Is Optional After Accusations From Atheist Group." . . . FreedomForce - Read More

- "Vatican Confirms Pope Francis Met Kim Davis:" (ThinkProgress wrote a 21-paragraph treatise hoping to make Davis into a liar, trying to bury the meeting so no one would believe the authenticity of Davis' account.) [It's the progressive's dirty little secret. If you don't know it, it didn't happened. - Webmaster] . . . TruthRevolt - Read More

Surprise, Surprise; "MSNBC Panel Enraged Pope Francis Met Kim Davis." . . . TruthRevolt - Read More
10.) Public School Parents In Georgia Furious About Middle School Islam Lessons
"Breece also disagrees with the far-reaching assignment's description of Islam as an Abrahamic religion which worships the same deity Christian and Jewish people worship.

'My daughter learning the Islamic religion kinda contradicts my faith in general,' he told the station. 'And I would prefer to receive that information in advance so, that way, I can decide on whether that goes against my faith.'

According to Breece, he was so alarmed about what his sixth-grade daughter was — and was not — learning that he scheduled a meeting with the principal at Youth Middle School (David Todd, according to the school's website). Breece and the principal arranged for his daughter to opt out of the coursework on Islam. He wants other parents 'to be able to opt their children out' of lessons on Islam as well, he told WAGA-TV. It's the 'cheapest and most cost-effective solution,' he suggested.

Breece has also established a Facebook page concerning his complaint: Georgia Public School's Islamic Curriculum. The closed group currently boasts 1,565 members." . . . DailyCaller - Read More

- "UC Irvine Student Government Leader: American Flag Equals 'Hate Speech'" . . . EAGNews - Read More
11.) Progressive Marxist Elizabeth Warren Gets Behind Black Lives Matter
"Black Lives Matter leaders were greatly pleased. DeRay Mckesson declared,

'Senator Warren's speech clearly and powerfully calls into question America's commitment to black lives by highlighting the role that structural racism has played and continues to play with regard to housing discrimination and voting rights. And Warren, better than any political leader I've yet heard, understands the protests as a matter of life or death — that the American dream has been sustained by an intentional violence and that the uprisings have been the result of years of lived trauma.'

Washington Post wrote that 'Warren's speech read as if it could have been authored by the activists themselves — unyielding in its criticism of police violence and even invoking the phrase 'hands up, don't shoot.''

'We've seen sickening videos of unarmed, black Americans cut down by bullets, choked to death while gasping for air — their lives ended by those who are sworn to protect them. Peaceful, unarmed protesters have been beaten. Journalists have been jailed. And, in some cities, white vigilantes with weapons freely walk the streets. [Where - Webmaster.] And it's not just about law enforcement either. Just look to the terrorism this summer at Emanuel AME Church [in Charleston, S.C.]. We must be honest: 50 years after John Kennedy and Martin Luther King Jr. spoke out, violence against African Americans has not disappeared.' [Warren said.] . . . TruthRevolt - Read More

- "Confederate Flag Prompts School Lockdown." . . . WND - Read More

- "Black Student Tells White Teacher: "When I Get Done Ramming You, I'm Gonna Bag Your Daughter"; [It's The] Teacher Facing Disciplinary Charges." . . . LastResistance - Read More

- "Dinesh D'Souza To Lift The Veil On The Democratic Party In New Documentary Film." . . . GlennBeck - Read More
12.) MIT Reveals "Iron Man" ARC Reactor Concept That Provides Limitless Energy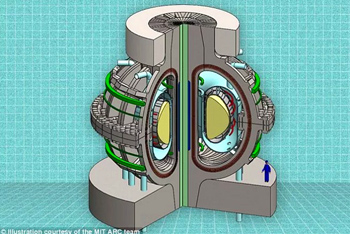 " . . . the challenge has always been to confine hydrogen plasma, which is as hot as the Sun's core. Powerful magnetic fields seem to be the answer, but, traditionally, we need very large reactors to produce them."
- InterestingEngineering
"The proposed reactor, described in Fusion Engineering and Design, uses new commercially available superconductors made of rare-earth barium copper oxide (REBCO) superconducting tapes, producing self-sustaining fusion energy in reactors much smaller than the ones already created. The researchers claim the new magnets can release ten times more energy than the standard superconducting technology, and they can run for long periods of time without overheating.

'Fusion energy is certain to be the most important source of electricity on earth in the 22nd century, but we need it much sooner than that to avoid catastrophic global warming,' says David Kingham, CEO of Tokamak Energy, who was not connected with this research. 'This paper shows a good way to make quicker progress.'" . . . InterestingEngineering - Read More
"Stand Up And State Your Religion!"
"The shooter was asking people to stand up and state their religion and then started firing away, Moore said. Moore was lying there with people who had been shot." - FOXNews - Video: URL
Armed Air Force Vet Was On Umpqua Campus . . . Not Allowed To Assist Victims
"Air Force veteran John Parker said he was armed but was not allowed to assist the victims during the shooting. Parker is a student at Umpqua Community College." - FOXNews - Video: URL
As Colorado College bans the words 'Lord,' 'God,' or 'Jesus,' a mixed-race shooter in gun-free-zone in Oregon seeks out only Christians and instantly kills them with a handgun. - DailyCaller
Judge Jeanine: Barack Obama Defends Islam By Shaming Christianity
"Rather than mention Islam in the context of radical Islamist butchery, Barack Obama instead shames Christianity for 1000-year-old crusades. Does he have any idea what a president is supposed to do?" - Judge Jeanine / FOXNews - Video: URL
______________________________
- Click on bottom right icon for full screen. Use 'esc' to return -
'This Interview Is Over': Ben Carson's Campaign Manager Steps In During CNN Tapper Debate Over Islam.
"Tapper and Carson spent several minutes of back and forth. 'You're assuming that Muslim Americans put their religion ahead of the country,' Tapper said to Carson. 'I'm assuming that if you accept all the tenets of Islam that you would have a very difficult time abiding under the Constitution of the United States,' Carson replied. The conversation ended when a voice off-camera, which CNN identified as Carson's campaign manager, Armstrong Williams said, 'This interview is over.'" - ConservativeVideos - Video: URL
Now Watch CNN Tapper With Nancy Pelosi, The Democrat's Minority House Chair, And See If He Challenges Her As He Challenged Dr. Carson
"In true Pelosi fashion, she replied that 'I don't stipulate these videos are real,' and just as President Obama hears news first from the media, Pelosi told Tapper 'I've seen some news reports on it, but I also know that some of it is not real and you can create any reality that you want.'" - NewsBusters - Video: URL
CNN's Cuomo Disputes The 'Urgency' To Defund Planned Parenthood 'Before You Investigate.'
"On Monday's New Day on CNN, anchor Chris Cuomo complained about Republicans wanting to defund Planned Parenthood as he questioned the 'urgency' of doing so 'before you investigate the allegations,' leading guest and former House Majority Leader Eric Cantor to decry the 'grotesque' revelations about the abortion provider." - MRCTV - Video: URL
Do you fly United Airlines? Look who chaired the Planned Parenthood gala in 2012. - PPGC
Setting The Record Straight: How Finances Are Handled At Planned Parenthood
Hmm? Abby Johnson, former executive of Planned Parenthood, sets the record straight. Yet she was never invited to the Congressional investigation on September 29, 2015. - TheDanaShow / TheBlaze - Video: URL
Planned Parenthood CEO confirms" "It will not stop selling body parts" from aborted babies."
- LifeNews
Nets Skip Planned Parenthood Throwing Condoms at Carly Fiorina
"A local ABC affiliate reported Planned Parenthood protesters threw condoms at Carly Fiorina Saturday while she spoke at an Iowa Hawkeyes tailgate party. Not one of the broadcast news shows from ABC, NBC or CBS batted an eye at the news. Instead, they gasped at another 'scary moment' for Fiorina: a curtain falling down on top of her during a speech. At the condom-throwing protest, a self-described Planned Parenthood patient, Cindy Shireman, confronted Fiorina at the rally. 'How can you, as a woman, not support our healthcare?' she asked. 'Oh, I support your healthcare,' Fiorina responded. 'I don't support the butchery of babies.'" - NewsBusters - Video: URL
Progressive evil goes around the world: Australia blocks travel of pro-lifer who helped produce baby parts videos in hopes of silencing him. - Breitbart
Backdrop Collapses During Carly Fiorina's Speech. When Crowd Blames Trump, She Has A Better Answer
"Being a presidential candidate, Carly Fiorina is used to things not always going as planned. But she's probably not used to a curtain collapsing while she's speaking. During a speech to the National Association of Women Business Owners in San Antonio, Texas, the stage backdrop fell to the ground." - IJReview - Video: URL
Hey, Mr. Bloomberg' People Really Are Listening To Your Hatred Of People Who Own Guns For Protection
"A prominent gun rights activist who recently starred in a television advertisement for the National Rifle Association has contacted the FBI following a disturbing threat made by an Internet troll. Dana Loesch, whose ad 'Moms Like Me' first aired on the Fox News Channel on Sept. 10, found herself targeted by an anonymous troll on social media who apparently disagreed with her gun advocacy stance. And by 'apparently disagreed,' I mean 'hates strongly enough to create a violent video depicting her death.' The day it aired, Loesch posted the original ad onto her YouTube page for all to see:" - Mediaite - Video: URL
Hey Whoopi, have you spread some of your riches to Dr. Carson's national program to help disabled kids of all races?
"Frustrated with being asked to go above and beyond her contractual obligations by showing up 30 minutes early for work, View co-host Whoopi Goldberg reportedly spent last week speaking in a slave dialect to protest her bosses at ABC." - Breitbart - Video: URL
CNN Guest Says These Three Republicans Will Have 'Blood On Their Hands' If A Gunman Targets A Mosque
"Rula Jebreal, a foreign policy analyst, appeared on a 'CNN Tonight' panel Monday and suggested to host Don Lemon that Republican presidential candidates will have "blood on their hands" because of their intolerance towards Muslims. The topic of discussion was inspired by Ben Carson's comments on the potential for a Muslim president, which he said he would not support because of Islam's ties to Sharia law. Jebreal railed: 'Would we ever accept a presidential candidate who would apply the same rules, who would say the same things about Jews and Blacks?'" - IJReview - Video: URL
Migrants Complain About Boredom And Slow Internet At Netherlands
"The video posted on Liveleak shows the migrants, who many believe to be desperately poor refugees, complaining about the lack of home comforts in the Dutch camp. One says how 'breakfast is small, lunch small' with another adding how 'bored' they all feel. 'You can just eat, sleep, use the slow internet, it's so bad.'" - GatewayPundit - Video: URL
'Culture Of Rape' taking hold in refugee camps - FreedomForce
'The 'Invasion' Of Europe'
"Video commentator Pat Condell once again nails it, as only he can. This time the subject is the European Union breaking the law to import rape and jihad: 'The EU has opened Europe's borders to the most backward and violent culture on this planet, and one that rejects any basic concept of human rights. What could possibly go wrong?'" - TruthRevolt - Video: URL
Is Obama Administration Covering Up Facts On ISIS Fight?
"As a top general steps down over his frustration with U.S. policy in the Mideast, this and other reports has CBN's Erick Stakelbeck saying the Obama administration is not being forthright about the fight against ISIS." - CBN - Video: URL
Morning Joe Panel Tears Into 'Condescending' Hillary Clinton Over Email Scandal
"The panel of MSNBC's Morning Joe tore into former Secretary of State Hillary Clinton after she turned her private email sever over the government after two top secret emails were found to have been stored on her email. 'Politically, it's a no-win situation for her,' Bloomberg Politics' Mark Halperin said. 'If they recover the information from the emails, the 30,000 personal ones, I think it's almost certainly the case that someone will find something that should have been turned over, and that would be a problem for her.'" - MSNBC/ MorningJoe - Video: URL
Cop's Body Cam Captures Dramatic Moment That Troopers Rescue Man Pinned Inside Sinking Car
"Dramatic police body cam video has emerged out of Utah showing state troopers saving a man who had crashed his car in a canal and had become trapped in the wreckage. Utah Highway Patrol trooper Sgt. Joshua Carr's body camera highlighted how America's first responders jump to action in an emergency as the Sergeant and his fellow officers saved the life of 45-year-old Paul Sleight, whose legs had become pinned in the car he slammed into a canal in Fielding, Utah." - WesternJournalism - Video: URL
Army Veteran Takes Mother To Cardinals Game – Is Robbed, Shot In The Back And Paralyzed
"An Army veteran has been paralyzed after he was shot during an armed robbery Friday night outside the Old Cathedral. 'My son lives in Houston and asked me 'Mom, what do you want for your birthday?' I said I wanted to go to a game with all of you, all my boys,' said Candis Sanna, the victim's mother. 'And this is what happens.'" - GatewayPundit - Video: URL
Vandals Topple, Spray-Point St. Junipero Serra Statue Days After He Is Canonized By Pope
"Less than a week after Pope Francis canonized controversial Spanish missionary Junipero Serra in Washington, D.C., vandals damaged the saint's statue at the Carmel Mission in northern California where his remains are buried, police said Sunday. The attackers also vandalized other statues and gravesites. The attack happened Saturday night and the vandals splashed white and green paint on the mission's doors, Carmel Police Sgt. Luke Powell told the Salinas Californian, a local news publication. The vandalism happened on the eve of a ceremony at the mission to commemorate Serra, according to the Associated Press." . . . GatewayPundit - Video: URL
Messianic Rabbi Joins Vigil For Saeed
"Christians across the United States prayed this weekend for Pastor Saeed Abedini's release from an Iranian jail." - CBN - Video: URL
Michael Sam: Going Back To School
"'I wanted to come out after I made an NFL roster, it really wasn't supposed to be public,' Sam said on the Dan Patrick Show during a 13-minute interview. 'It was just supposed to be to the team, as I did at the University of Missouri.'" - HollywoodReporter - Video: URL