The Shepp Report
Special Edition
Hey PayPal . . .

Get Out Of Our Bathrooms!
April 7, 2016
Hmm, PayPal CEO Claims Your Credit Is Safe With Him But Challenges The Safety Of A State's Public Bathrooms?

RedState's Susan Wright (Diary) published the following on April 6, 2016, on RedState's domain:

"As reported here, yesterday, PayPal has withdrawn plans to expand their operations in North Carolina, in response to the newly passed House Bill 2, or the "bathroom bill," which prohibits NC cities from setting gender neutral policies for all businesses and schools in their area.

The bill came as a response to a Charlotte, NC ordinance that was set to go into effect on April 1, 2016, that would have allowed men to enter the locker rooms or bathrooms of women, in accordance with how they claimed to 'feel,' gender-wise, for that day. Governor McCrory signed the bill correcting the ordinance."

The site also reported on a statement by North Carolina Lieutenant Governor, Dan Forest, concerning PayPal's CEO informing North Carolina citizens that PayPal was pulling 400 jobs from the TarHeel State:

"If our action in keeping men out of women's bathrooms and showers protected the life of just one child or one woman from being molested or assaulted, then it was worth it. North Carolina will never put a price tag on the value of our children.

They are precious and priceless. If a corporation wanting to do business in North Carolina does not see the worth of our children in the same light, then I wish them well as they do business somewhere else." - Dan Forest, North Carolina Lieutenant Governor

To PayPal, the State of North Carolina was overly concerned with sex offenders being able to follow young boys and young girls into bathrooms via access by the federal government's social engineering program. So why all this fuss to satisfy .03 percent of the American population?

The reason is straight out of Obama's radical background.

It is why he covered up a symbol of Christ with a solid black cloth in 2009 at Georgetown University, which was literally above his head during a televised speech. He could have changed the venue, but he didn't. Then seven years later Obama found another important symbol of faith above his head and again during a televised speech, this one of Allah on a wall in a Mosque in 2016. This one he did not cover up. See the actual examples below.

Obama Always Leaves No Stone Unturned

Obama Covered Up A Symbol Of Christ With A Black Cloth For All To See During His First Televised Speech In 2009 . . .

. . . While Obama Left A Symbol Of Allah Uncovered For All To See During A Televised Speech In 2016.

To that end, the main reason for the Obama regime's rigorous attack against public schools across America on what sex should be allowed into bathrooms is obvious and why liberal organizations such as the ACLU, progressive corporate heads not unlike the CEO of PayPal and Democrat-run cities follow closely to Obama's lead.

It is to justify the radical attempt by progressives to continue to rip out the roots of Christian values from the American culture since Obama's election in 2008, in turn then firming up the party's new communist / socialist base for 2016 which now forms the core of the Democrat Party.

One has to be blind not to see the popularity of the DNC's socialist / communist candidate, Bernie Sanders, by radical Democrat followers across the nation that want more free stuff off the backs of others, a Karl Marx classic movement of a country's very useful idiots.

It is something Obama has dedicated his life to since working directly with Alinsky's thug organization in Chicago before becoming a senator from Illinois. Notice at the same time and with his other hand, Obama ensures that different faiths will be at odds with each other by his failing to mention the fact that gays are not even welcomed into Muslim societies. This is while overseas Islamic factions can hang gays from lamp posts or toss them off of buildings. And all this goes on with a compliant national media given the freedom to tell the truth, but won't.

Obama was born into a Muslim home, trained on the Koran for four years. He was even able, as an older adult, to sing the Muslim Call to Prayer "perfectly," in 2008 according to an editor of the New York Times and before Obama was elected president.

It proves again that where there's smoke there is always fire.

PayPal's progressive executives, of course, are more than delighted to obey the SS thugs that work for Obama's current regime in Washington, D.C. one that is still filled to the brim with Czars worshiping the collective machine of Karl Marx.

This has been led by Obama for the last seven years, a radical crotch-salute president mentored in his early adult years by Communist Frank Marshall Davis, a relationship Obama admitted had given him new life as a young black.

Not surprisingly, Obama also lied during the presidential election about not knowing Weather Underground terrorist bomber, Bill Ayers. The corrupt progressive mainstream media buried the fact from the American people during the 2008 election that Obama had been president of a socialist organization, the CAC, in the 1990's. At the CAC Obama had been responsible for the distribution of millions of dollars for social justice programs aimed at innocent Chicago public school students, those "collective" programs for the CAC written by none other than Bill Ayers.

In a video released last year recorded in the early 1990's, Obama was discovered openly praising his early Communist mentor, Davis, during a reading of Obama's new book, Dreams of My Father.

Barack Obama is seen proudly reading his book, written from his earlier mentoring by the Communist Frank Marshall Davis. - YouTube

(Note, isn't it strange Americans almost never, ever hear about this video from their "collective" mainstream media; ABC, CBS, NBC, MSNBC and CNN, as if a Karl Marx alphabet soup?)

It would be this same Obama that PayPal executives would then follow in goose-step decades later, the corporate heads using Obama's leadership to dictate to individual states exactly who would be allowed to enter into public bathrooms across the nation in the name of the "collective."

- The RedState's article reported that PayPal, of course, when it comes to profits "has no problem maintaining its financial operations in areas like Singapore, Malaysia, and Saudi Arabia . . . " where gays are not only unwelcome into public bathrooms but from the overall society in general. -

While rebuking PayPal's fascist threat, RedState reported that Lt. Governor Forest displayed the following photo on his Facebook page taken from PayPal's own global operation center. It shows as of April 6, 2016, PayPal's own corporate bathrooms were still not gender neutral.

Photo Source: RedState (Note: See symbol for men's only bathroom at PayPal's Global Center.)

Reading all this, North Carolina citizens should now make up their own minds about executives in PayPal's offices who want to look under the stalls of their state's public bathrooms to document who is in and who is out.

As a final note, my father was a member of the greatest generation in America that fought off the fascist ******** of WWII. That generation's great-grandchildren are now having to face these same fascists all over again.

But this time the enemy no longer wears a uniform, one unable to tell friend from foe until they open their mouths or threaten freedoms. It is the same vile fascism from 80 years ago finding a new home to infect, this time on American soil using innocent child-like names such as Apple, Google, Dropbox and Pay"Pal."

I mean college graduates across the country could inquire asking without blinking an eye, "Just how dangerous could mega-corporations with names like these be to our freedoms?" - Webmaster

Think These Might Be Friends Of PayPal?

1. Disney CEO tells Georgia citizens who are allowed into their bathrooms. Disney's new dark culture is revealed in its former star, Miley Cyrus, while its younger current star is reported to worship the baby-parts merchant, Planned Parenthood. - Breitbart

2. Democrat Party supported lesbians used social media to try to burn down a local pizza business in Indiana - ChristianExaminer

3. Over 80 corporations in 2015 chose to attack in mass the citizens of Indiana, including guess who? PayPal! Scroll down to see their corporate names. Then go to this link to read the rest of the story - FIK

4. Read what the SS fascists of America's Democrat Party tried to do to Chick-Fil-A, their thug antics causing a heart attack and death of one of Chick-Fil-A's top Christian executives. And that was four years ago! - FIK, July 29, 2012

5. Some early history: Google cooperated with the Communist Chinese to censor the Internet from the everyday Chinese citizens back in 2006. Google elites with the mission boilerplate of "Do No Harm" later said it probably wasn't a good idea. So what's on Google's mind these days? (The gnawing question is why the hell would they think that was ever a good idea and what are they up to next . . . or worse what are they up to now?) - Wikipedia

List Of Corporations That Attacked The Citizens Of The State Of Indiana In 2015

80 Year After 1936: Return Of The Brown Shirts

BAD APPLE. Apple CEO's Called Out Over 'Hypocrisy' On Indiana Law [Vast amount of the world's Apple users are not supporters of sodom, Apple taking a nice buck from them anyway.] . . . Read More - TheHill

Below is a list from Buzzfeed of all the corporation and others that have helped to create a path to destroy the Memories Pizza along with supporting all the pagan hateful attitudes you see on this page.

You may want to place this list of vigilantes next to your computer and consider closely who you want to support or where you want to invest your money, noting the ones who hate your way of life and faith.

Sources: BuzzFeed / HuffPo / Fast Company

Vigilante Corporations: (The greatest generation fought fascists in WWII. But now they're back under the leadership of Marxist, Barack Obama, who continually praises the collective. To that end here is a list of another collective attacking your freedoms.)

About.me, Accenture, Affirm, AFSCME Women's Conference, Airbnb, Airtime, Alphalight, American Airlines, Angie's List, Anthem, Apple, BackOps, Bebo, Box, Braintree, Cisco Systems, Cloudera, Cummins, Dow AgroSciences, Dropbox, Ebay, Elance-odesk, Eli Lilly and Co., eMaint.com, EMClsilon, Emerson Collective, Emmis Communications, Evernote, Fast Company, First Round Capital, Formation 8, GAP, Glassdoor, Gogobot, Hem, Homejoy, HortonWorks, IfOnly, Indianapolis Mixbit, Infor, Intel, Jawbone, Motor Speedway, Indianapolis Star Newspaper, Jawbone, North Technologies, IU Health, Levi Strauss, Liftopia, LinkedIn, Lyft, Microsoft, Netflix, Nextdoor, NextLesson, Nike, Oracle, Path, PayPal, Platfora, Quip, Realnetworks, RedOxygen, Roche Diagnostics, Salesforce Marketing, Sequoia Capital, Sherpa Ventures, Shutterstock Images, Sidecar, Spark Capital, Subaru, Square, SV Angel, ThirdLove, Tipping Point Community, Tumblr, Twitter, YCombinator, Yelp, Walmart, Warby Parker, Webtrends, Wells Fargo, Wilco, ZestFinance, Zillow Group, Zynga

Vigilante Sports Teams And Athletes:

Charles Barkley, Indianapolis Colts Owner, MLB, NASCAR, NBA, NCAA, NFL, USC Athletic Director Pat Haden, Reggie Miller

Vigilante Universities:

Butler, Duke, Purdue, Indiana University, San Francisco State, University of Connecticut

Vigilante Celebrities:

Ashton Kutcher, Audra McDonald, Brittany Mason, Cher, David Letterman, Ellen DeGeneres, James Van Der Beek, MC Hammer, Miley Cyrus, Nick Offerman

Vigilante Cities:

District Of Columbia, Denver, Indianapolis, New York City, Portland (Oregon), Seattle

Vigilante States And U.S. Senators:

Connecticut, New York, Washington, and Senator Schumer

Why "College Education" Is An Oxymoron

Why You Never, EVER Go To CNN For "News!"

Dumb & Dumber: "But after Ms. Kohn said what she said, two other women at the anchor desk raised their hands in the air, a sympathetic gesture to demonstrators who put their hands up and chant, "Hands up, don't shoot." A third anchor held up a piece of paper with the words, 'I can't breathe.'" - Bernard Goldberg

Alinsky: A Man Of Exceptional Charm?

"Hillary Clinton wrote in her thesis: 'One of the primary problems of the Alinsky model is that the removal of Alinsky dramatically alters its composition,' she wrote. 'Alinsky is a born organizer who is not easily duplicated, but, in addition to his skill, he is a man of exceptional charm.'

The article continues, "A decade later, another political science major started out on the path that Hillary Rodham had rejected, going to work for a group in the Alinsky mold.

That was Barack Obama, now a U.S. senator from Illinois and her leading opponent for the Democratic nomination. After attending Columbia University, he worked as an organizer on the South Side of Chicago for the Developing Communities Project.

Obama and others of the post-Alinsky generation described their work in the 1990 book 'After Alinsky: Community Organizing in Illinois,' in which Obama wrote that he longed for ways to close the gap between community organizing and national politics.

After three years of organizing, he turned to Harvard Law School and then the Illinois legislature." - NBCNews - Read More

And the rest is history. - Webmaster

Sensitivity, Diversity: Code words for the efforts of the new Brown Shirts in America starting in the mid 1990's.

Note: Jews who survived the Holocaust warned us years ago they couldn't believe how fast it all happened. Do you believe now? - Webmaster




Google BlackBalled Freedom Is Knowledge A Decade Ago - Read why our domain at one time was seen as an enemy to Google's biased advertising program that allowed paid political ads for Democrats but not Republicans. - FIK
- The Trojan Horse In The White House -
| The United States Flag: Federal Law Relating To Display And FAQs | U.S. Flag Code |
Looking around America today, George Bailey did get his wish.
Thank you for considering to pass along these e-mails.
Did you miss one of our e-mails? Check out the link below.
HTML E-mail Content from Freedom is Knowledge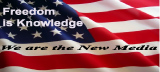 | Fascism Comes To America | It Doesn't Matter?! | What Privacy? | America Facing Evil | Whistleblower | Historic Biblical Times |
| Obama's 1990 article - "We're Going To Reshape Mean-Spirited Selfish America." | Print Page |
It is no measure of health to be well-adjusted to a profoundly sick society - J. Krishnamurti